Fresh Bio Ideas for Businesses in 2023
Typically, businesses tend to underestimate the power of a compelling Instagram bio.
As a result, people spend more time on the post and story design than on creating a bio that examines what keeps their audience on their page.
It's important to look for the perfect Instagram bio ideas as it increases your chances of getting more followers.
Why?
The first thing someone looks at when visiting your profile is your bio, followed by your story, and finally, your feed.
It is up to you how convincing your bio will make them scan your entire account and click through to your website.
Observe how the audience scans the account; for example: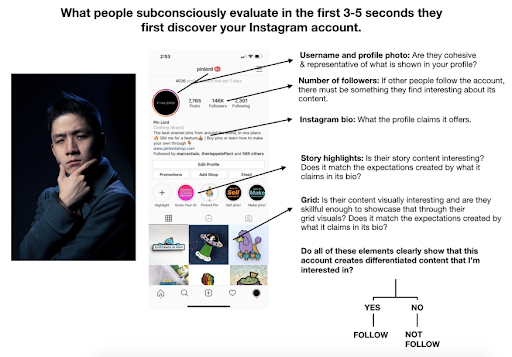 The average person will look at your profile photo, username, followers, bio, and highlights before going to your feed.
Here's the point: your bio will allow your audience to see more than what you do on Instagram.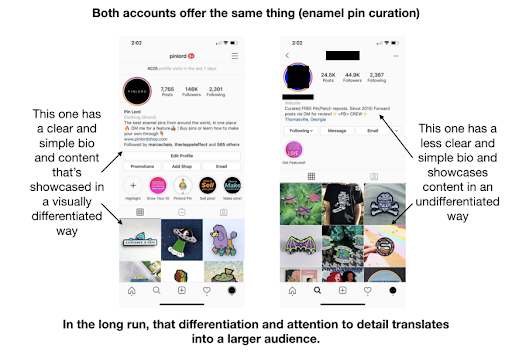 To understand the importance of good Instagram bio ideas for business, let's look at the difference between a perfect bio and a less informative bio account.
From the image above, you can clearly identify which side of the image scores the higher rank than the other.
The left side has a clear-cut bio, which explains the product and the service
As a result, It convinces the audience's mind, and it is much more likely that they will become followers.
So, let's look at some interesting Instagram bio ideas for your business. You can also go ahead and download our free Instagram bio templates fully customizable to come up with an appealing bio instantly.
But before that, let's shed some light on what a good Instagram bio must entail.
Instagram Bio Ideas: What Must It Entail?
1. Describe Yourself Thoroughly
If you're one of those who stare at their Instagram bio, wondering how to describe yourself in just a few precious words, you're not alone. Coming up with the perfect Instagram bio can be tough, but it's worth taking the time to do it right.
Insta bios are the first thing people see when they visit your profile, so making an excellent first impression is imperative.
A great bio can help you attract new followers and show the world who you are and what you're all about.
Below is an excellent example of how to write an informative and appealing bio.
Here are some tips to help you write the perfect Instagram bio:
Username Matters
Your username is the game changer for your Instagram bio. The same username for every account is highly preferable.
Think Over a Profile Name
Name your Instagram profile to explain your username. You can write your shop's full name, for example.
Note: The maximum number of characters you can use is 30. If you don't think that's enough, describe your business in your Instagram bio.
Keep It Short and Sweet
The bio section on Instagram is limited to 150 characters, so make every word count. Choose your words carefully, and don't try to add too much information unnecessary like this.
Be Authentic
Your bio should be a reflection of your true self. Don't try to be someone you're not or project an image that's not genuine.
Be real so that people will be drawn to you.
Use keywords
Think about what keywords best describe you and your brand. Use these keywords in your bio to help people find you when searching for your brand
Use Emojis to Get Personal
Emojis offer a human touch and make your website more appealing, Use them to connect with your audience.
2. Instagram Categories
You can select your Instagram business page's category from the drop-down menu above your name.
What you choose will be displayed as the name of your business. They help to indicate to people what your purpose is.
To choose a category on Instagram
Go to your Instagram page and tap settings
Select account.
At the bottom of the page, click switch to professional account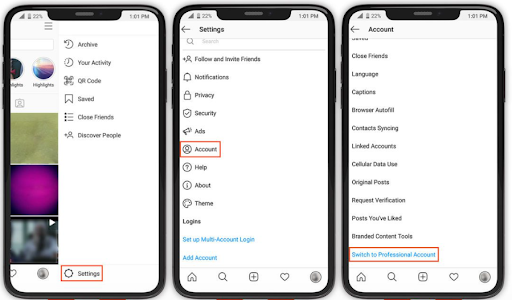 Now you will be able to get to the category page screen as shown below.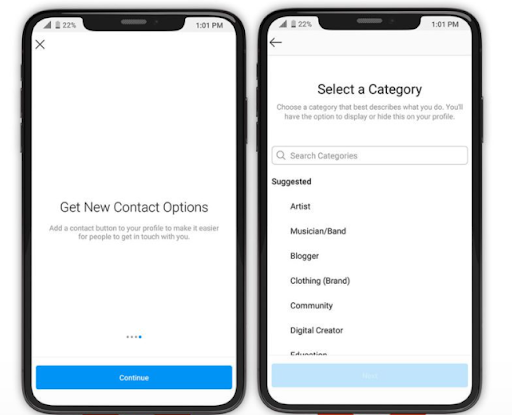 There are a number of categories; select one that best suits your profile.
3. Add What You Do Here
With a character limit of 150; you need to be conscious about what this page is about.
Use your creativity. Keep crisp and easy to grasp.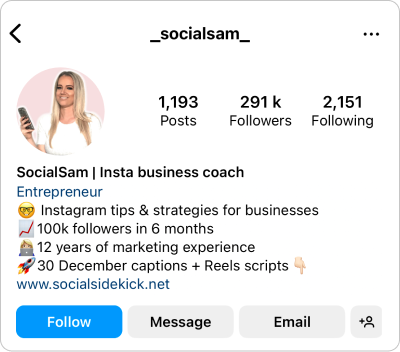 4. Include Important Contact Information
It's wise to include contact information for people to reach out to you. This is especially important for agences, travels, small-scale businesses, or, in general, any providing any service.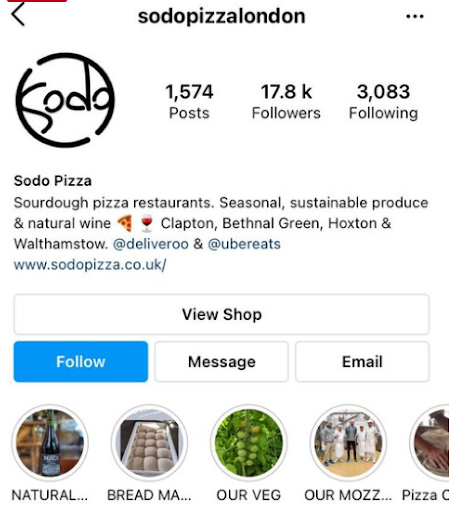 You can use emails for collaboration and service inquiries if you are uncomfortable sharing a phone number with your audience.
5. Add a Call-to-Action
You should have a good call to action in your bio, as this allows users to take action directly from your Instagram profile, thus making it easier for customers to convert on actions.
Give them a proper link to your website, youtube channel, or your currently running program or product ads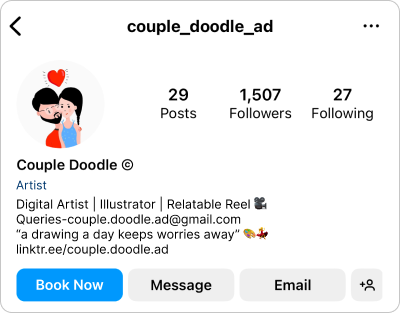 You can directly lead your customer through custom buttons available on Instagram.
6. Ensure Line Space
A series of line breaks can delineate segments of well-written writing.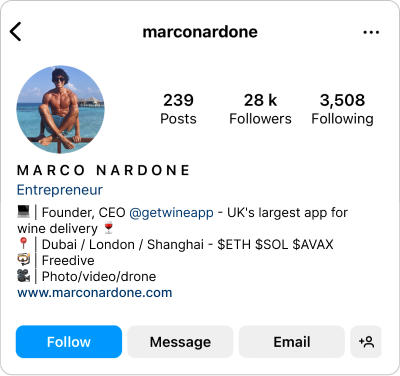 Indents highlight your text's most important elements, which makes it more readable.
7. Aim for a Blue Badge
A blue badge indicates authenticity, which, in turn, positively impacts people's trust in you
This is especially crucial for the accounts of big brands since there is a lot of spam on Instagram. For this reason, the blue badge helps their customers know that your business's profile is original.
To showcase your genuineness, we recommend getting a blue badge.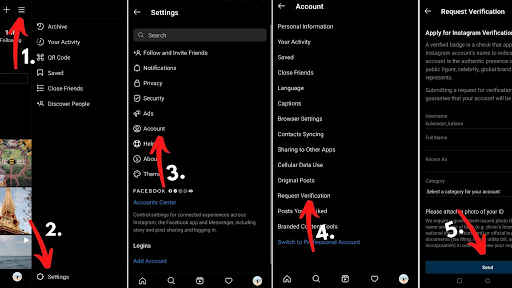 Tried all our tips and now want to see how your page performs?
With SocialPilot, you can manage all your Instagram accounts and keep track of valuable insights with detailed analytics reports.
This is particularly great for businesses thanks to its Social Inbox. It helps keep the conversation flowing, engages with your audience efficiently, and keeps track of open conversations.
Instagram Bio Ideas
Below are some interesting Instagram bio ideas that you can use inspiration from.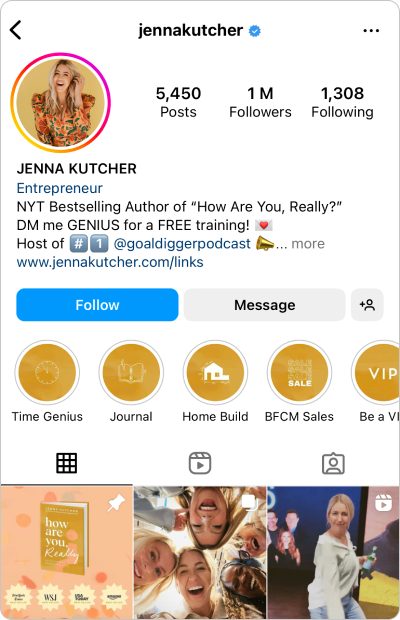 1. Instagram Bio Ideas for an Entrepreneur
If you want to stand out from the crowd on Instagram, you can follow a few ideas to help yourself.
One way is to have a unique bio that tells your story of how you differ from others.
Describe your achievements
The different events you have hosted
Provide a free eBook
Provide a link to your course or website
You can also use interesting hashtags that suit your business, like #Womenentrepreneur or #Milliondollarbusiness.
Below is a perfect copy of an entrepreneur's best Instagram bio idea.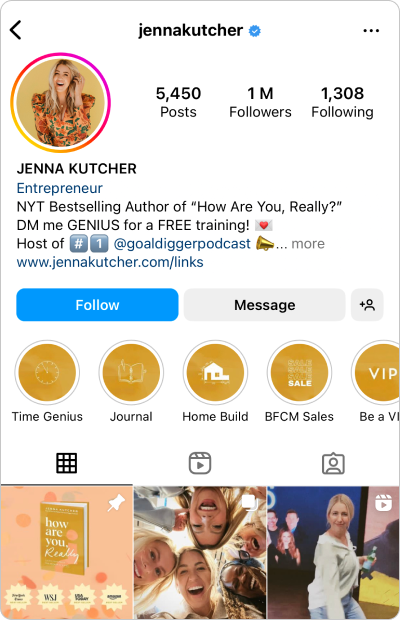 2. Instagram Bio Ideas for Content Creators
These can be creative, informative, and quirky.
How you design your bio will show off your personality and make you stand out among other content creators.
Here are some tips.
Add emojis at first to gain human touch
Tell them who you are
What is your page all about
Course details/affiliate details/website link — based on your preference
Take a look at this interesting content creator's Instagram bio below.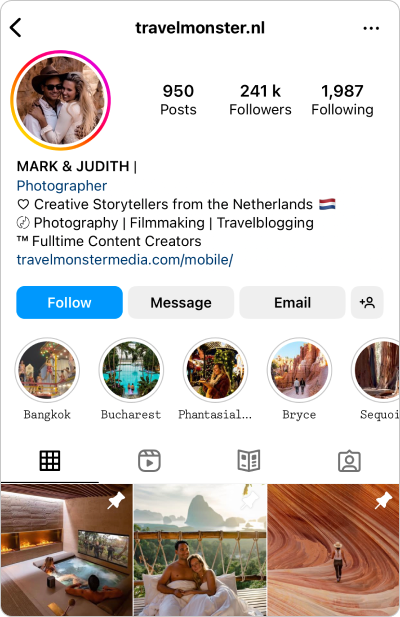 Taking care of all aspects while creating a compelling bio requires a lot of effort. Here are free Instagram bio templates for you to choose from and fill in your details to make it your own.
3. Instagram Bio Ideas for a Blogger
If you are a blogger, your Instagram bio is one of the first things people will see after they come from your page.
Bloggers must remember a few key things when creating their Instagram bios.
What do you do?
What is your page all about?
How readers will benefit from your blog's info
Direct the audience to your blog page
Below is an Instagram bio of a blogger.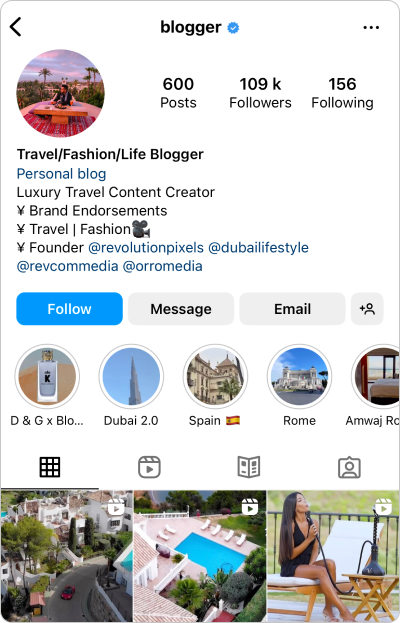 4. Instagram Bio Ideas for Brands
Beyond your product appearance, your bio speaks about who you are and what you sell.
How to write a perfect bio for a brand?
Have a perfect brand name
Describe your product
How it works
Add a link to your website or app
Below are perfect bio templates for brands: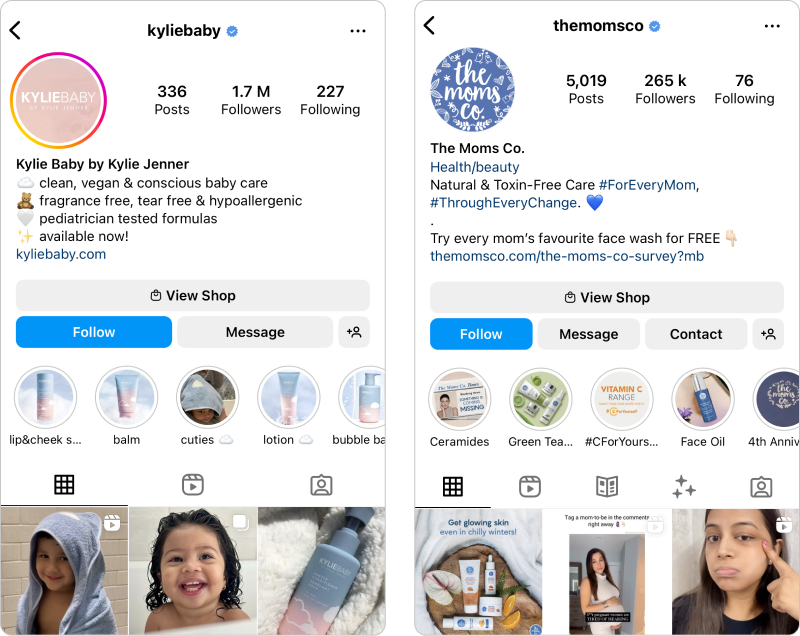 The two brands sell similar products, and to gain more trust from their audiences, both brands clearly state the product details and how they are made.
5. Instagram Bio Ideas for Digital Marketers
A good Instagram bio can build your credibility to build trust. So, here's how you create the perfect bio for your account.
Tell who you are
List your achievements
Sell them your course
Provide a link to your website
Here is a great example of an Instagram bio for digital marketers.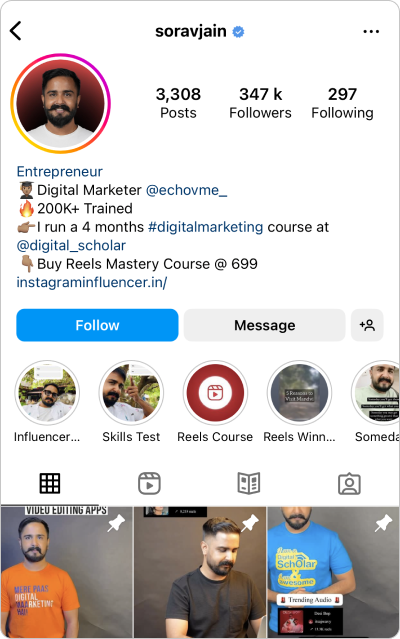 6. Instagram Bio Ideas for eCommerce
eCommerce brands need to gain their audience's trust and attention through their bio since Instagram itself is a great avenue to sell products directly.
What should a good bio entail?
Make sure your username matches your eCommerce website name.
Describe what you sell
Jot down any current running offers
Link to your website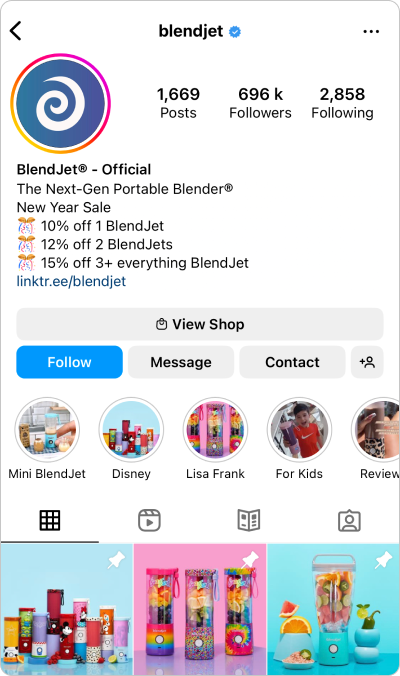 7. Instagram Bio Ideas for Fitness Influencers
Fitness is all the rage on Instagram. Hence, you must create an appealing bio to make your profile stand out amongst the plethora of other influencers.
What all should your Instagram bio contain?
Your username
What exactly you do
Certification
Link to your community/app/website link/YouTube channel
Here's what a reputed Instagram fitness influencer's profile looks like.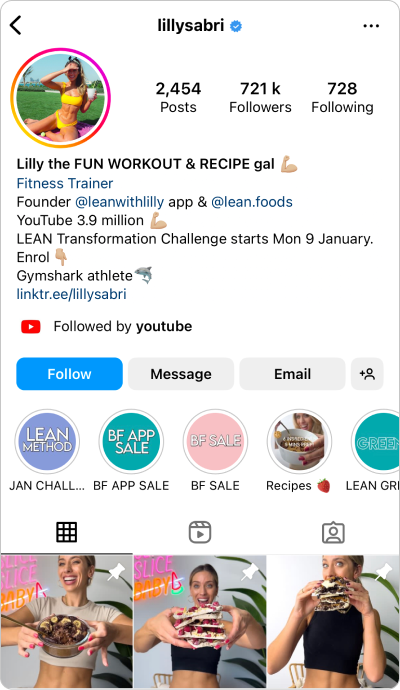 8. Instagram Bio Ideas for Travel Influencers
Like fitness, travel influencers get a ton of traction on the social media platform. To ensure you're getting more of it, here are the things you need to know when writing a bio:
Who are you?
What service do you offer
Link to your travel blog page
Take a look at this account for its ideal bio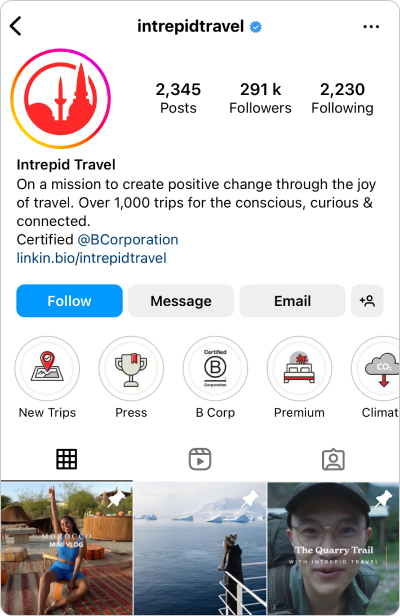 9. Instagram Bio Ideas for Tech
With so many companies' official Instagram pages, you might wonder how to gain the audience's trust.
Well, begin with an interesting and captivating bio.
Check out some of your favorite company's Instagram accounts and take inspiration from their bio.
For tech, a good Instagram bio should consist of
Who you are
What exact service you provide
Your number of customers and achievements
Link your website/app
Take a look at this SaaS company's Instagram bio.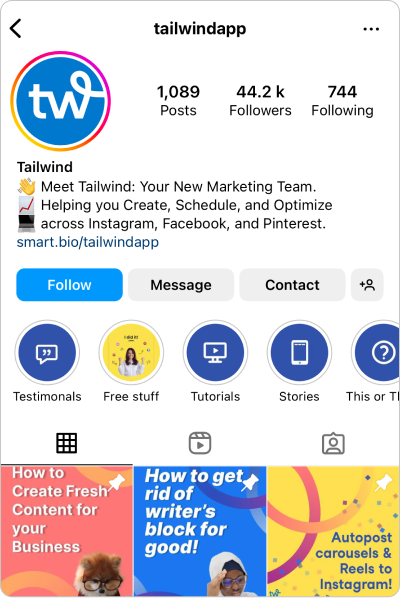 Conclusion
The above-mentioned Instagram bio ideas for business can help increase your online visibility, attract more customers, and boost your online profile. Be open to trying various bio styles to see which brings more engagement and business.
Still, confused about which template idea to go with? Get your free Instagram bio templates and customize them to create an impressive bio for your own profile.
Lastly, we hope the plethora of ideas and examples inspire you to create a fun and interesting bio for your business.Lastly, we hope these Instagram bio ideas and examples inspire you to create a fun and interesting bio for your business.