5 Ways to Improve Your Graphic Design Skills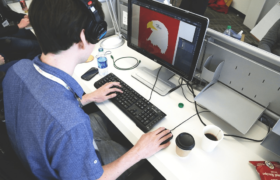 Whether you're new to designing, or have years of experience under your belt, everyone can benefit from sharpening up their skill set. It doesn't take a lot of time or money to learn some new tricks; mastering a few simple tips can offer big rewards for your creativity and work quality. In this post, we'll be sharing ways that will help you become an expert in the field by taking full advantage of all the opportunities available today.
1. Practice
The first and most important tip to becoming a better graphic designer is simple: practice! Put your design ideas into action and keep designing, even if you aren't working on a client project. Experiment with different tools, techniques, color palettes and fonts. All the practice will not only help build up your skills but give you a chance to discover what kind of design you enjoy the most. You can also make use of design challenges, which are available on many websites. These fun projects allow you to flex your creative muscles and get feedback from other experienced designers.
2. Invest in Professional Software
The right tools will help take your designs to the next level. If you're looking for a professional software package that is worth investing in, Adobe Creative Suite is the go-to choice for many designers. However, there are plenty of other options that can provide amazing results, such as Affinity Designer. Consider your needs and budget when deciding which software to buy, you don't have to break the bank in order to get high quality tools. The most important thing is to find something that you're comfortable using and allows you to create stunning designs.
3. Take Online Courses
There are plenty of online courses available for those who want to learn graphic design from the comfort of their own home. Courses like Skillshare and Udemy offer a wide range of topics, from basics to advanced techniques. You can also find tutorials, webinars and more on YouTube channels such as Will Paterson's Design Course or the Adobe Creative Cloud channel. Coding is also an important skill for graphic designers, so don't forget to brush up on HTML and CSS. You can find plenty of resources online to learn to improve your coding skills. The more you know, the better.
4. Find Inspiration
Surrounding yourself with inspiring and creative works can be a great way to stay motivated and push your design skills further. Look at art galleries, browse Pinterest boards or follow inspiring designers on Instagram; all of these activities will help get your creative juices flowing. You can also take part in design competitions or follow design trends to stay up-to-date on the latest industry news. The more you're exposed to great design, the better your own work will be.
5. Network With Other Designers
Networking is essential for any creative professional. It's a great way to stay connected with like-minded people and find new opportunities that can help advance your career. Take part in online forums and social media groups, attend conferences and join local design groups to meet other designers. You never know who you might meet, so don't be afraid to put yourself out there, and remember to always offer help when you can, collaboration is key in this industry.
Becoming an expert in graphic design takes time and dedication, but it's definitely worth the effort. With a little bit of practice, some great tools and resources, and a strong network of peers, you can become one of the most sought after designers in your field.