11 Types of Halloween Illustrations and Templates for Free Download
September 26, 2022
0 Comments
Holiday seasons, such as Halloween, Christmas and New Year, are good chances to renew living and working environments, boost sales, and send love to the beloved. When it comes to design for holiday seasons, ideas, inspirations, color palettes and design resources are truly necessary. 
Take this Halloween to the whole new level with the below Halloween freebies from illustAC, including various Halloween backgrounds, Halloween clipart & Halloween vectors and illustrations. All are for free download and can be used for commercial use. No attribution required! 
5 types of Halloween illustrations and vector graphics to download
Halloween Backgrounds
You can find different types of Halloween background images offered on illustAC, including digital art, memphis textures, or flat illustrations.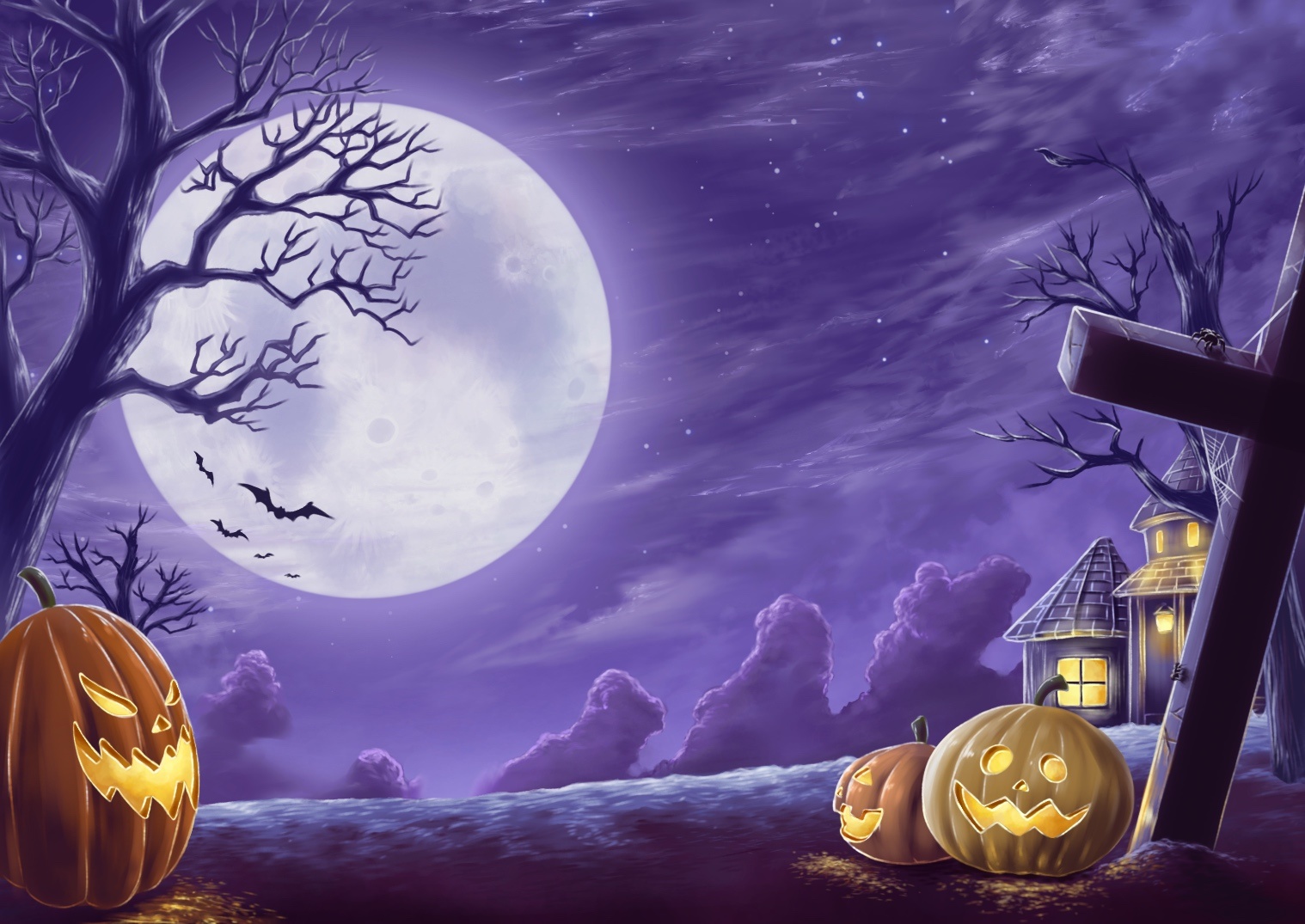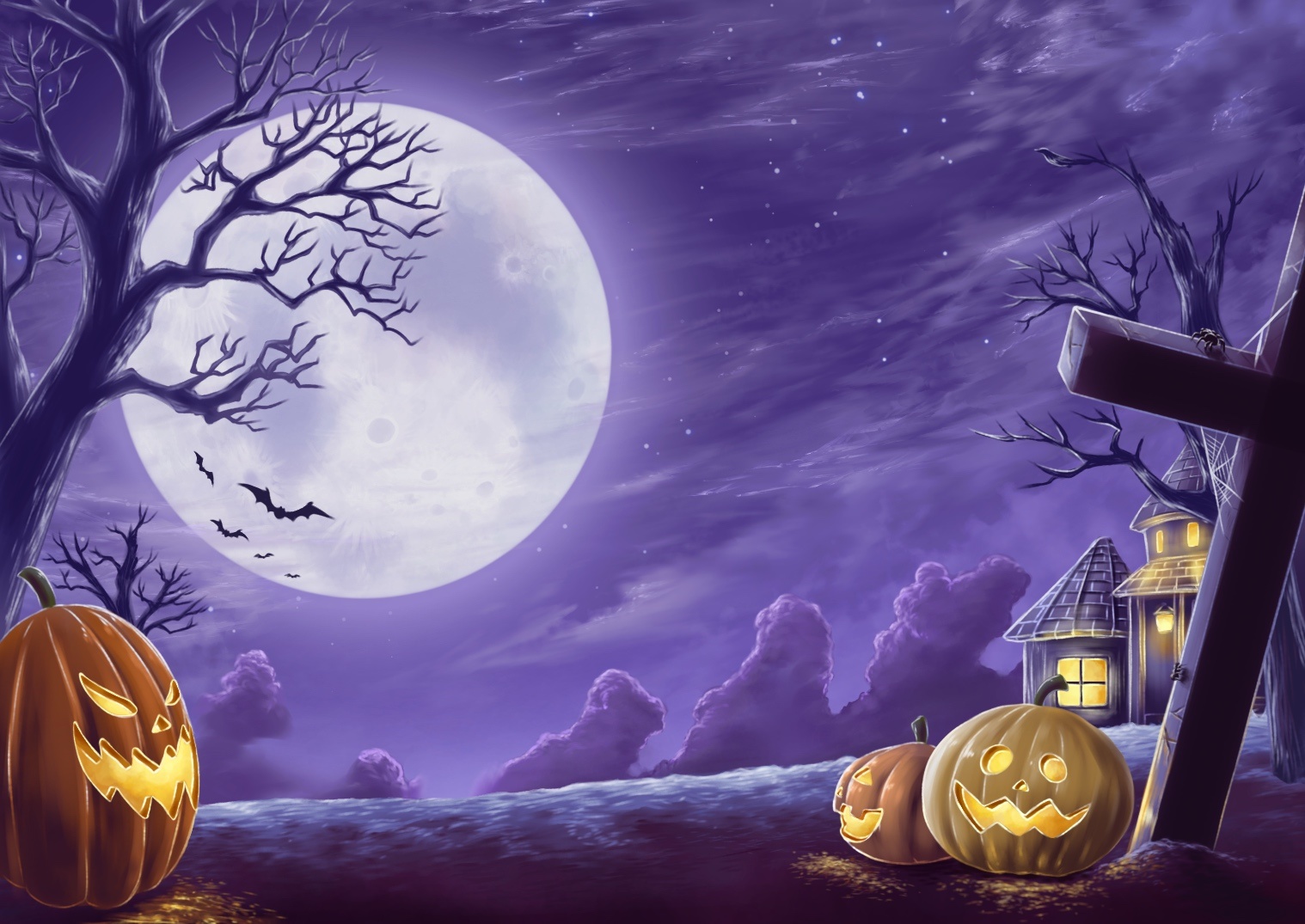 Halloween background on illustAC – digital art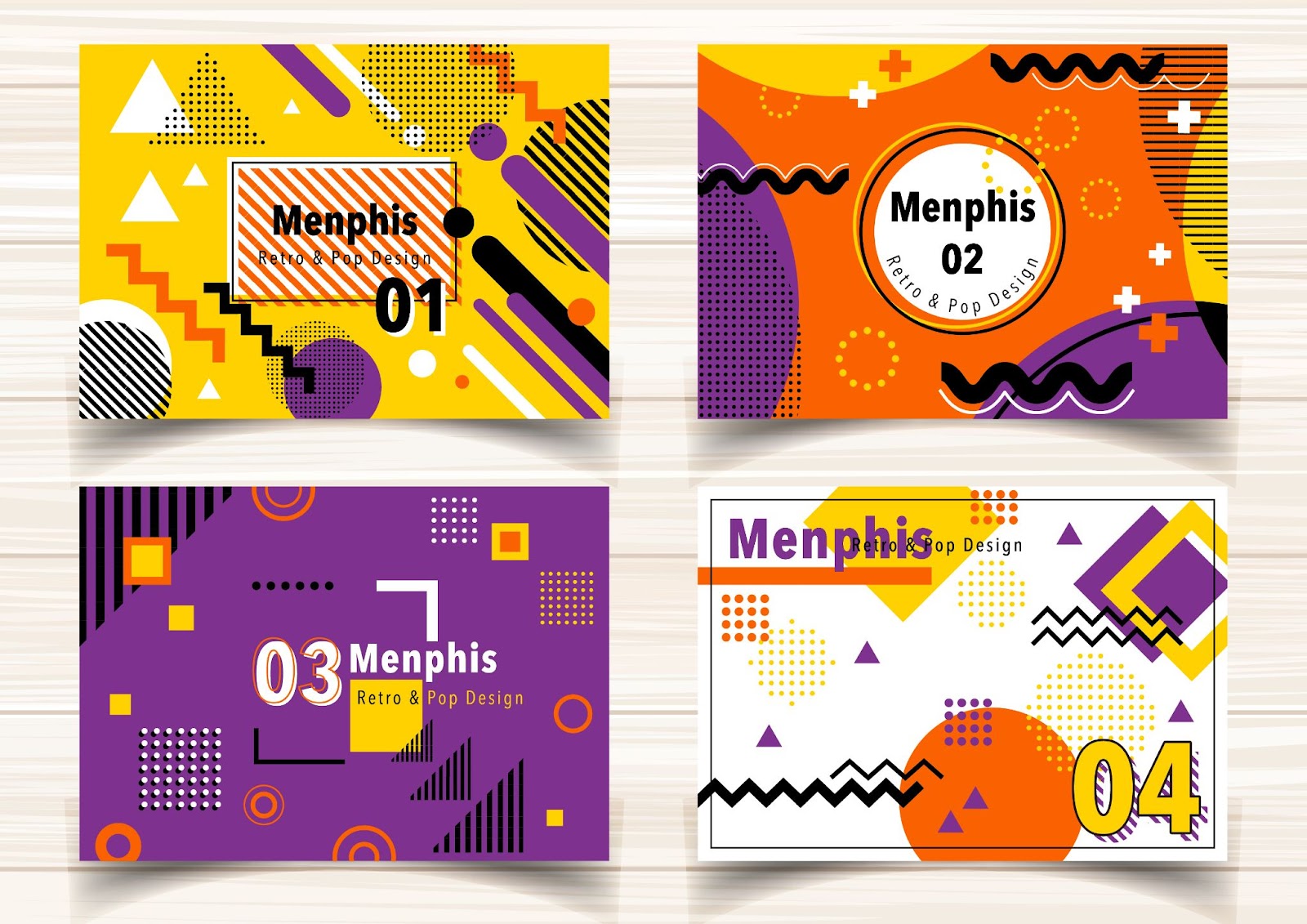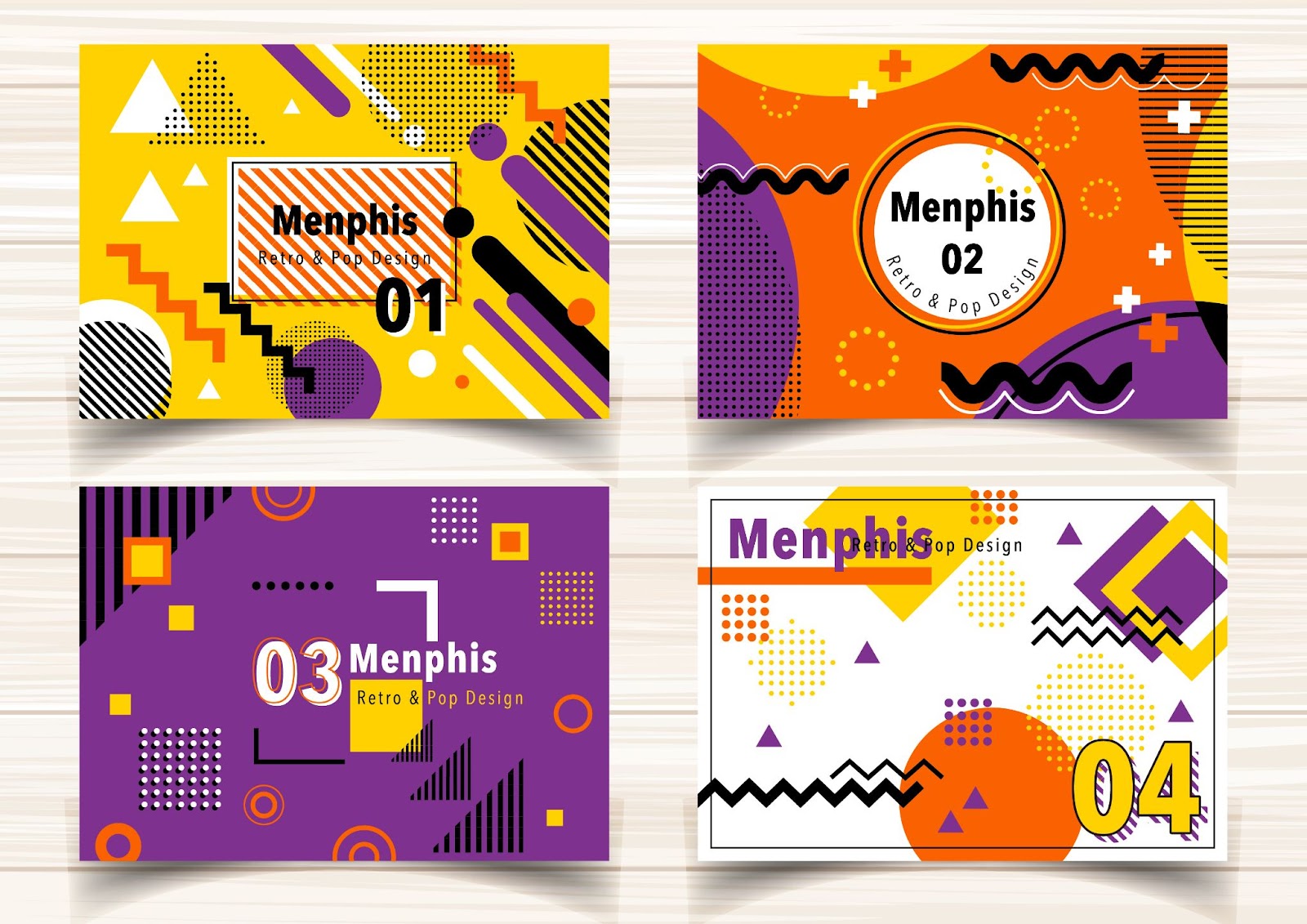 Halloween background on illustAC – memphis textures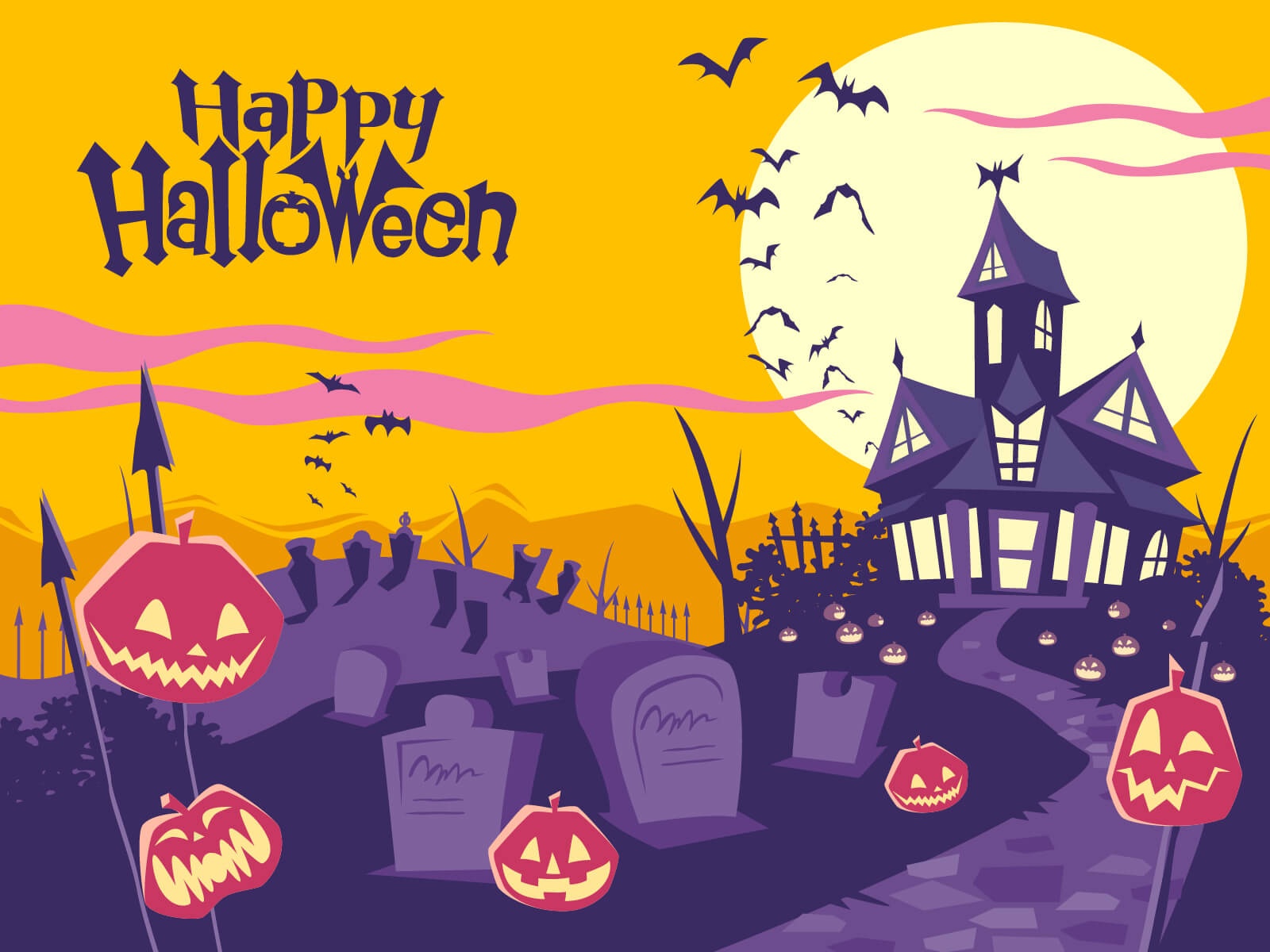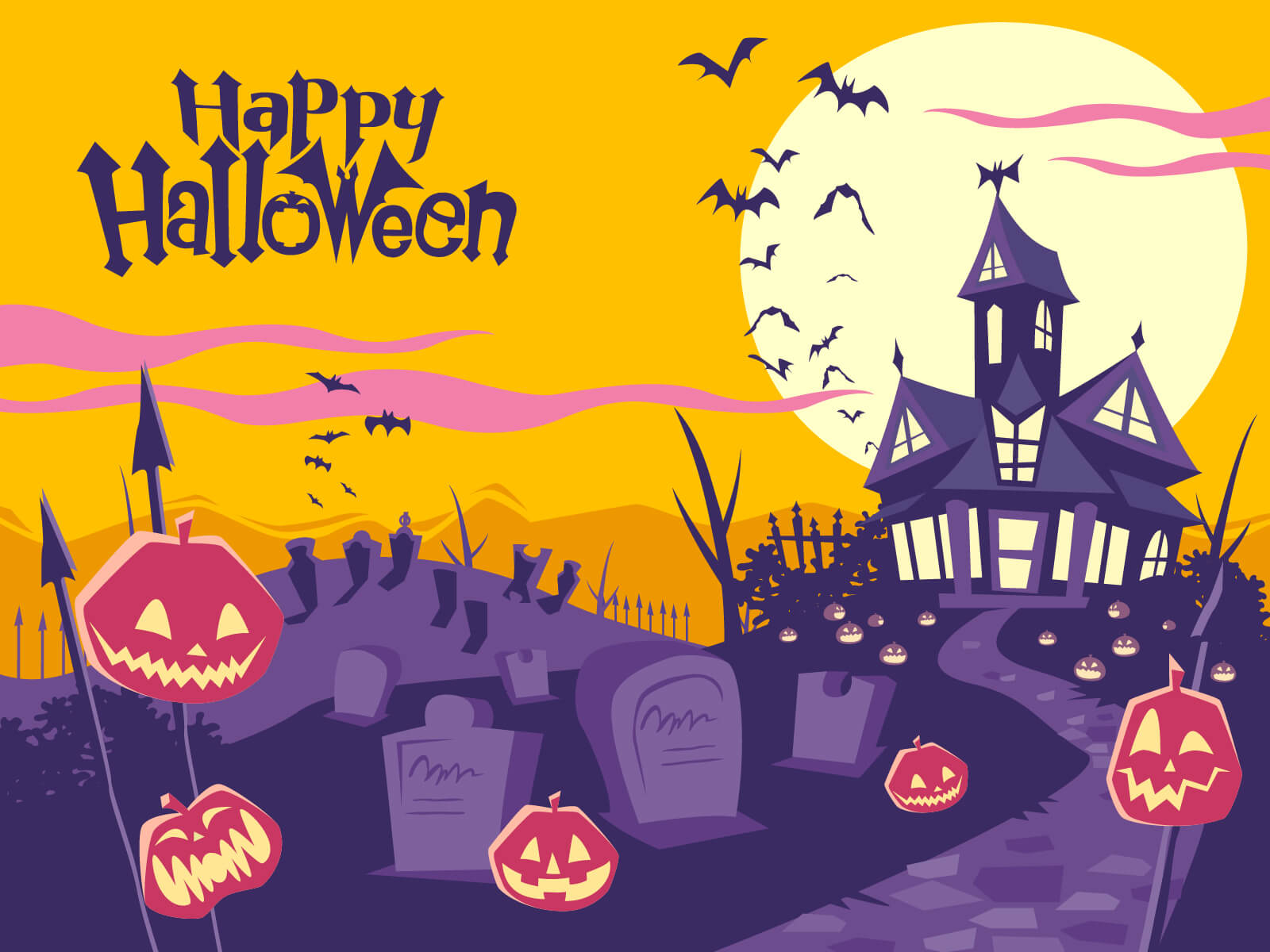 Halloween background on illustAC – flat illustrations
Halloween Patterns
Another type of Halloween illustrations that can be found on illustAC is various Halloween patterns, including abstract, geometric, and seamless.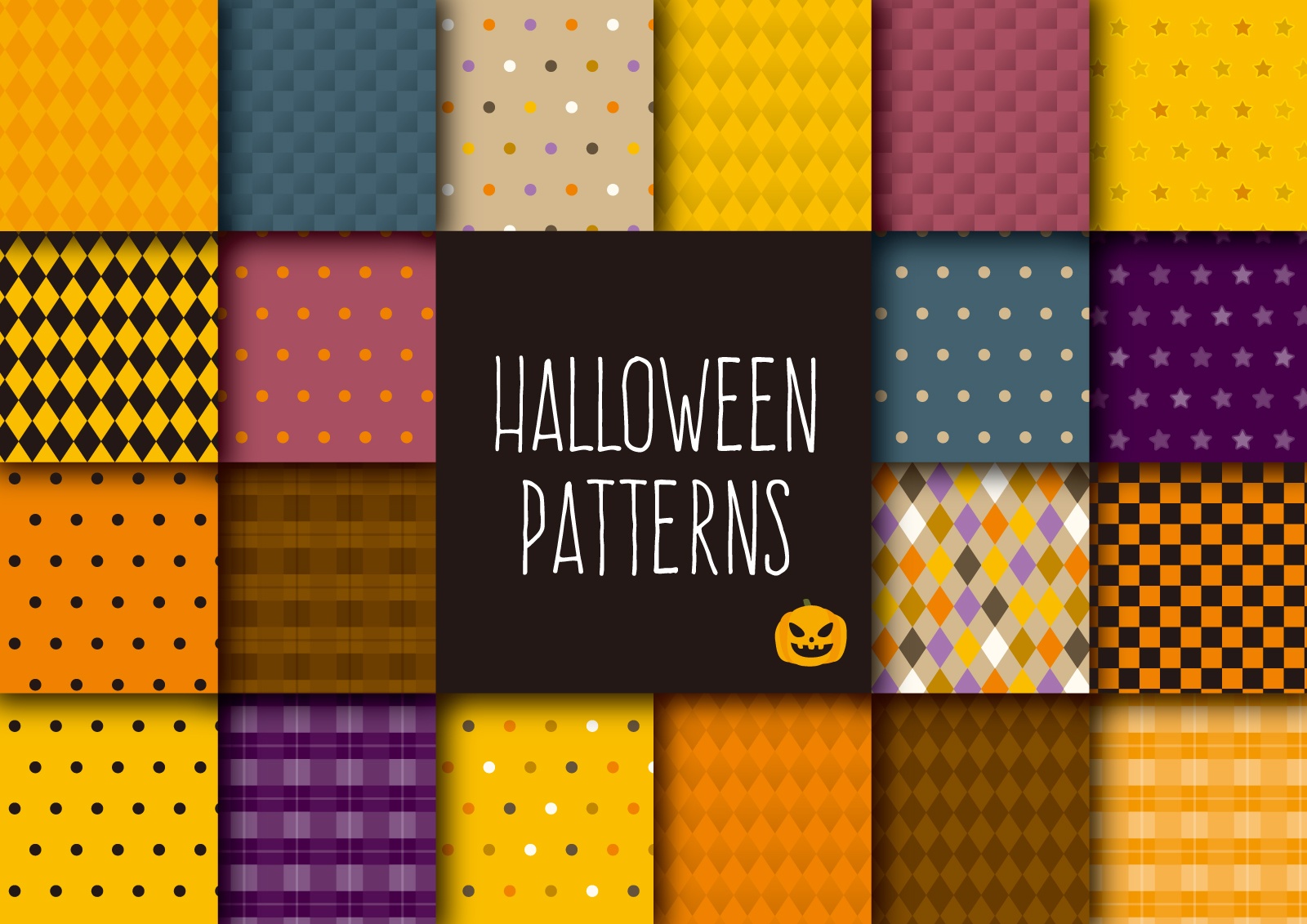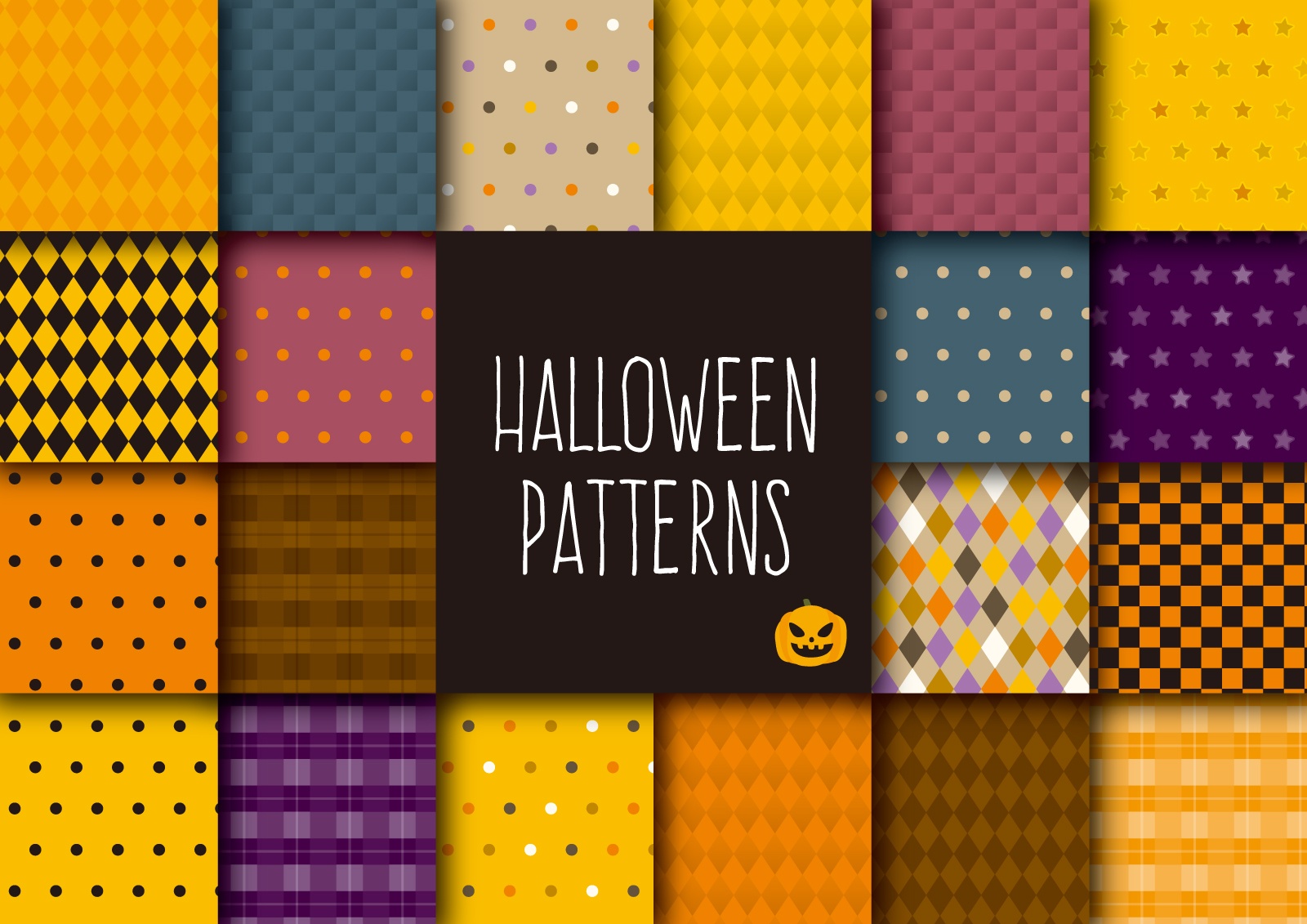 Halloween seamless patterns on illustAC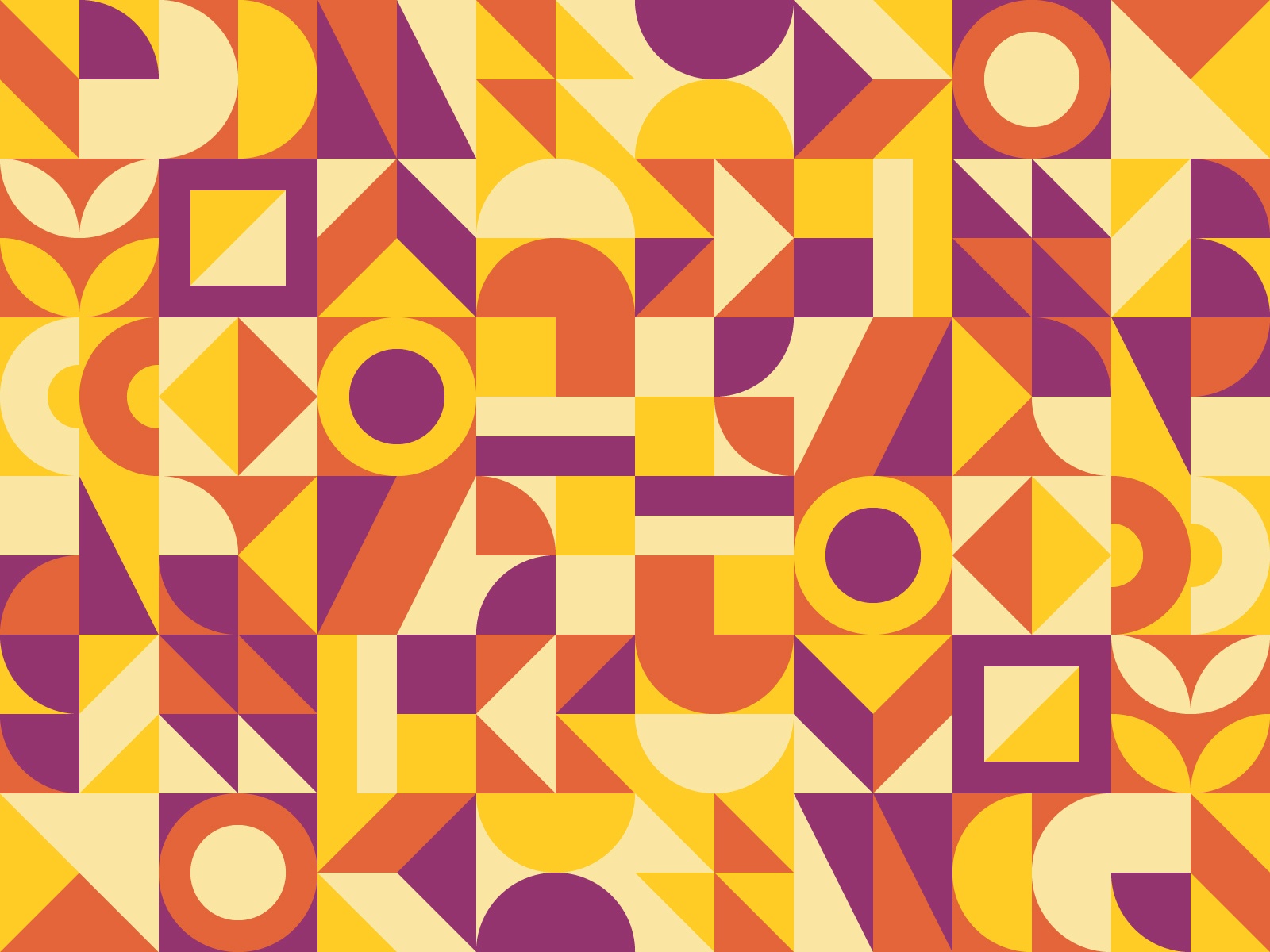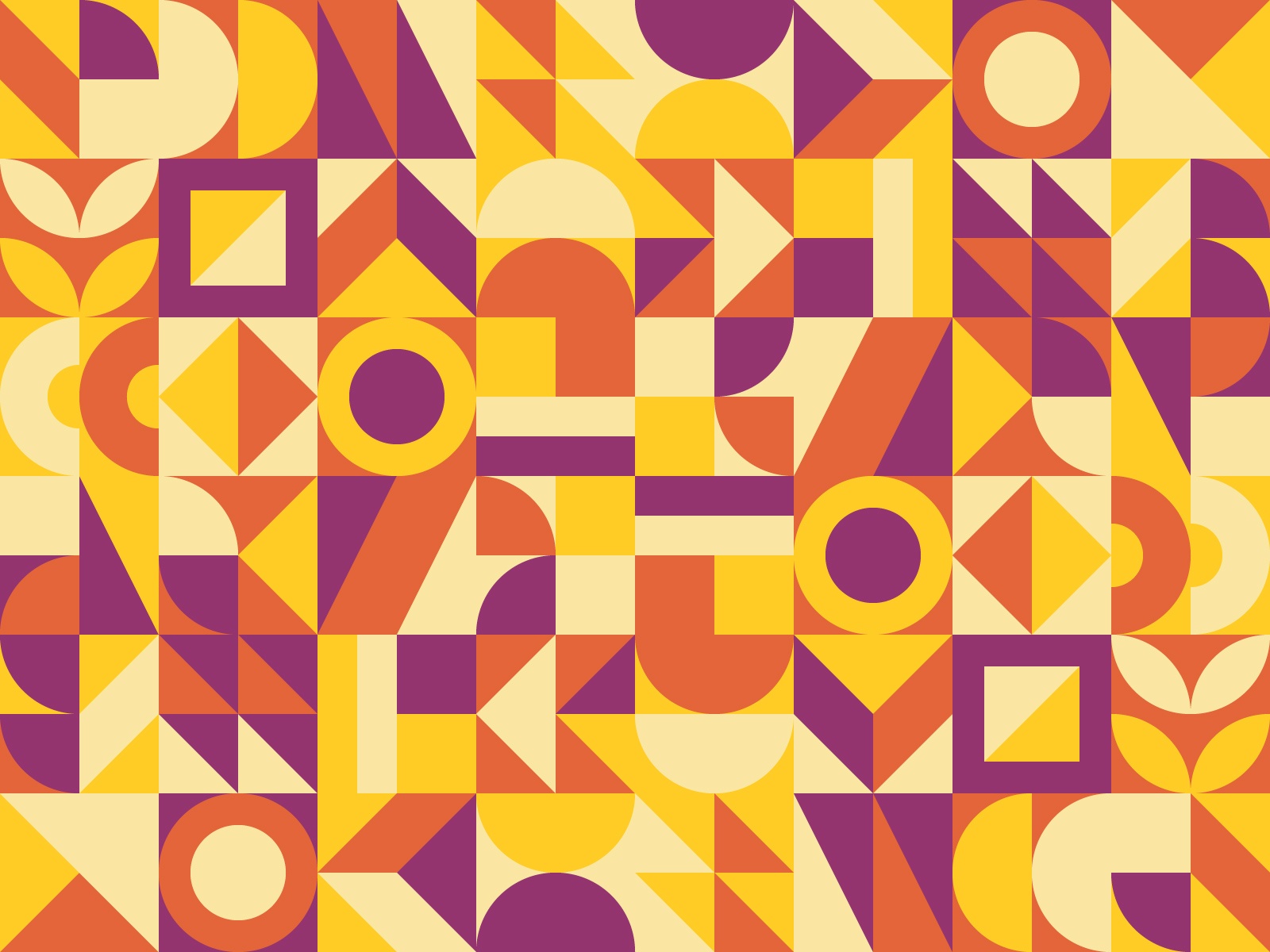 Halloween geometric patterns on illustAC
Pumpkin Illustrations
illustAC has a vast collection of hand-drawn pumpkin illustrations with scary and funny expressions. Each of these pumpkin illustrations has a different shape and mood. You will surely have a great Halloween party or make your design updated by downloading these pumpkin illustrations, either cute or scary expressions. You can use these pumpkin illustrations in your invitation cards, theme party posters, and so on.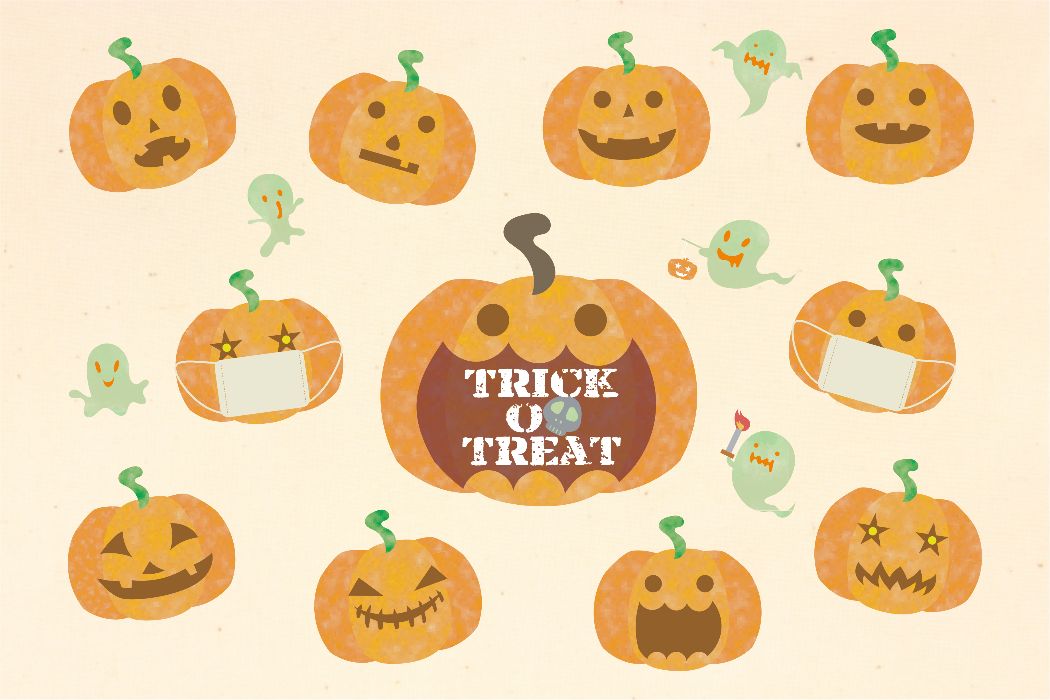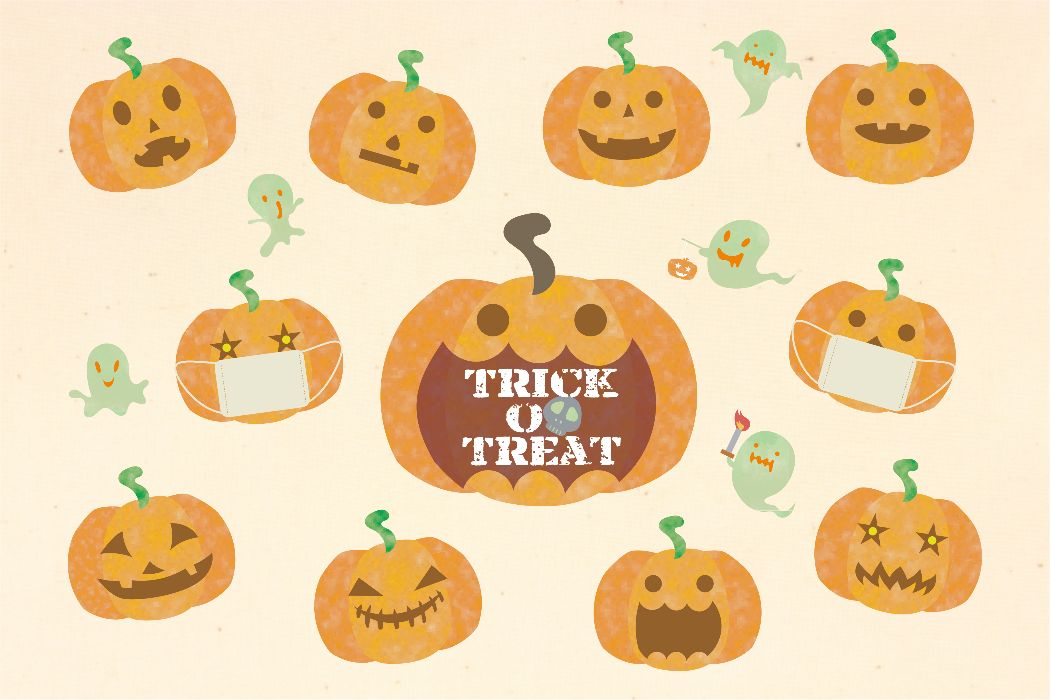 Cute watercolor pumpkin illustrations on illustAC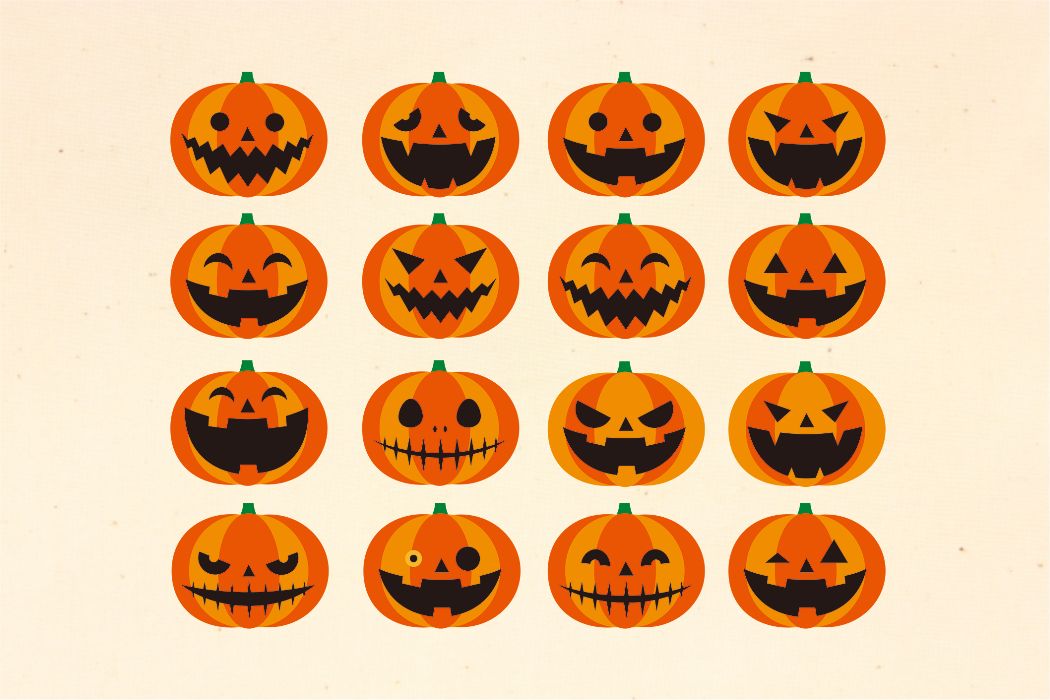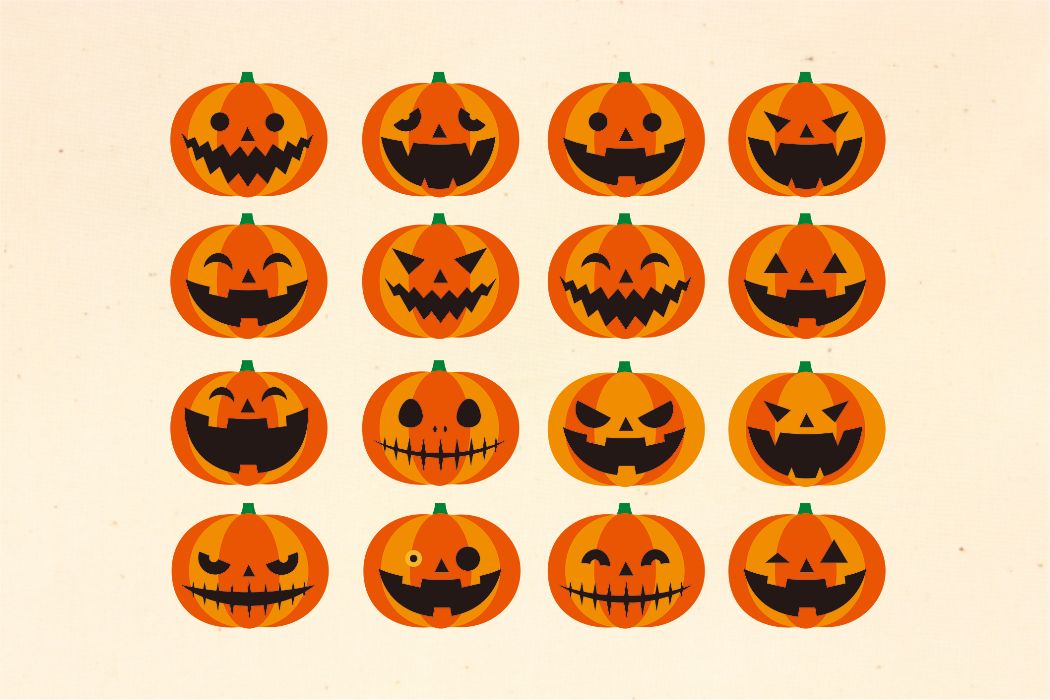 Jack-o-lantern illustrations on illustAC – various expression
Halloween Characters
You can also easily find numerous illustrations of Halloween characters such as Halloween monsters, witches, ghosts, mummies, and costumed kids on illustAC.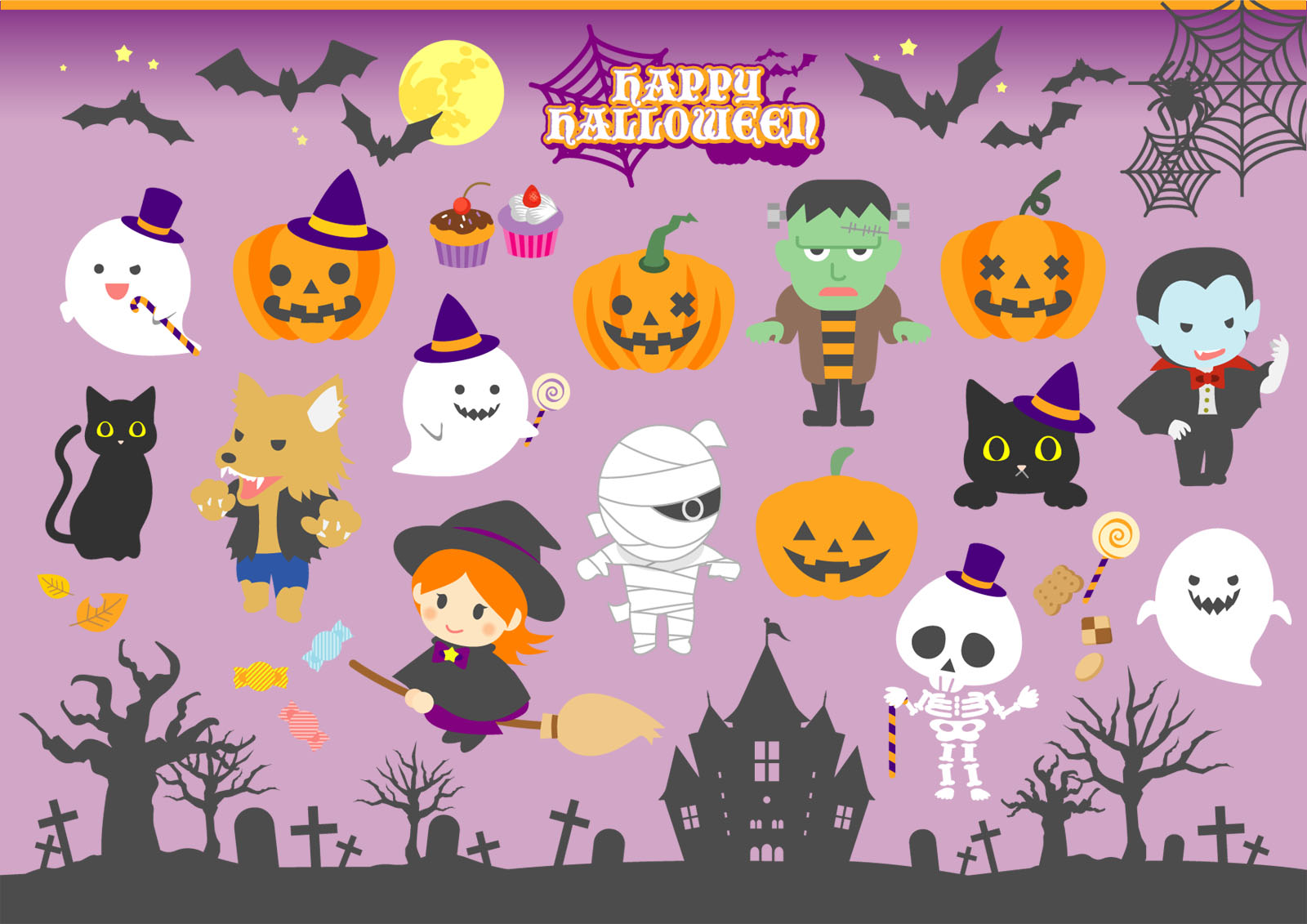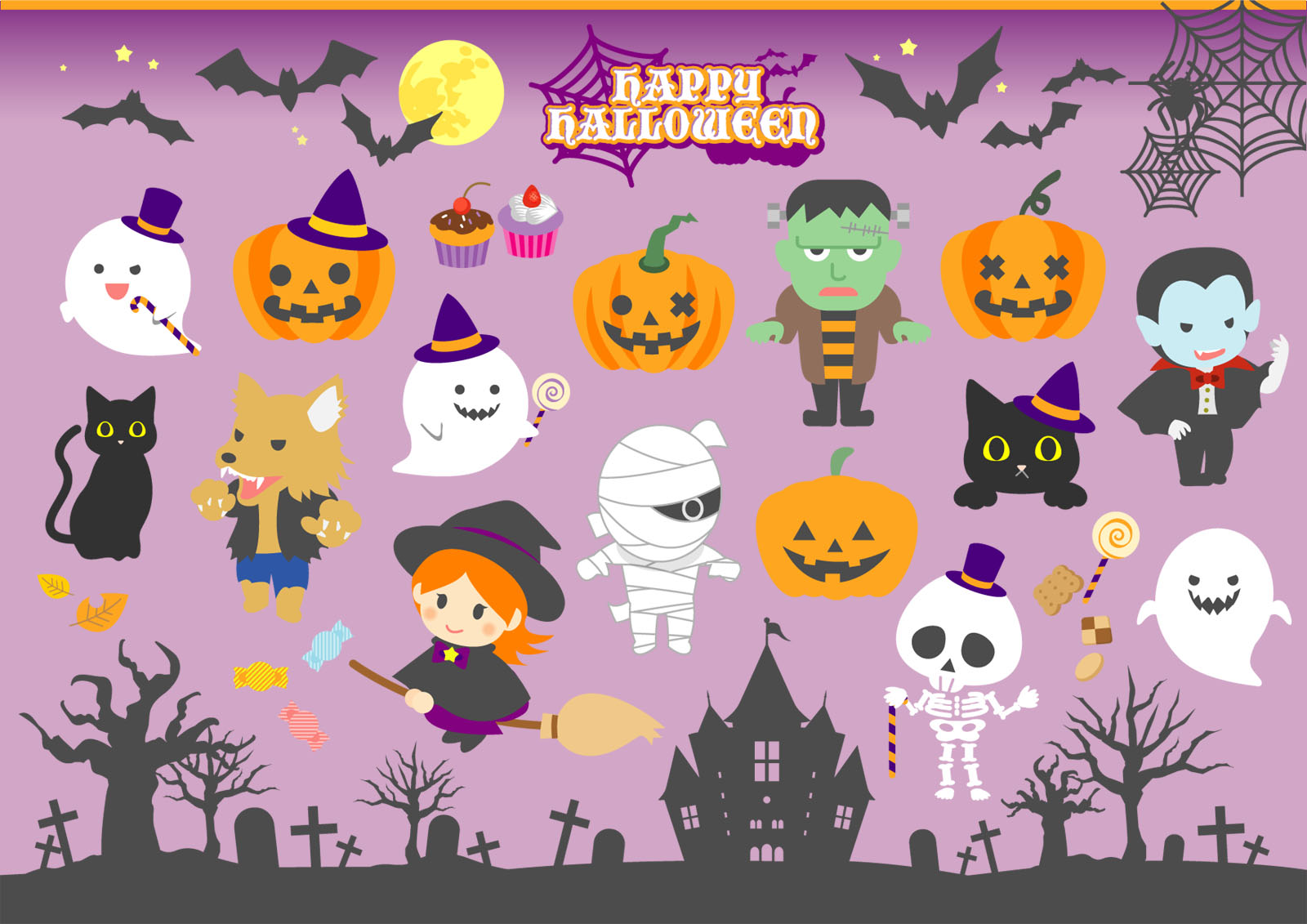 Halloween character set on illustAC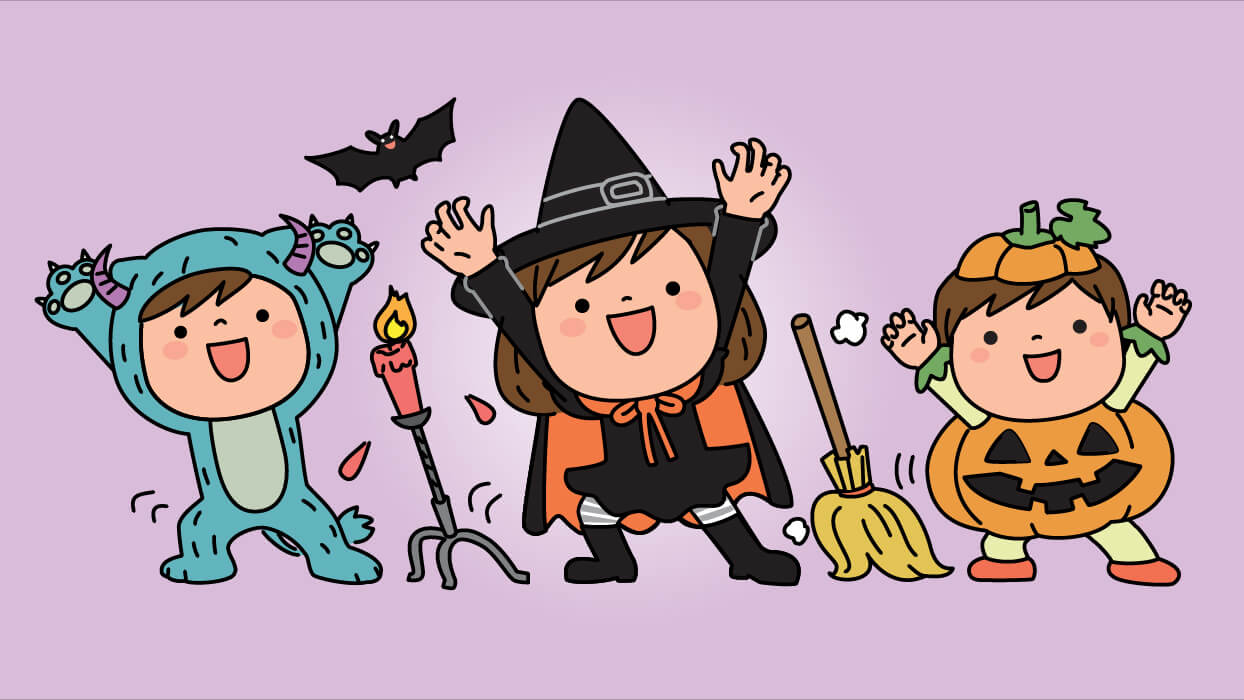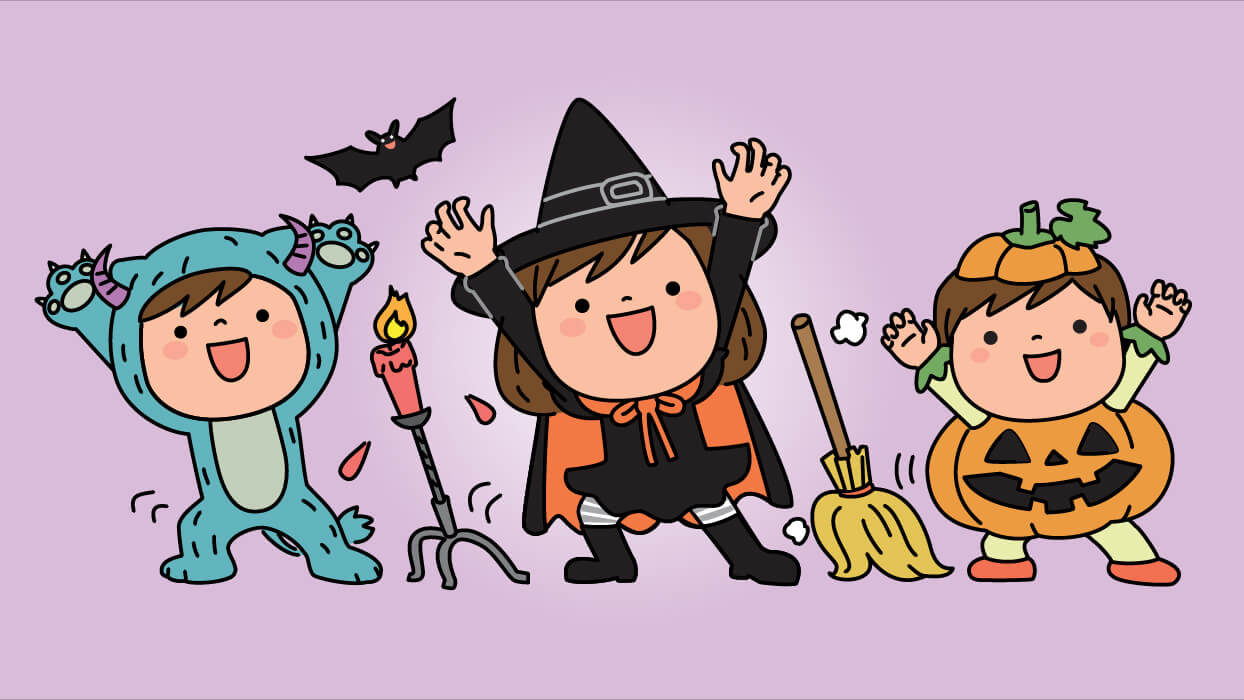 Dancing Halloween characters on illustAC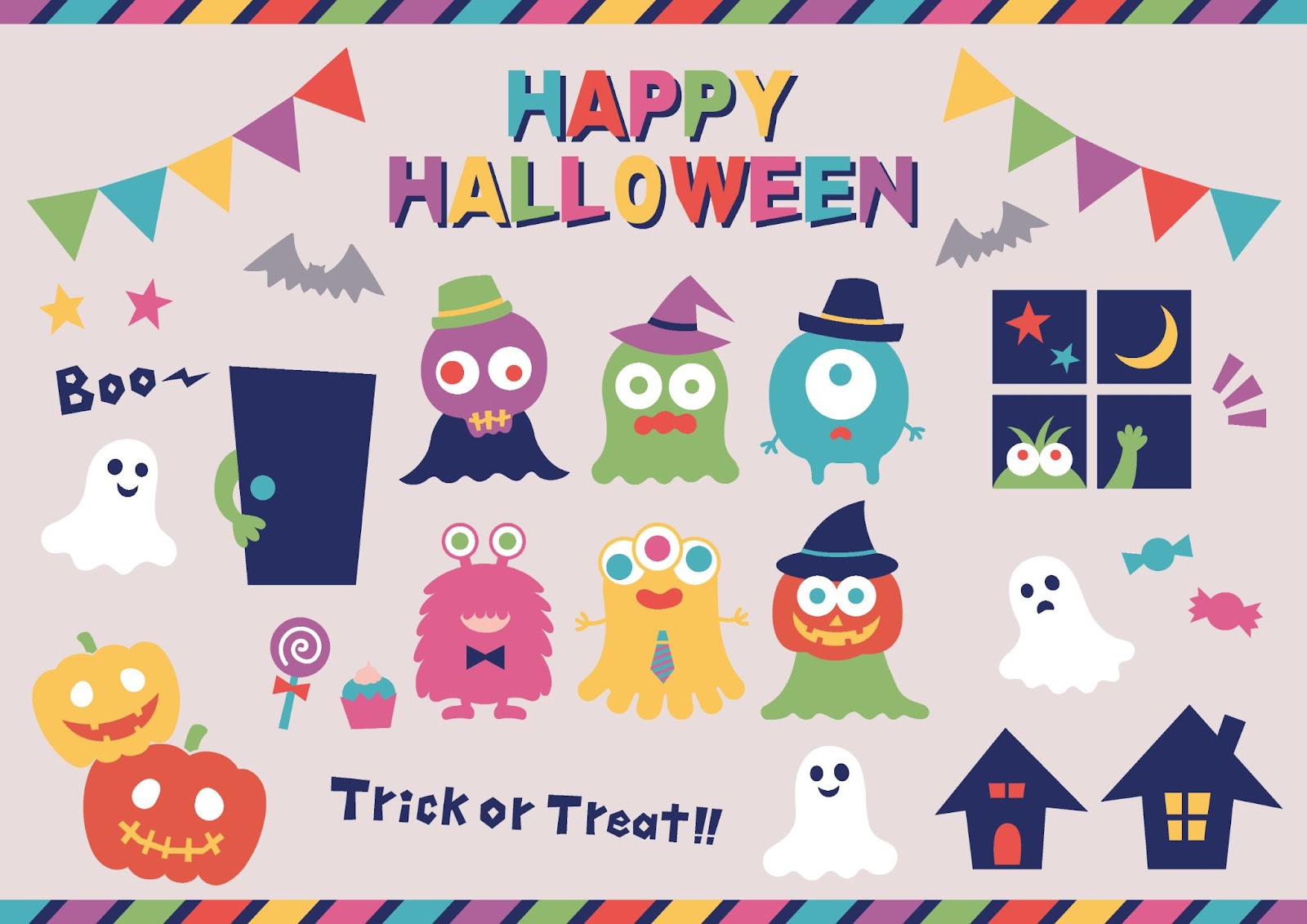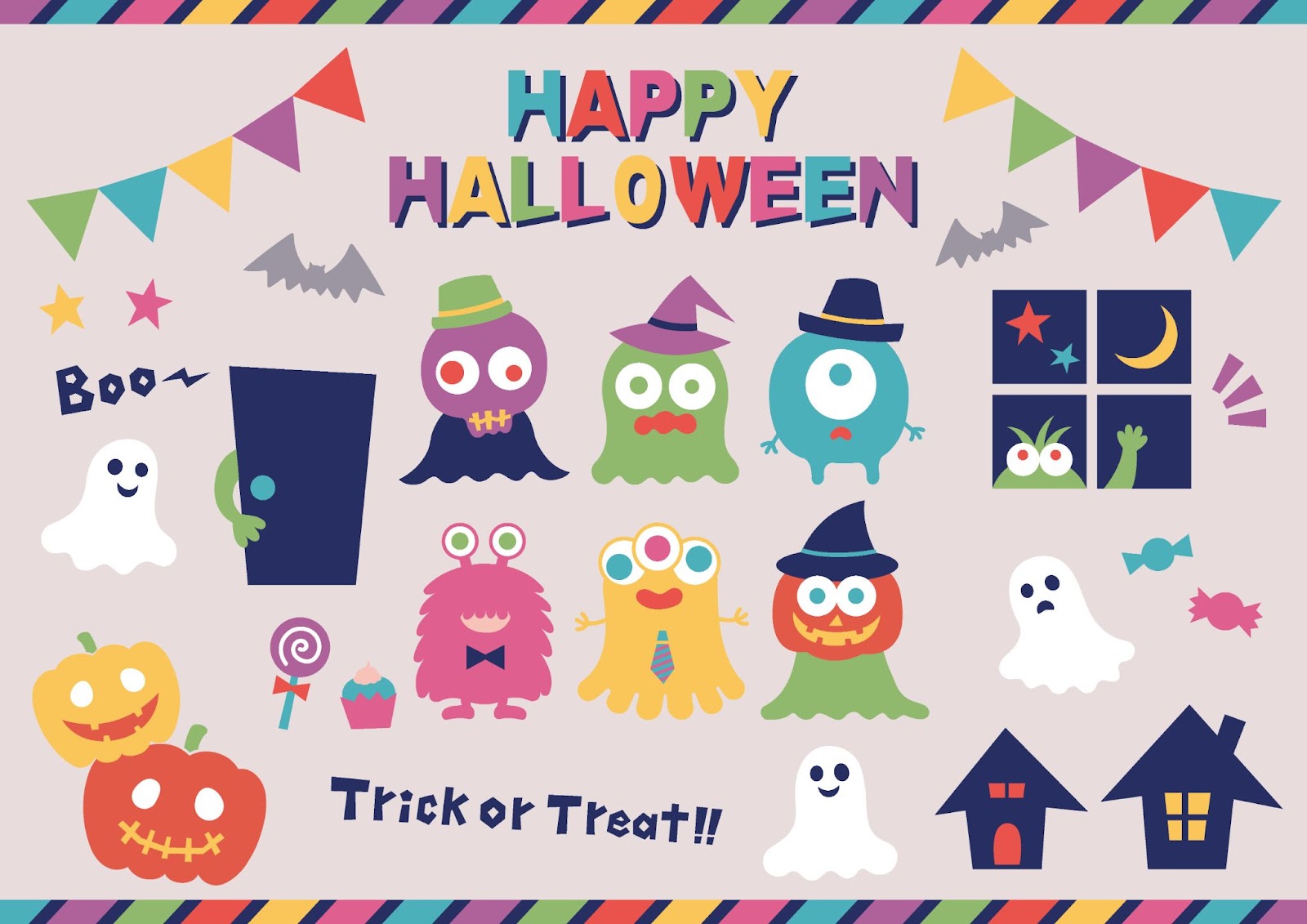 Happy Halloween characters on illustAC
These cute and funny illustrations surely will add some sweetness to spooky and scary themes of Halloween. 
Tricks or Treats & Halloween costumes
The next two types of Halloween illustrations that can be downloaded on illustAC are trick or treat drawings and Halloween costumes clipart.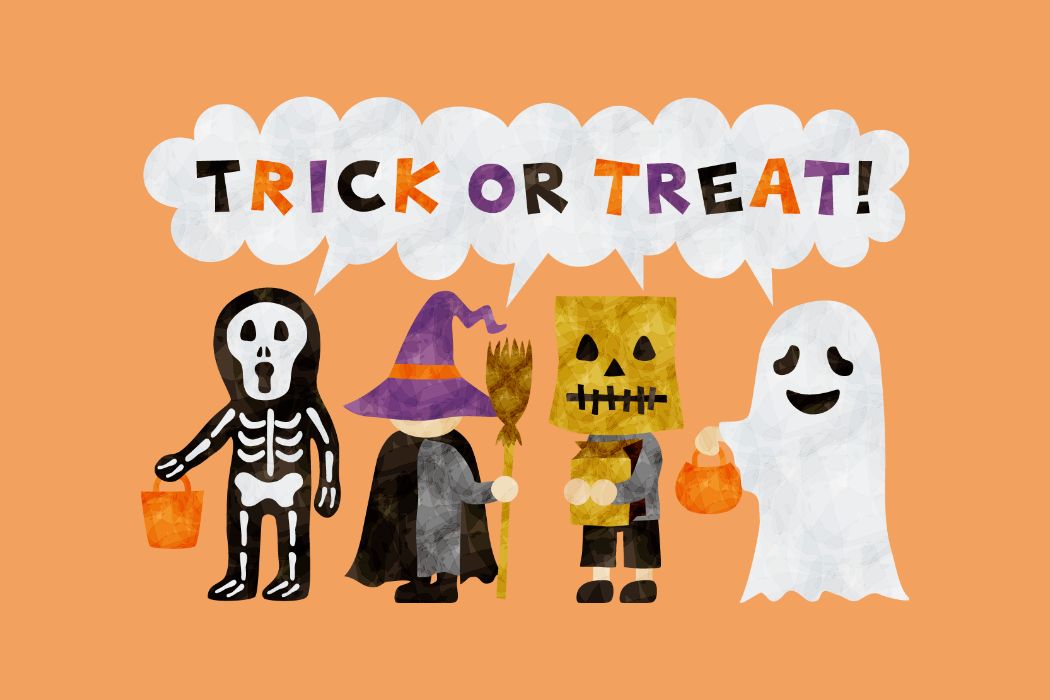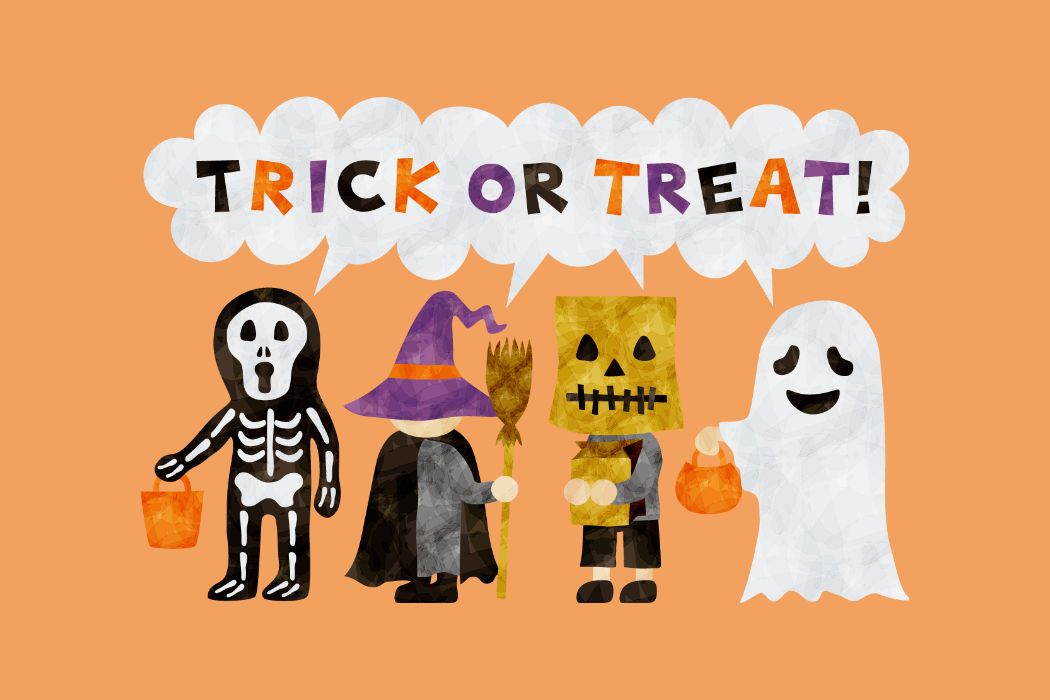 Trick or treat illustrations on illustAC – Halloween costumes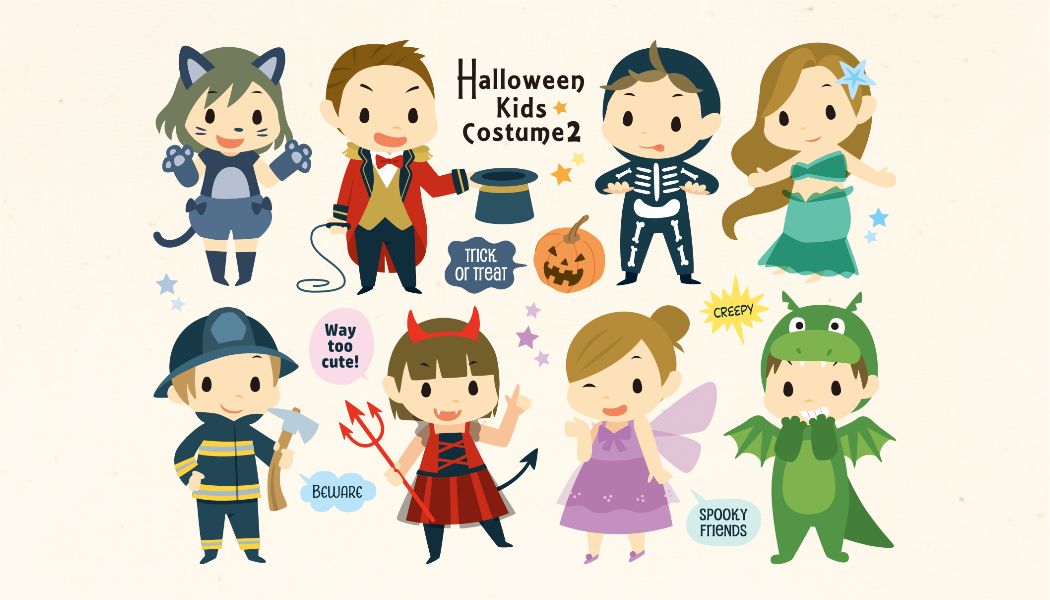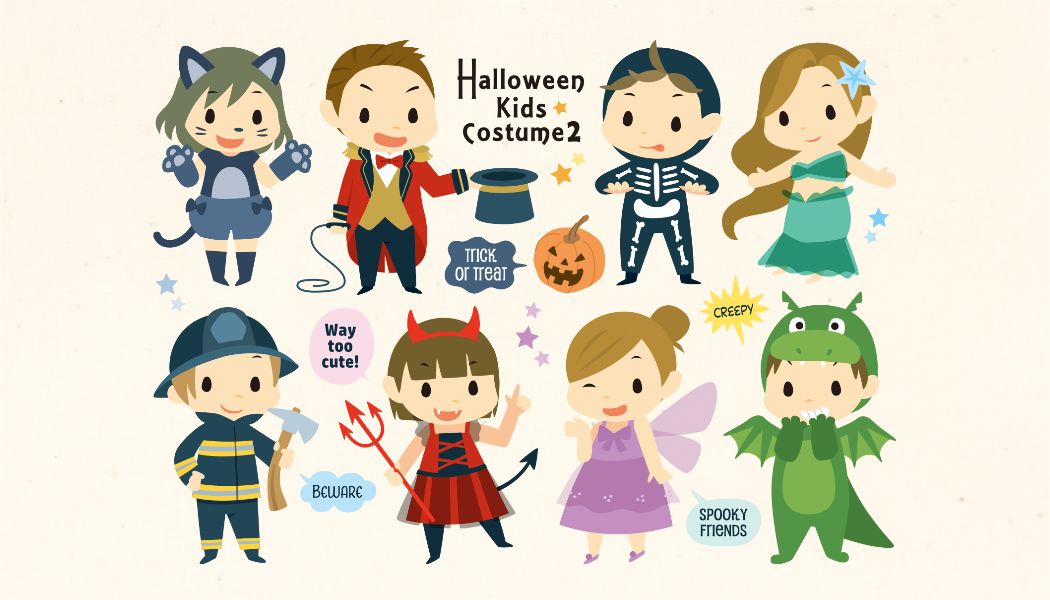 Halloween kids' costumes set on illustAC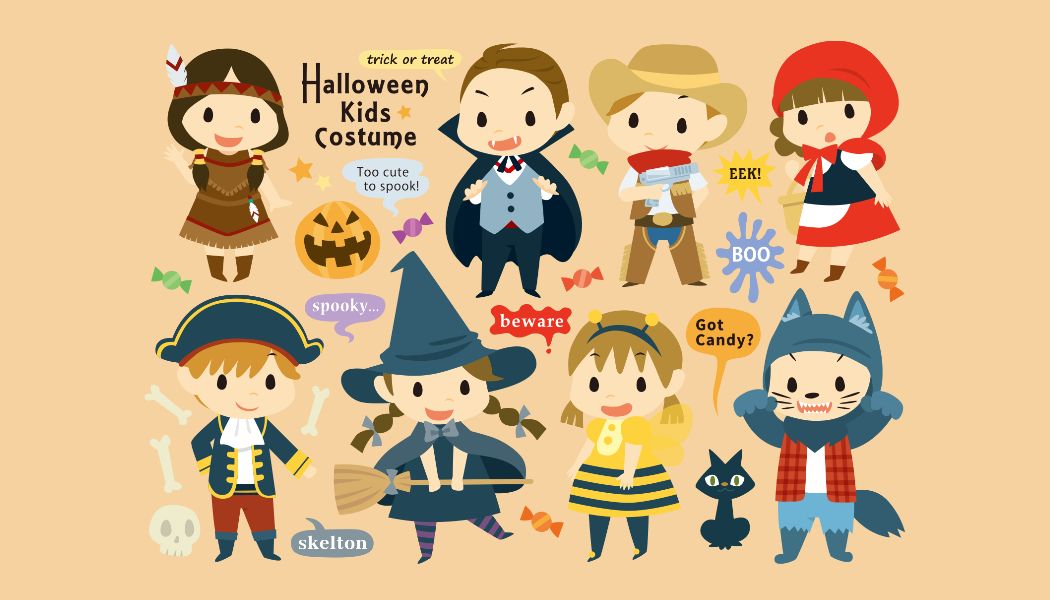 Halloween cute kids' costumes set on illustAC
6 types of Halloween templates to download
The illustrations above can be used in designing various kinds of Halloween templates for different purposes such as posters & banners for advertising, greeting cards & thank you cards for social connections, or even flashcards & presentations in teaching and learning.
Halloween Posters & Banners for Advertising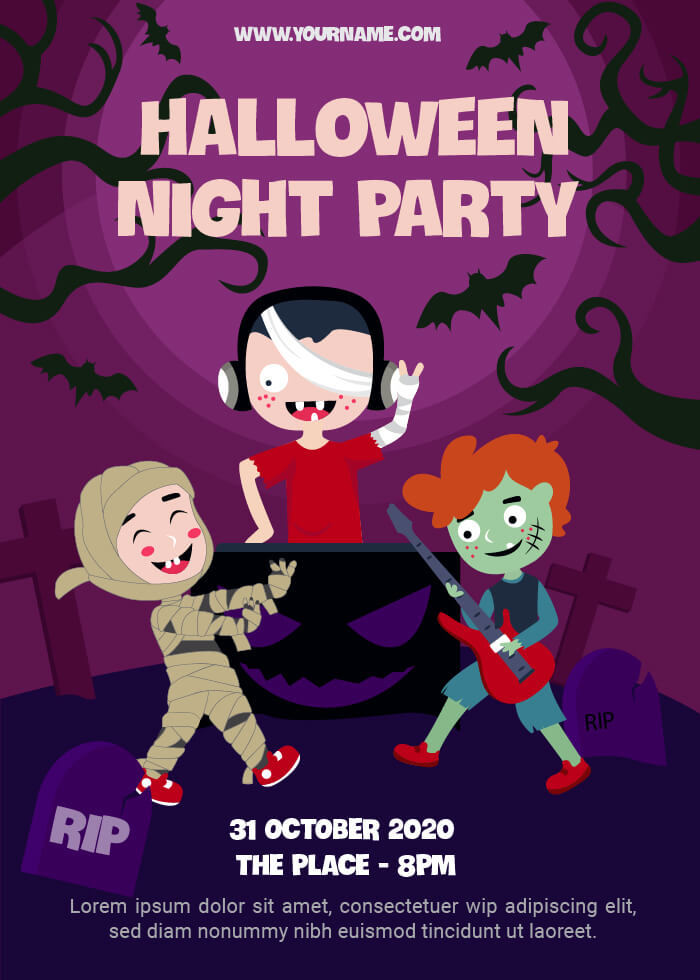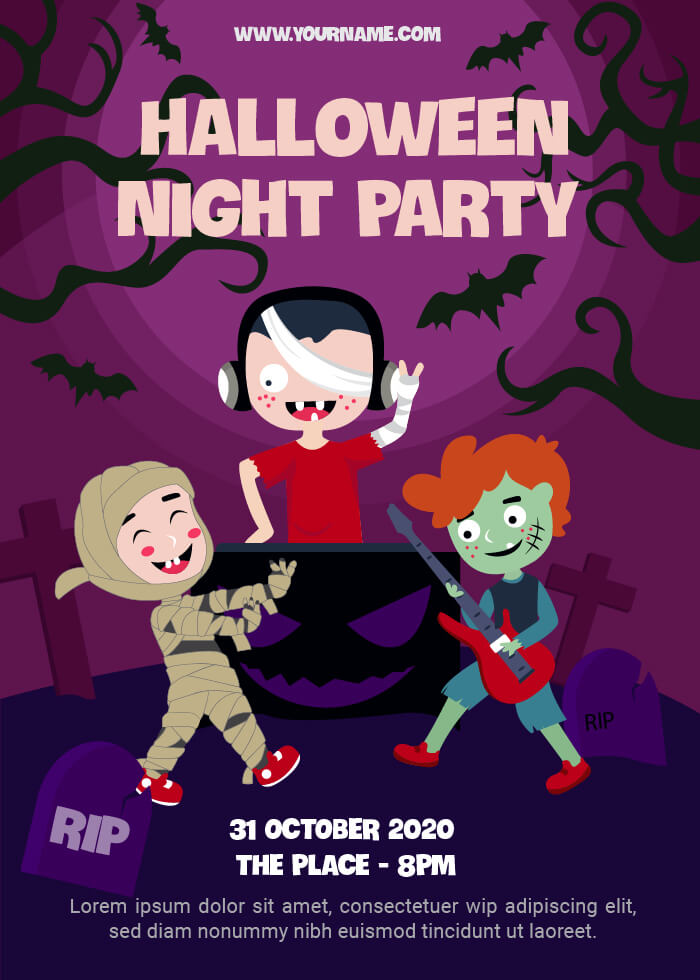 Halloween poster template on illustAC
Some tips you should notice when creating Halloween posters and banners:
Start with the right size
Make a good use of images including photos and illustrations
Make sure texts used are readable
Pay attention to call-to-action
Printing posters and banners are different from those on digital platforms regarding size, color schemes, etc. Consider where you want to display these designs carefully before starting any design.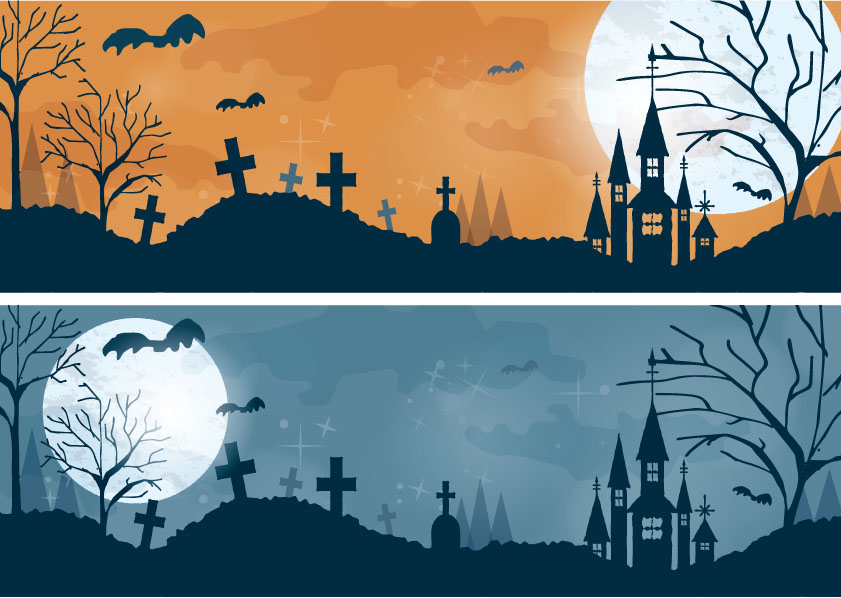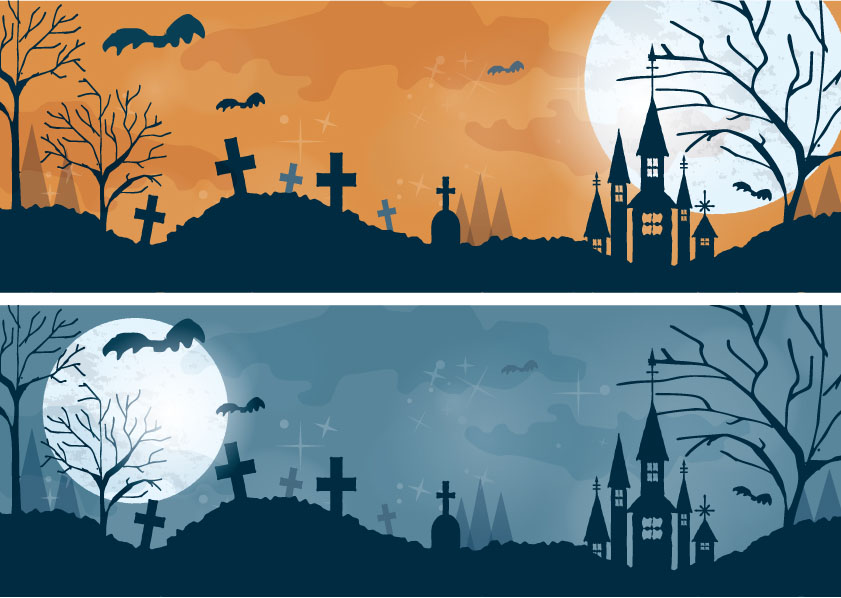 Halloween banner set on illustAC
Halloween Cards (both for digital use and printing)
There are several types of cards you can design for Halloween including greeting cards, thank you cards, and even flashcards.
Each type of card has different sizes. Taking a look at some card templates on illustAC to get inspired.  
Some tips you should notice when creating Halloween cards:
Choose the right type and size (is it a digital card or a printing one)
Consider the right messages and typography
Add eye-catching images and background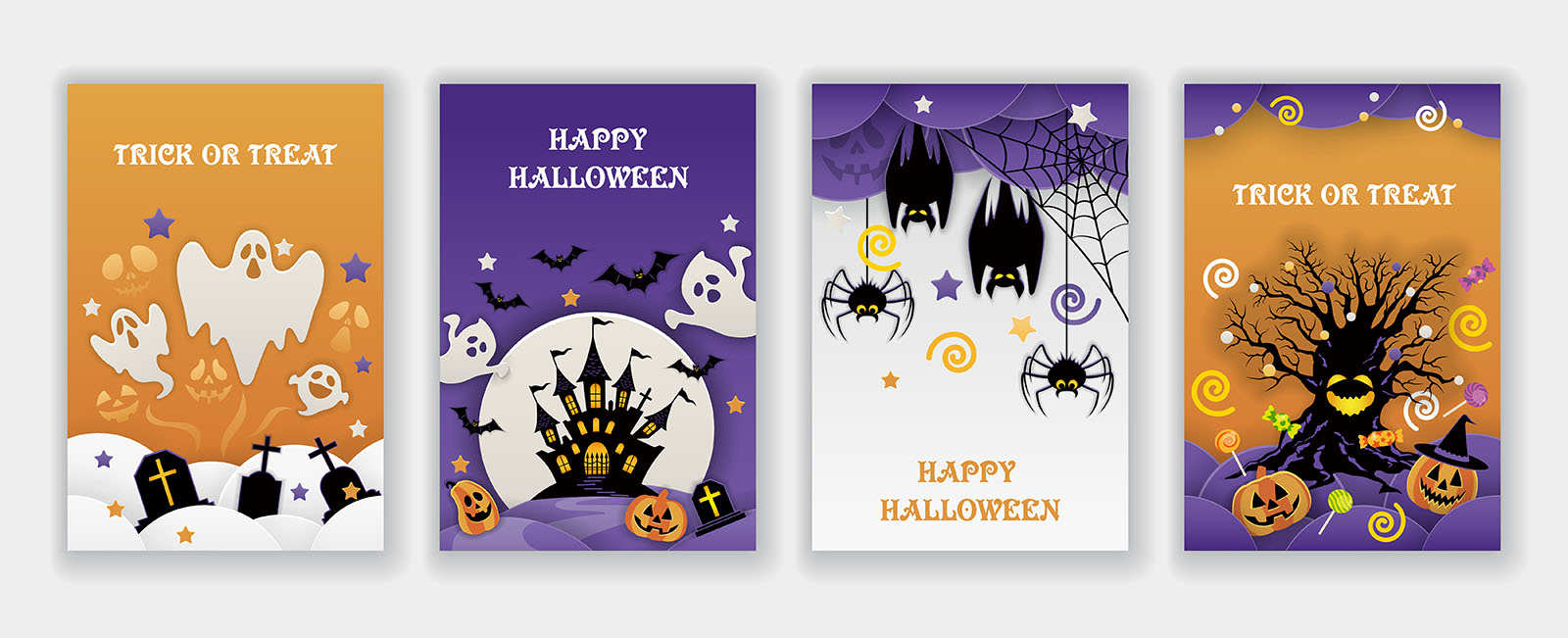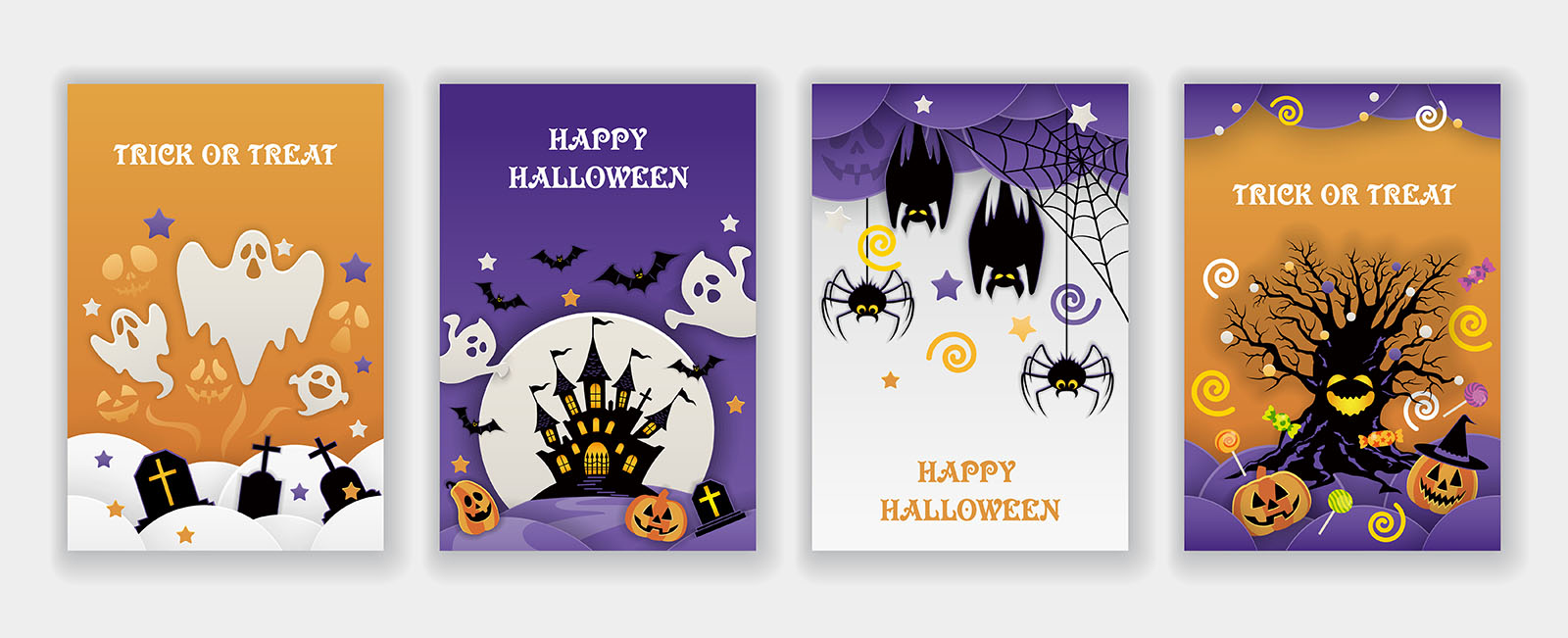 Halloween card templates on illustAC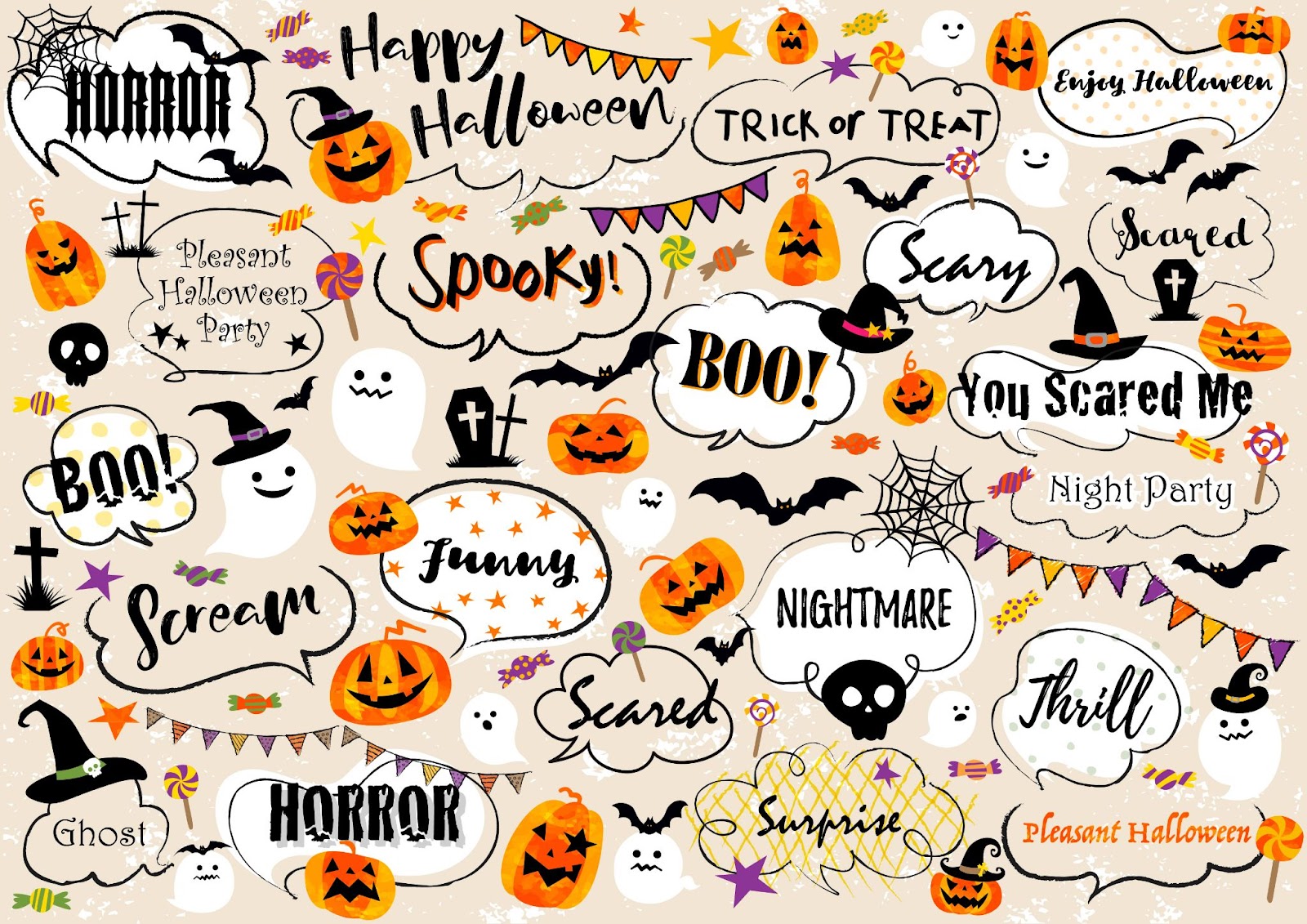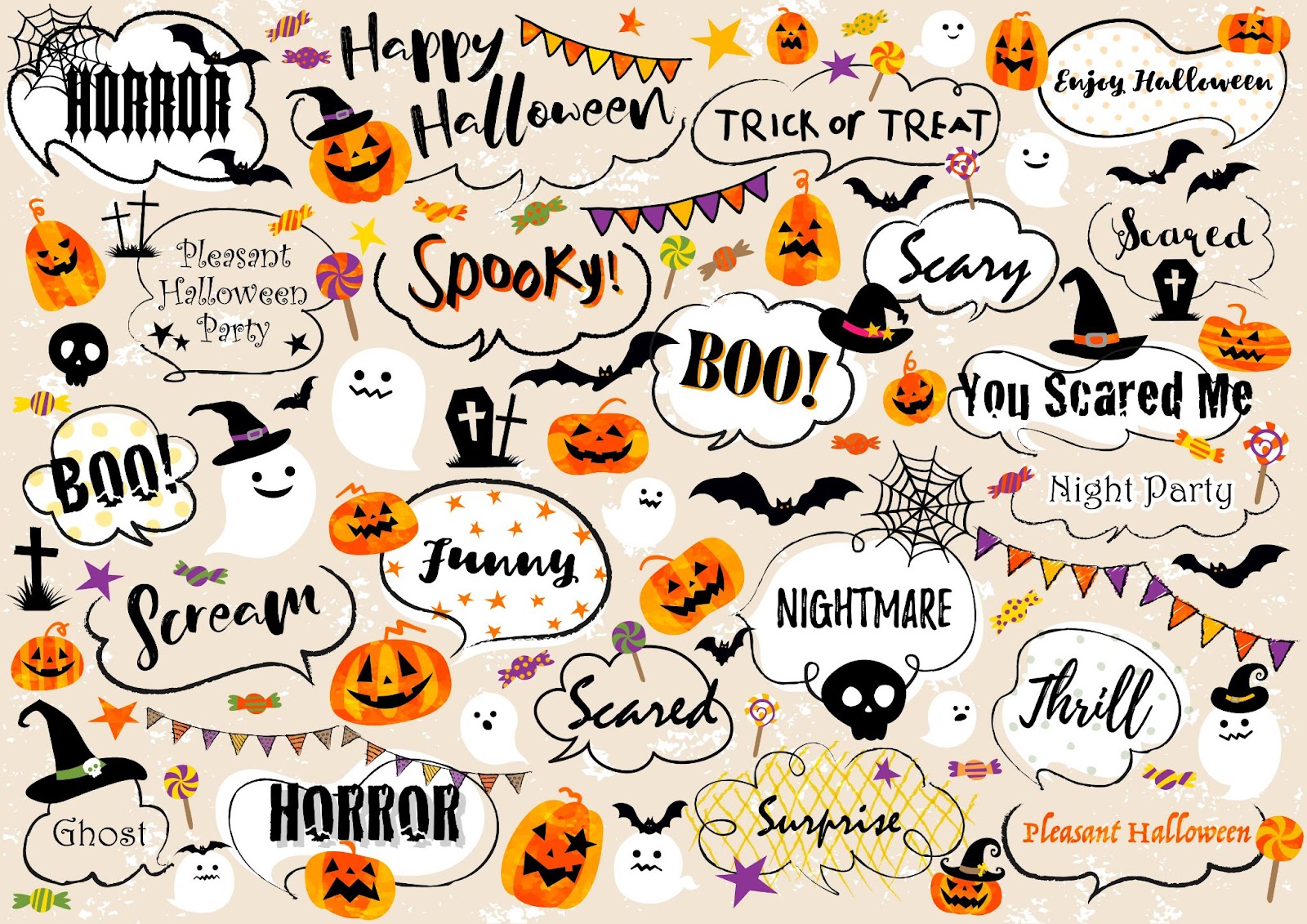 Halloween typography set on illustAC
Halloween Stickers, Stamps & Bookmarks for Printing
Stickers, stamps & bookmarks are mainly for printing, so don't miss these tips when creating your Halloween design set:
Stay simple
Be creative with shapes
Make sure texts used readable (if have any)
Use CMYK instead of RGB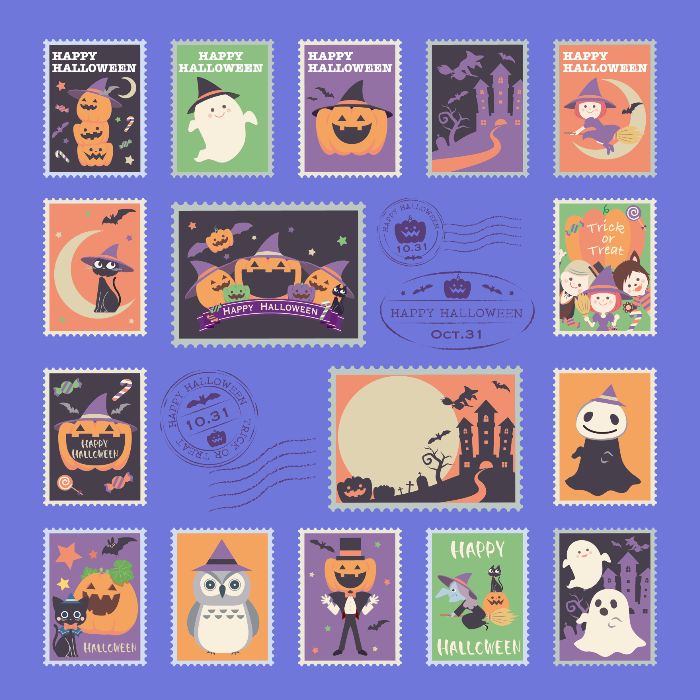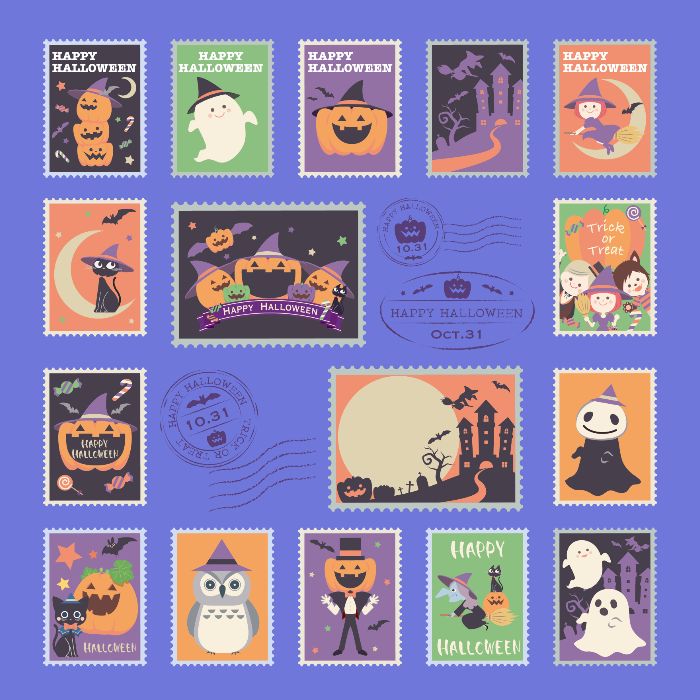 Halloween stamp set on illustAC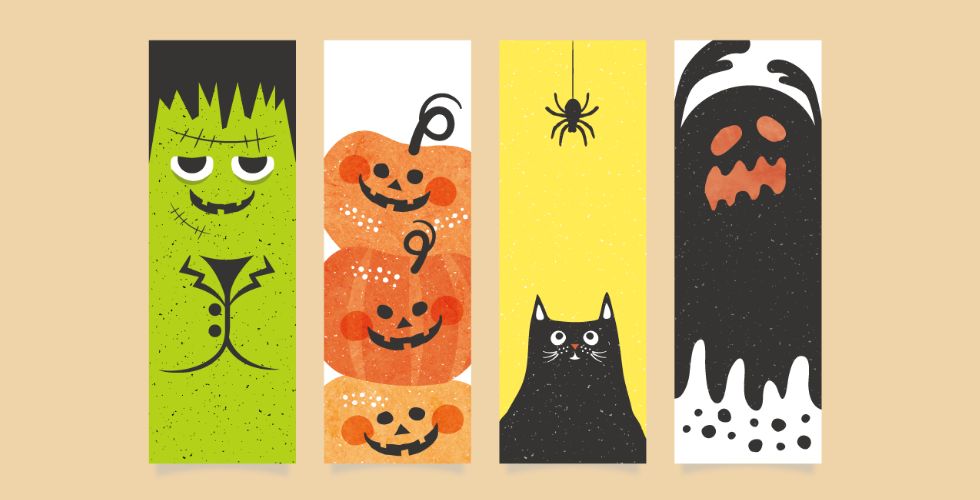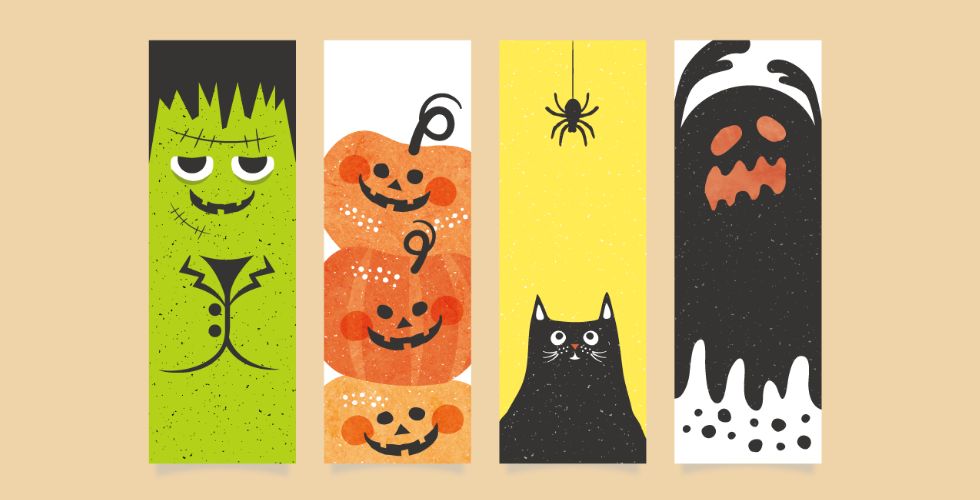 Halloween bookmark set on illustAC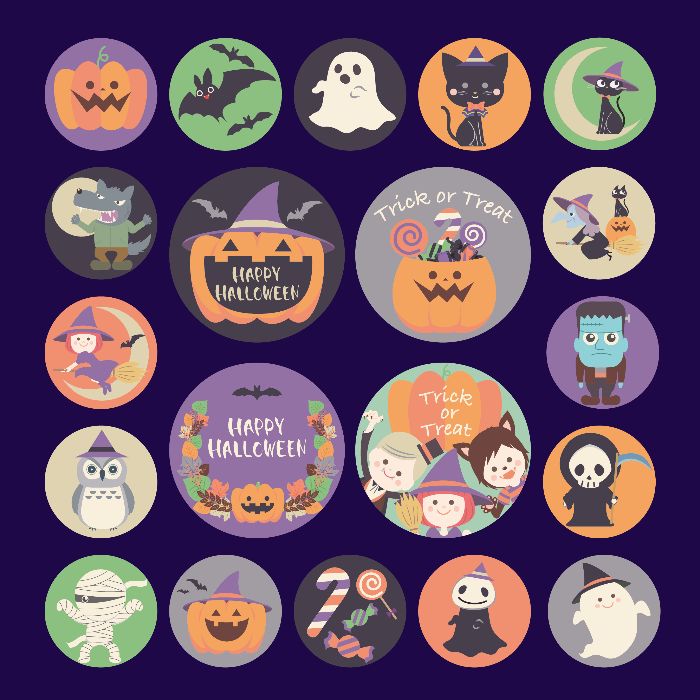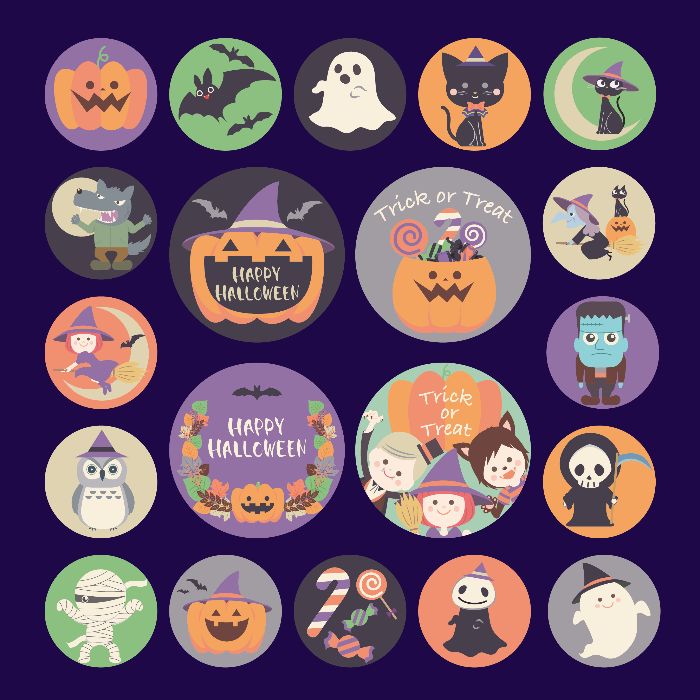 Halloween sticker set on illustAC
Download and use worry-free
Creating high-quality Halloween illustrations and other vector graphics can be challenging, involving a lot of time, cost and effort. Then, choosing to download Halloween design elements and templates is a smart choice.
You might want your designs to be unique, stand-out, easy to edit for both digital and printing purposes. Also, you might want them to be used legally in PoD or other uses like covering the usage of the images as the main element for products that will be sold to multiple clients. 
You can download the Halloween freebies introduced by illustAC here worry-free. 
Some standing-out features of illustAC you might want to know:
License for commercial uses: offer Extra license to cover the usage of the images as main element for product that will be sold to multiple clients
NO attribution required 
NO download limits: unlimited download times for premium users – you can download as much as you want
Bulk download for premium users: from search result pages, you can choose file types you like,  add them up to the download folder and download up to 10 files at a time. 
Download one format at a time: Freepik and some other platforms will let you download all files in a pack. In many cases, it's not really necessary to download such heavy files. On illustAC, we can choose what types of file format you want to download. You DON'T need to unzip or check any licenses – SIMPLE and EASY in a single click.
Unique content: illustAC offers various types of free vectors including brushes, templates, graphic backgrounds, etc. But the truly special one is that you can find real Japanese tastes here, from sushi illustrations to bold Japanese decor patterns that you can't see from nowhere else. 
Register now for free and enjoy millions of illustrations and vector graphics on illustAC!