Leveraging Emotional Marketing with Influencer Marketing
April 25, 2023
0 Comments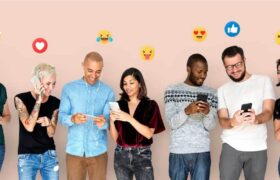 It is a no-brainer that emotion is one of the most significant factors that contribute to the success of any marketing campaign. 
If you disagree, then do thorough market research, and you'll find this to be true.
Admit it.
Emotion is the reason your consumers purchase products that may not even want or be good for them. 
Logic doesn't play into action that much. It's not how you make lifelong customers.
Think about it.
Even if you know that it's not healthy to eat at fast-food restaurants, you still take your family on weekends because their marketing campaigns tug at your heartstrings and promise not only delicious food but more importantly, fun times and great memories for the whole family.
The emotions they evoke drive customers to take action.
In the very first neuroscience study conducted on influencers, it showed that the power of influencer marketing comes from their ability to evoke intense emotions and create lasting memories.
But just how powerful is influencer marketing today?
Take a look at the current state of influencer marketing.
2023 Influencer Marketing Stats and Trends
62% of social media users trust micro-influencers more than celebrity endorsements.
38.9% of consumers aged 18-29 prefer influencer posts over any other type of ads.

According to Influencer Marketing Hub, the influencer marketing industry is set to grow to approximately $21.1 Billion in 2023.
When it comes to new customer acquisition online, influencer marketing is about 10x more effective compared to affiliate marketing.
Until a few years ago, Instagram remained a preferred choice for influencer marketing campaigns. However, in 2022, only 50.8% of brands preferred Instagram, putting it in the second position after TikTok, which was still preferred by 55.5% of brands, while Facebook and YouTube remained a preference by only 42.1% and 38.3% of brands.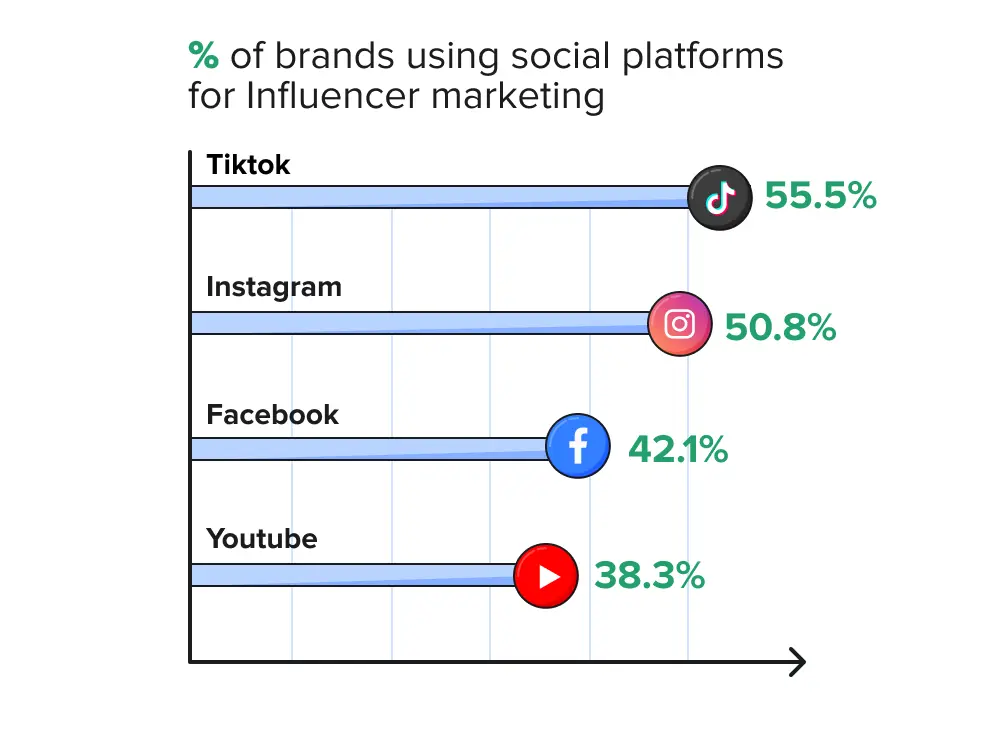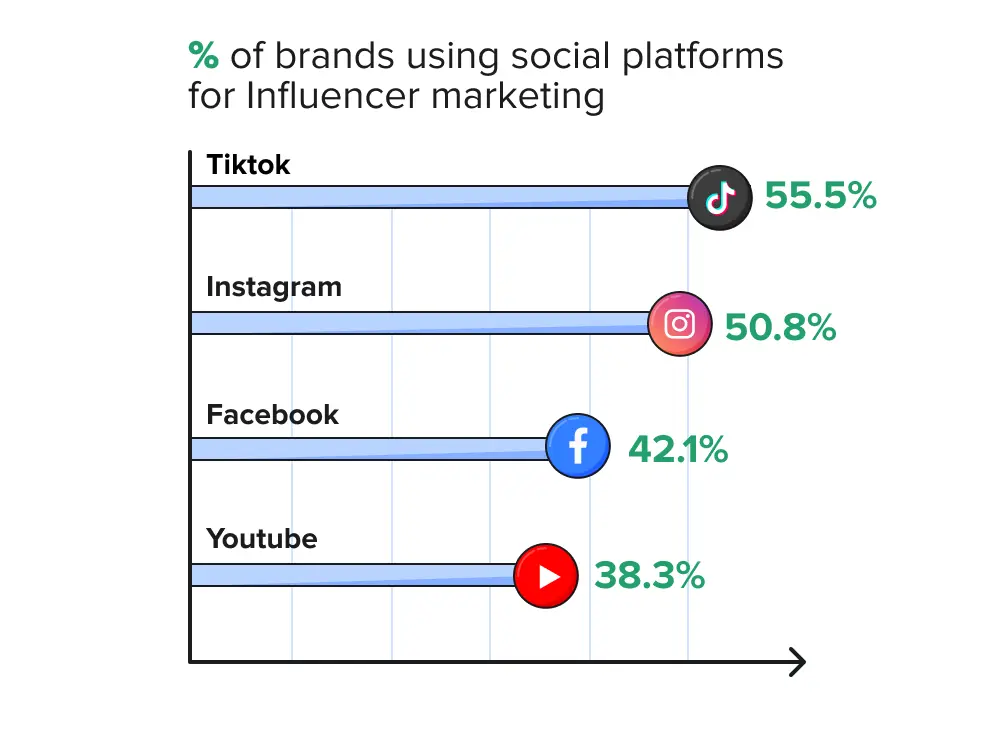 But first…
What Exactly is Emotional Marketing?
The term emotional marketing is used to refer to marketing efforts that make use of emotion to attract and engage the audience, as well as convert them and make them take action to buy products.
Using emotionally powerful content has always been embraced in B2C marketing.
Still, even those who are looking to strengthen their B2B efforts have a lot to gain from emotional marketing. 
Here's why:
It makes your brand and products more memorable.
It makes your ads/content more shareable.
It helps build loyalty.
It excites people and inspires them to take action.
It can be fulfilling for you to be inspiring, too.
Note that…
For B2B, you are going to have to tap an entirely different set of emotions from what you do for B2C. You have to create a brand voice that resonates with your target audience.
While you want to draw humour, sadness, and a sense of nostalgia with B2C, what you need to evoke for B2B are the feelings of credibility, reliability, trust, and excitement.
Streamlining Emotion Marketing with Influencer Marketing
With the success of influencer marketing in recent years and the proven efficiency of the use of emotions in marketing, it is a no-brainer that more and more marketers are streamlining emotion marketing to work with their influencer marketing campaigns.
But why?
Influencers Can Gain the Trust of Their Audience By Promoting Transparency
Think about it.
The power of an influencer is not solely based on the number of followers. It is largely based on how much people trust him or her.
How can an influencer gain the trust of people?
One's credibility in the field of influencer marketing comes from transparency and authenticity.
It should not only come from the influencer but the brands they represent, too.
Here are a few things influencers can do to gain the trust of their audience and the brands who may want to work with them:
Audit followers regularly to ensure there are no ghost accounts.
Check if the engagements on your posts are authentic. The comments should come from real humans and not bots. Be wary of generic comments such as " This looks great!" that come up often on your posts.
Limit sponsored posts and let everyone know when they do one.
Keep organic content and sponsored content balanced.
Never purchase engagement and/or followers.
Stay loyal to your personal brand while representing the core values of the partner brand.
Utilize the Power and Efficiency of Live Videos, Webinars, and Podcasts
It's true that if you want to get your message across, you better say it in a video.
Live videos, podcasts, and webinars have become powerful communication channels, mainly because they deliver results. It is due to their ability to drive an emotional connection that motivates people to take action.
This is especially effective if the influencers you work with agree to post live conversations with or about your brand on their social channels.
But why should you do it live, you might ask.
One of the obvious reasons is that live videos and webinars, and even podcasts come across as more genuine and raw.
When you do live videos on Facebook, for example, you can react to comments and address questions as soon as your audience posts them. People already know that they'll pick up something useful from podcasts and webinars, plus listening to the right tone in your podcast or seeing your sincerity to help via webinars will make your audience trust you.
Welcome More Guest Posts
Collaborating with influencers who write blogs and also accept guest blog posts is a good idea.
You can get results from guest blogging in two ways.
You can submit your content to influencers who are recognized in your industry and are willing to post your articles. This will help establish your authority and help you reach new audiences and even generate leads.
You can also accept guest posts from bloggers who can deliver great content and would share their work, which will drive traffic to the post on your website. It would be even better if they can come up with a blog series that will make their followers more emotionally invested in your brand.
Establish Positive Emotional Relationships with Influencers
Sounds simple enough, right? Not really.
You have to know how to achieve balance, meaning your relationship with the influencers you choose should be mutually beneficial.
Don't make the mistake of coming on too strong and suggesting overt marketing tactics. They won't work, and you don't want an influencer who's willing to compromise their authenticity in any case.
Simply put.
It would be best if you made sure that the chosen influencers are relevant to your product/service. This helps to strengthen and boost your value proposition.
Several platforms help you find the right one pertinent to your influencer marketing campaign.
Once you find the right influencer, what's next.
Hand Over the Reins for a Social Media Takeover
A social media takeover is an influencer marketing strategy wherein you allow the influencer to handle your social media brand promotion for some time.
Think about it.
With 2.4 billion daily active users of Facebook alone, you can already tell how important it is that you get your social marketing strategy right. A successful social media takeover can help you build your B2B brand on social media.
Now.
For social media takeover to succeed, you need to work with an influencer with a persona that is aligned with your brand image.
Just make sure that, during the takeover, the influencer will be curating content and posting stories for your Facebook and Instagram accounts for a specific duration. The influencers generally make use of social media publishing tools to manage it all social.
Basically, social media takeovers are helpful when brands need to promote upcoming events.
Check out what @eddibauer's Instagram account looked like during @brookewilson's takeover.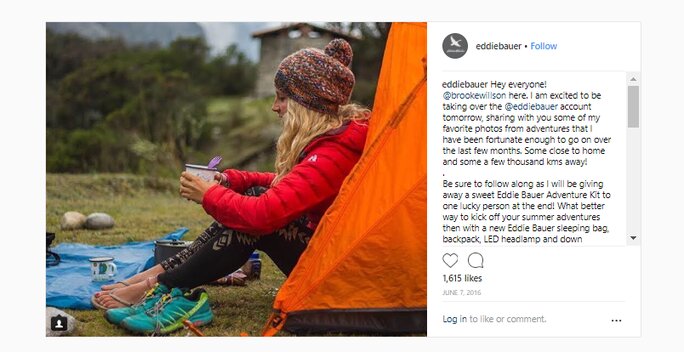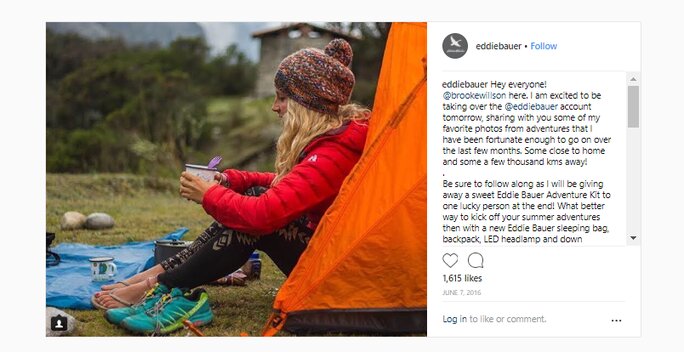 Improve Your Storytelling with the Help of Your Influencer
Great content stir the right emotions.
If done the right way, a compelling story about your brand and how it can improve an aspect of one's life can be a magic for B2B marketing.
Suppose you are already working with a few influencers who are using your product or service. In that case, you can reach out to them so they can share their story of how your brand changes the way they do their jobs or improve their way of life.
Start by creating a short video series featuring the influencers and your products that they love.
Micro Over Macro
Finding and choosing influencers is easy – the more followers they have, the better, right? Uhm, no.
That's a rookie mistake.
More exposure doesn't necessarily mean a better connection. When it comes to forming that emotional connection that you want to achieve, micro-influencers would be a better choice.
Why is that?
For one, micro and mid-level influencers still have the time to interact with and engage their audience. They can answer queries, listen to requests, and more.
Whereas in emotion marketing, relevance is more important than mass reach.
People trust micro and mid-level influencers more because they tend to be more authentic with their reviews and opinions.
After all, they, too, are still building their name. They wouldn't compromise their reputation for money.
Win Hearts with Giveaways and Fun Contests
Giving away free products and hosting contests are always considered as good marketing ideas.
These would even become more fruitful when you do it through your trusted influencers. The prospect of winning gifts and discounts are always good motivations for audiences to engage better with brands.
Fun promos also trigger excitement and all sorts of positive emotions. Your brand will be associated with kindness and generosity, too.
Think of creative ways to do contests.
For instance, ask people to share heartwarming photos or stories. You can manage these contests with online marketing tools for effective results. The winner will not only get amazing prizes but also get featured by your brand and your influencer's social media accounts. That's a great start to a lasting emotional connection!
5 Noteworthy Influencers Who Nail Emotional Marketing
Paola Mathe is a creative director, photographer, entrepreneur, and mom with over 268,000 followers. She has promoted brands like Lo & Sons in her posts. Moms with loyal followers tend to have strong emotional connections with their audience, as moms are always looking for support and inspiration from their peers.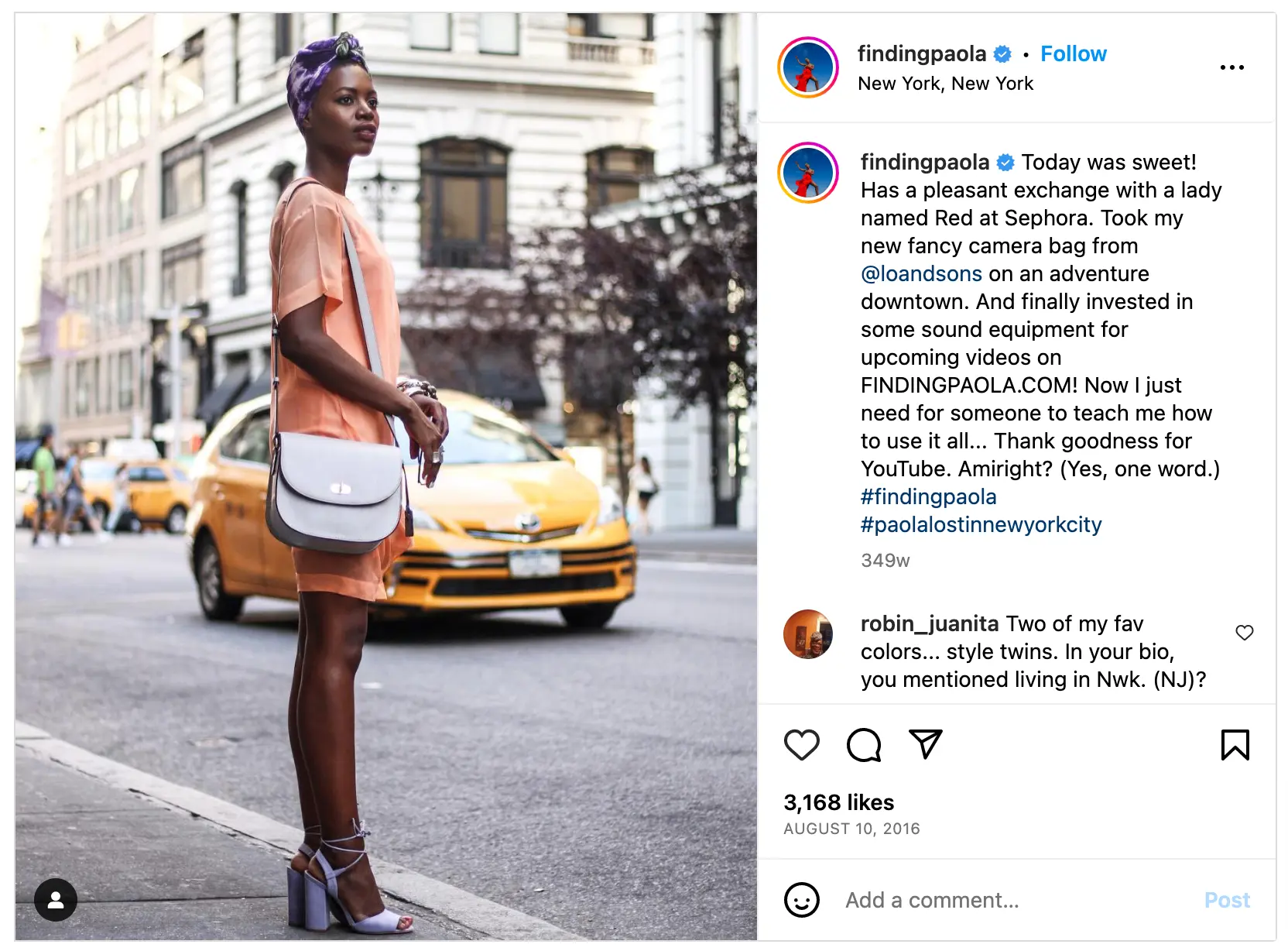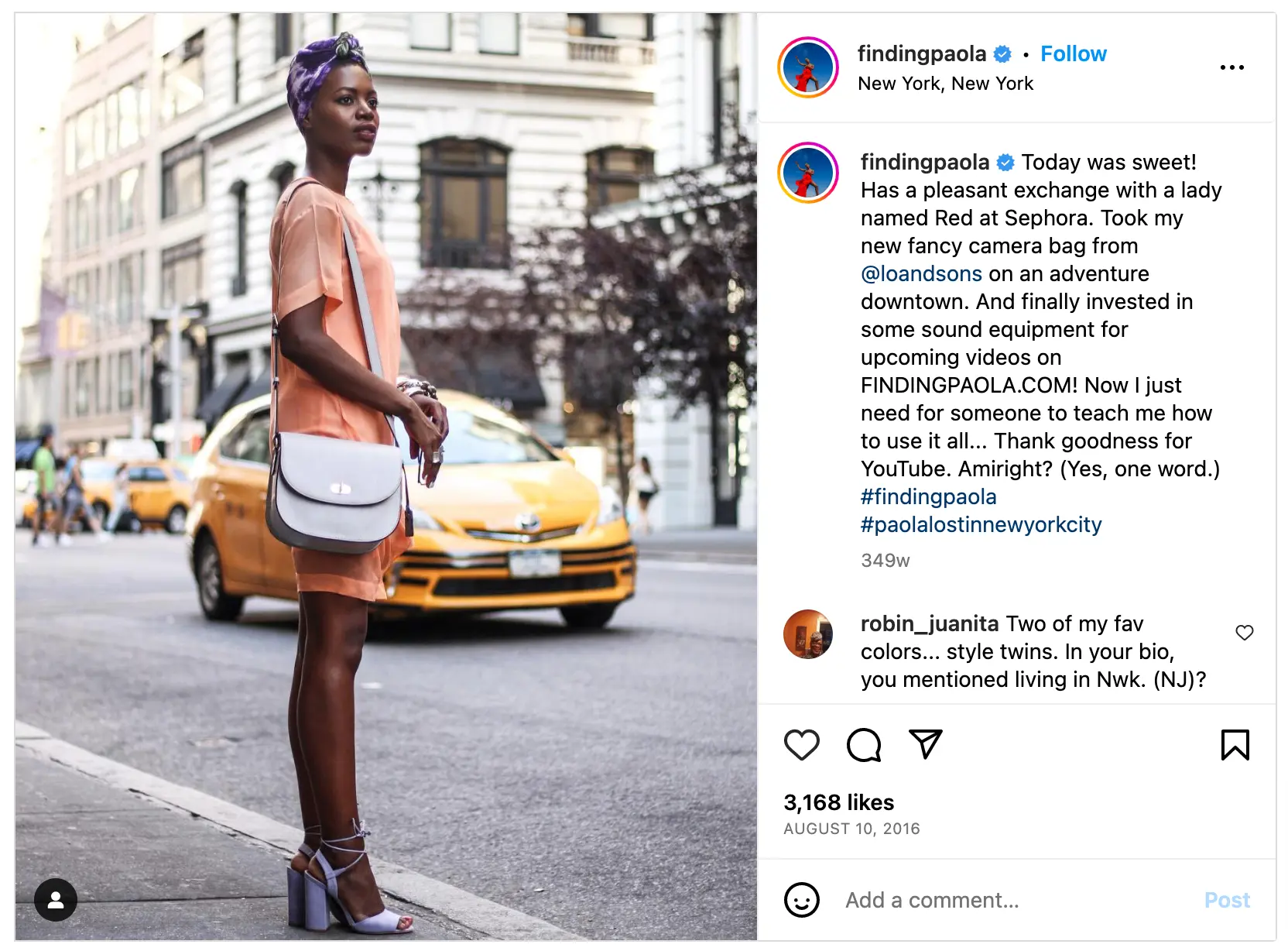 Arianne Witt, better known as Lola Jagger on social media, is a micro-influencer and content creator focusing on fashion, lifestyle, beauty, music, and more. With over 31,000 followers, she has become a successful and effective influencer. Lola has partnered with brands like KITX, ECCO, Adidas, and Versace to create engaging and inspiring content.
In this Reel, she encouraged people to adopt a more active lifestyle and shared her ideas on how viewers could style their living, dining, and bath spaces using the products of the brands she has collaborated with.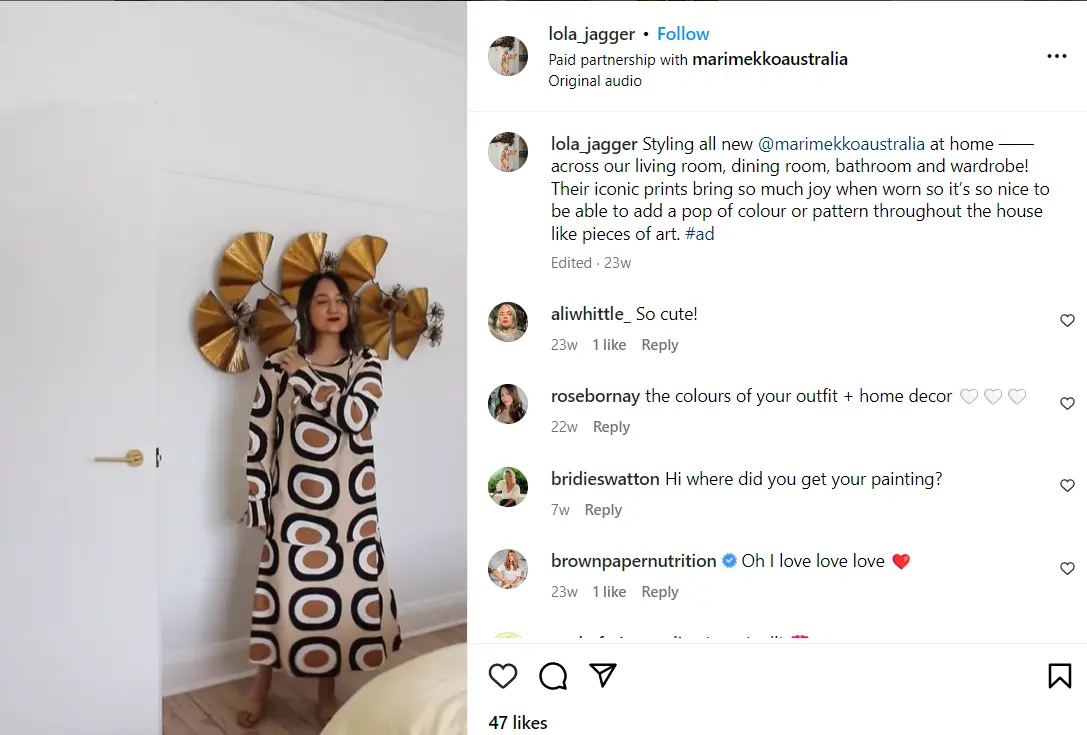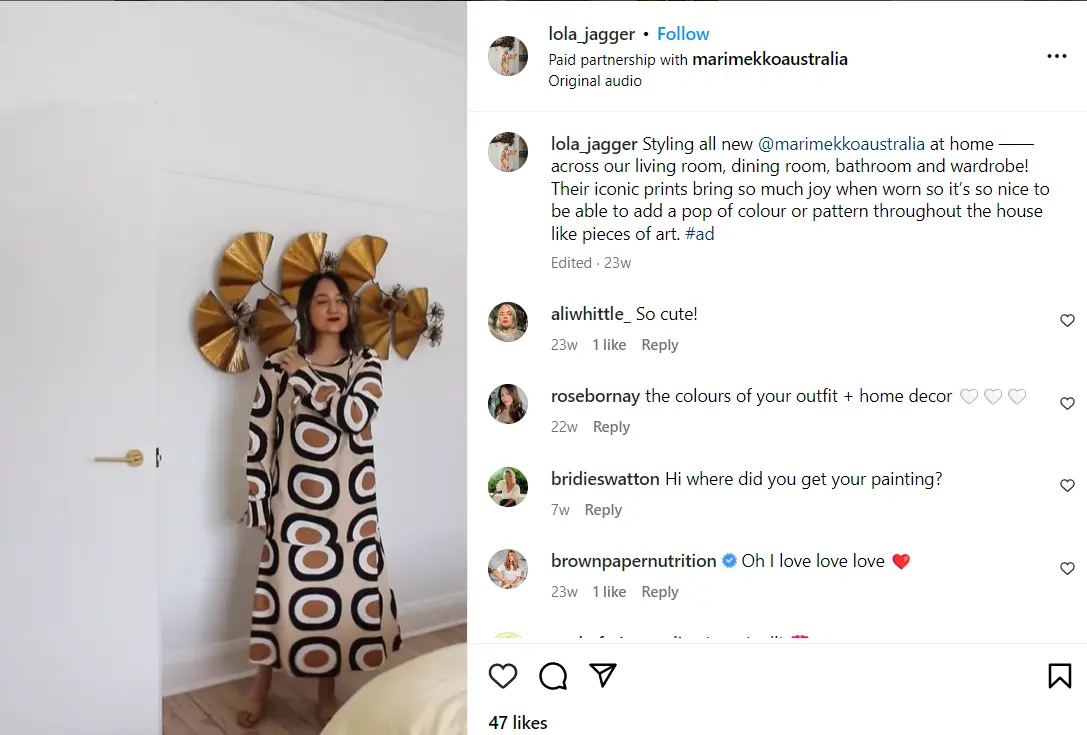 This trusted influencer is also a teacher and adventurer. She is best known for her fun stories and gorgeous photos of her adventures. She has done social media takeover for brands such as Eddie Bauer. Travel influencers have a very powerful hold over their audience. Their adventures inspire people to see more of the world. And Eddie Bauer being a brand that stands for adventure as well makes the partnership perfect.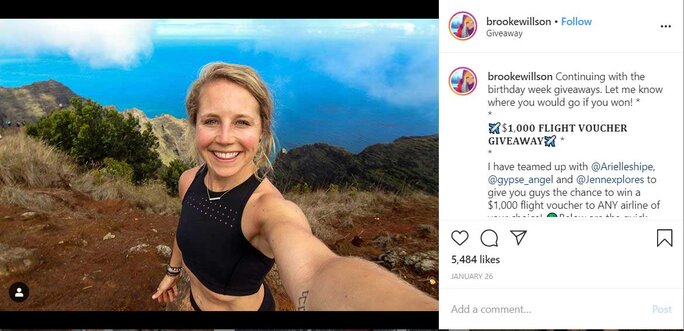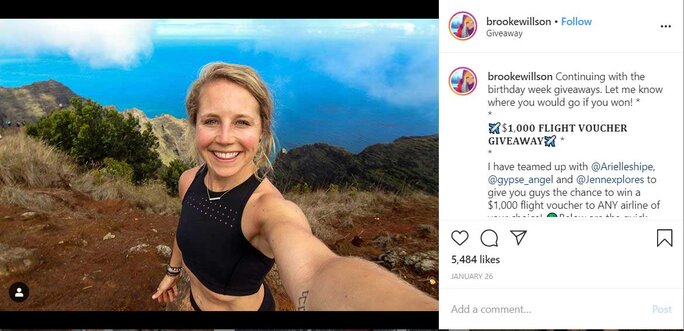 With over 13,000 followers, fashion stylist Laura Hunt is one of the top micro-influencers you should watch out. She is known for her authenticity. People love that she has already been talking about brands she loves even before influencer marketing became a thing! That's a great way to build trust and credibility.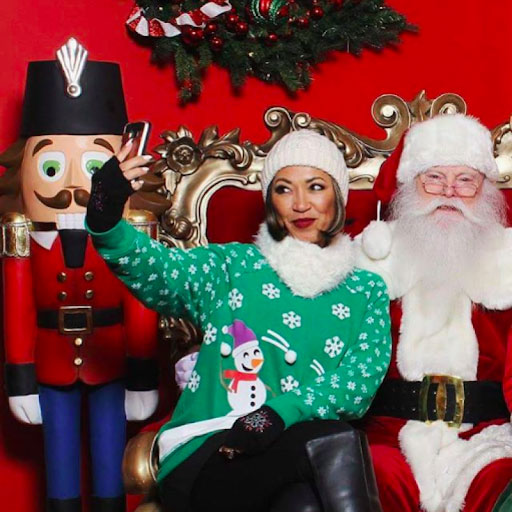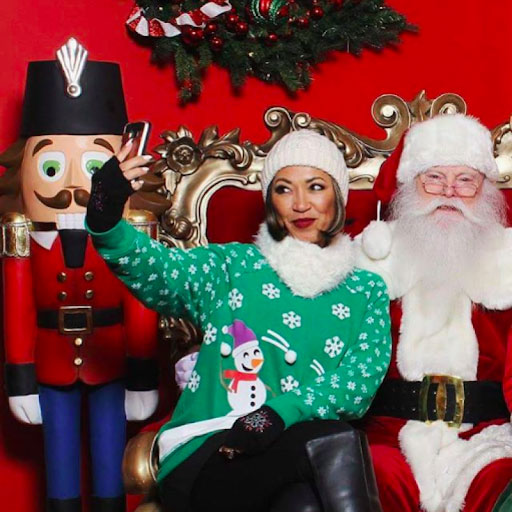 This "Body Positive Babe" is one of the most beloved influencers because of the great message about loving your own body that she sends out to the world. She has over 1,54,000 loyal followers that hang on to her every post.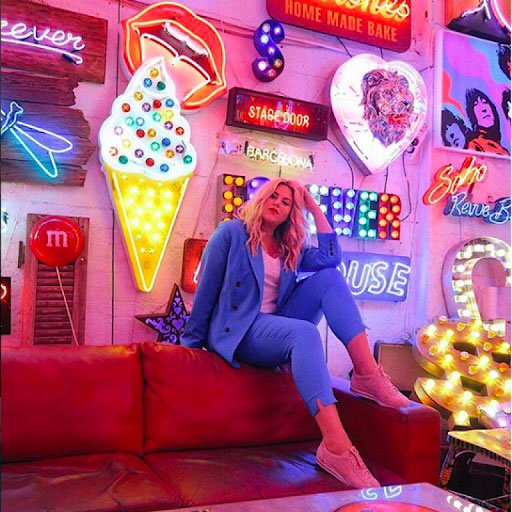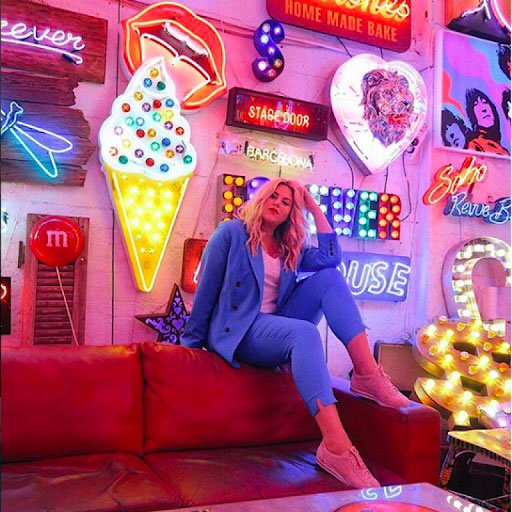 Conclusion
Recognizing the power of emotion and incorporating it into your influencer marketing strategy is an excellent way to attract your audience and urge them to take action.
To make it work, you need to know which particular emotions would positively stir them the most.
It is vital to have the right influencers by your side who can represent your brand most authentically and could draw emotions from your audience will help you achieve your marketing goals quickly.