What is the Best Time to Post on TikTok in 2022?
August 22, 2022
0 Comments
Listen to this blog
TikTok has been pretty atypical in the social media landscape. It came, conquered, and established itself as a game-changer.
Now, everybody wants a piece of that cake.
All credit to its creative features, TikTok is on the list of every marketer and brand to boost their businesses in the most amusing way possible.
With 850 million active users worldwide, most brands are vying to make their TikTok marketing effort a success.
However, breaking the success code on TikTok takes more than posting your content. While creativity bags the first place, the posting time matters a lot.
If you are also looking to boost your reach and engagement on TikTok, you ought to know the best time to post on TikTok.
Posting at the best times ensures that your creative videos grab as many eyeballs as possible. However, finding when is the best time to post on TikTok can be a tricky quest.
That's why we inspected the platform to find the best time to post on TikTok for your brand.
Let's begin!
Why Does the Best Time to Post on TikTok Matter?
If you have been using TikTok for a while, you would know that showing up in TikTok's "For You" section has become the holy grail for creators, brands, and influencers.
The "For You" section shows you an endless stream of videos picked up by the algorithm, based on your past interaction on the app. Videos appearing in this section receive a wider audience and engagement.
In a nutshell, showing up in this section is the answer to every TikToker's question on "how to get views on TikTok?"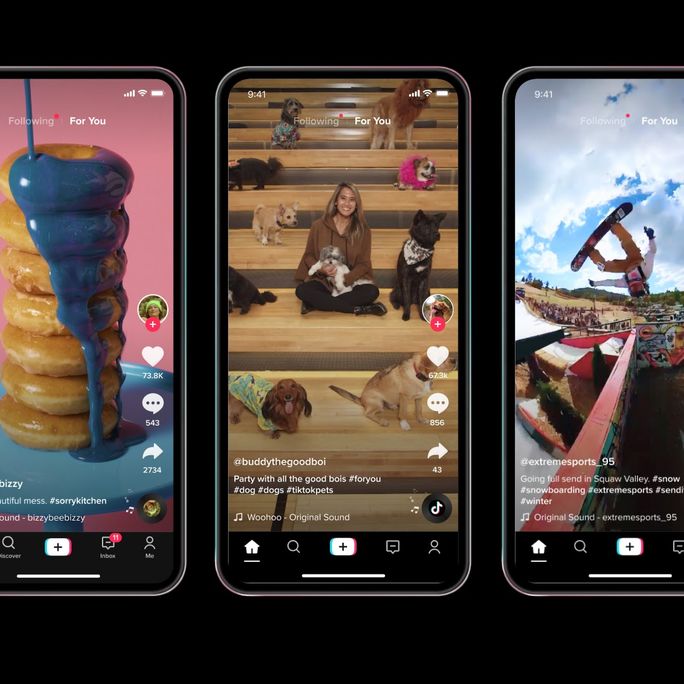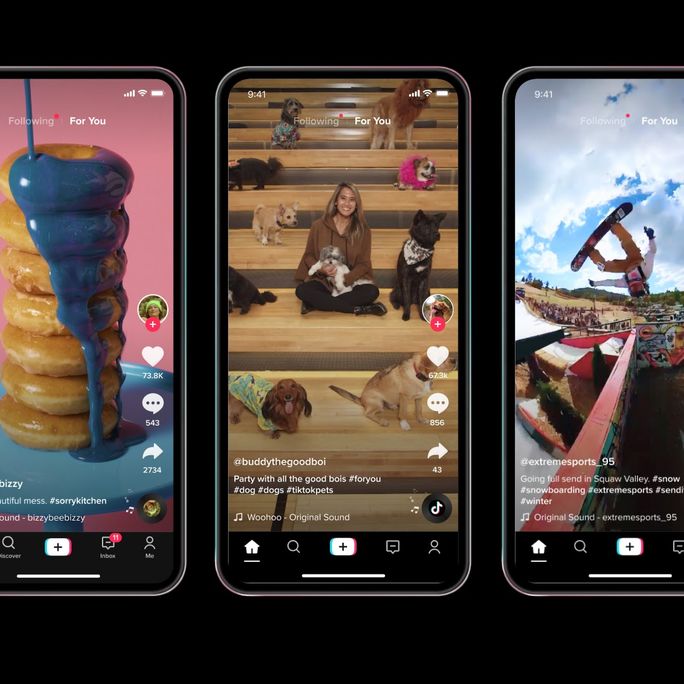 But, where does the best time to post on TikTok fit in here?
So, the algorithm picks videos for the "For You" section based on specific criteria, including user interactions. Videos that receive many likes, shares, and comments have a greater chance of being featured in the "For You" section.
Now how do you intend to keep the interaction wheel running if your posts aren't even showing up in the following feed when most of your audience is active on TikTok.
Optimizing your posting time will increase the chances of your post getting stellar engagement and appearing in the "For You" section.
But remember the most important thing.
If you don't create quality content, no timing will be best for you. The algorithm prefers videos that are watched from start to finish, so make sure to develop scroll-stopping TikTok videos using trending hashtags, effects, songs, and collaborators.
What is the Best Time to Post on TikTok?
Let's get done with this!
We found that there is no best time to post on TikTok.
Yes, there is no one-size-fits-it-all, or should I say the one-time-fits-all approach to find the best time to post. And this applies to all social media platforms. Look at our recent studies on:
It is because no brand or influencer on TikTok has the same target audience. Similarly, every audience occupies a different time frame to hang out on the platform to watch content.
But there is a piece of good news to calm the spluttering lips of people who want to find out the best time to post on TikTok – the average best time to post on TikTok.
You can leverage the average best time reports to start finding the time that works best for you. The chances of these best times working wonders for you are relatively good.
So, before we move on to find your personal best time to post on TikTok, let's check out the study conducted by Influencer marketing hub that tells us a few sweet time spots to post on: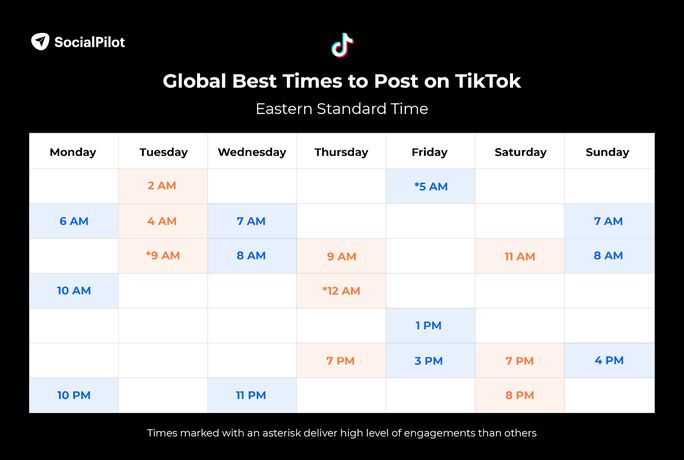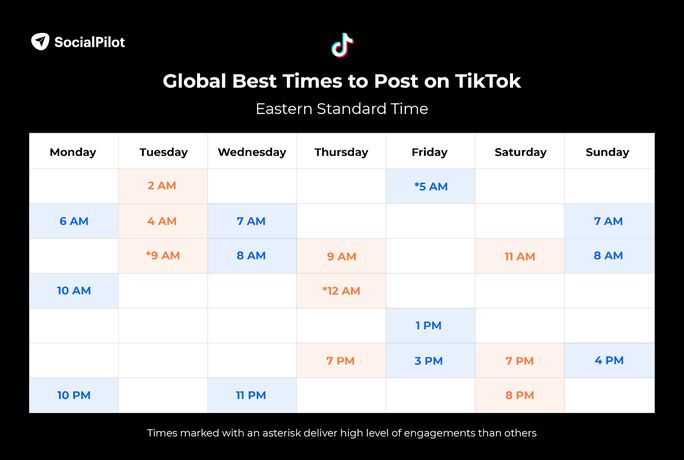 To sum it up, the best time to post on TikTok is between 6 am to 10 am and 7 pm to 11 pm, whereas the best days to post on TikTok are Tuesday, Thursday, and Friday.
How Can You Find Your Best Time to Post on TikTok?
It's hard to say that the average best time to post for a wide range of businesses, based on different companies' data in other parts of the world, would also apply to your business.
Still, if you are new to TikTok, then having the average best times to post will come in very handy to kick-off your video sharing.
On the other hand, if you have been using TikTok for a while, it is time to find the best time to post specifically for your TikTok profile by digging into the analytics section.
Let's run through the step-by-step process to find out the best time to post on TikTok, so you never miss an engagement opportunity.
Step 1: Switch to a TikTok Pro Account
Before we cut to the chase, you must convert your basic account into a pro Tiktok account. You can only see the detailed profile analytics necessary to gauge your best time to post on a TikTok Pro account.
Here are the steps:
Head to the "Manage my account" section by tapping the three dots in the upper right corner of your profile page.
Inside the section, click on the "Switch to a Pro Account."
Further, choose your business category, and click "Done."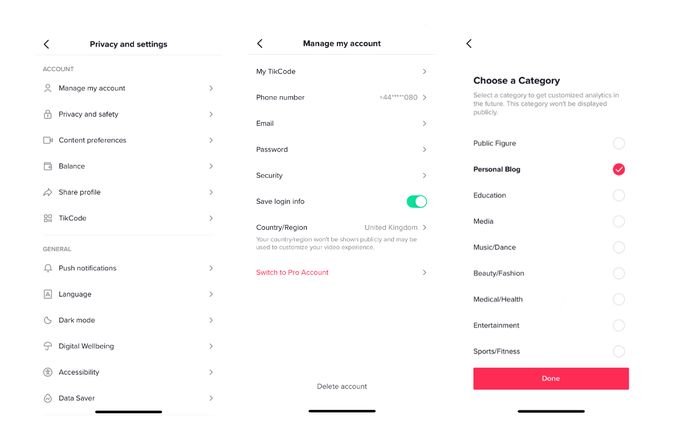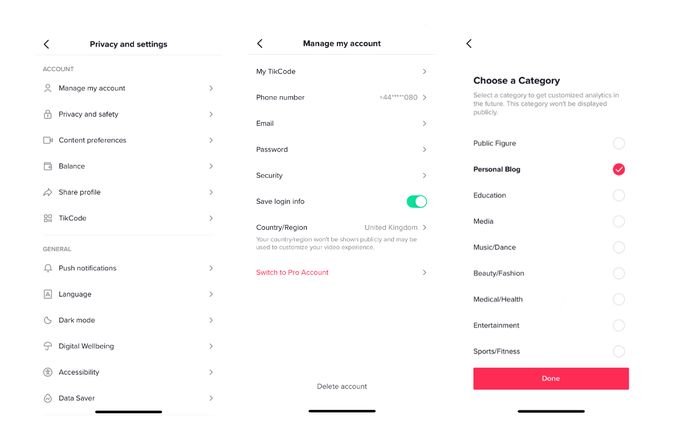 Once you are done with all the steps, a dialogue box will welcome you to your pro account. Now you will be able to see the "Analytics" section in your Settings menu.
The next step is to dive into your Analytics section. TikTok's analytics section is divided into three tabs: Overview, Content, and Followers.
To find out when is the best time to post on TikTok, you will first need to identify where your audience lives.
Step 2: Find Your Top Territories
Identifying the top territories where your audience resides is crucial in finding out the best time to post on TikTok, especially when catering to a global audience across time zones.
It will allow you to settle for a common time across multiple time zones when most of your audience will be online to gobble down your content.
To find out where your audience lives, go to the "Followers" tab and scroll down to view the "Top Territories."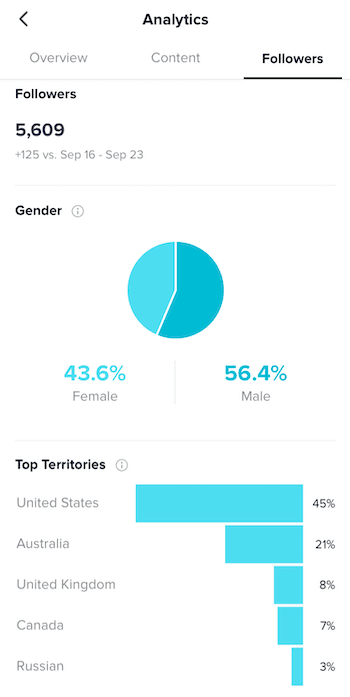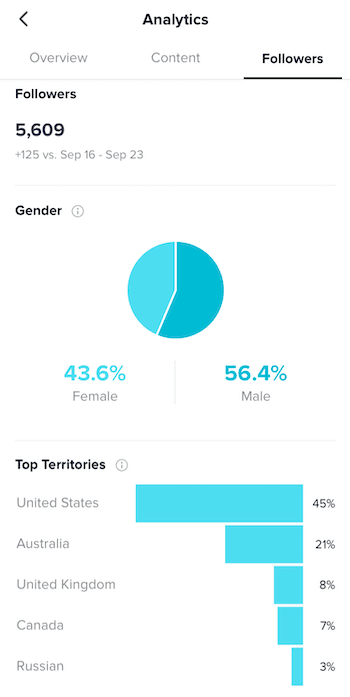 Look at the above example. The majority of the followers live in the US, with Australia following, and then the percentage is scattered across countries.
Unfortunately, unlike Instagram, TikTok only segregates the territories data based on countries and not specific cities. It presents a problem for marketers whose audience lives in countries spanning multiple time zones.
So is the case with the US and Australia. Both countries have multiple time zones across states.
For example, say your followers reside in New York City (EST) and California (PT), then posting according to a one-time standard will lose the engagement you could get from the other. The video posted at 7 am EST won't find the fellow Californians because they would still be in bed.
Don't worry. There is a workaround to get out of this metric black hole in the further steps.
Step 3: Check When Your Followers are Most Active
Another exciting thing in the TikTok analytics section is the Follower activity metric. It lets you identify the hours and days on which your audience was most active.
Isn't that great?
To find the "Followers Activity" representation, scroll down inside the Followers tab. Here, you can see how many followers were active on a particular day of the week. It can be seen that follower activity for this account is constant throughout the week.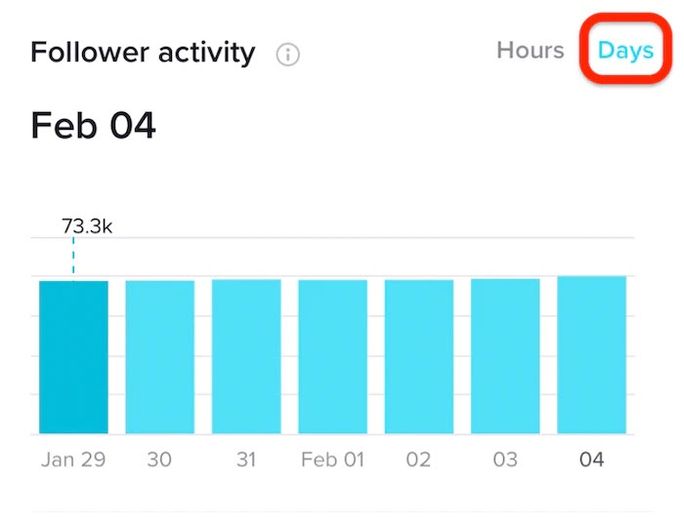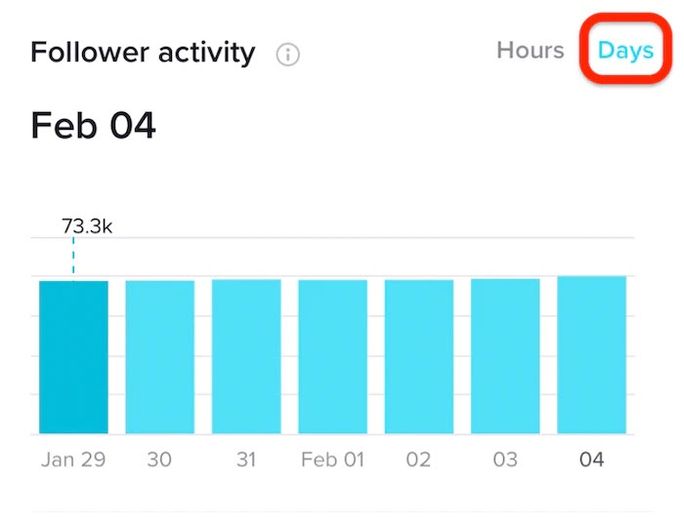 Moreover, to make the picture clearer, you can see the number of followers active at any specific hour of the day for that week. The below image shows the follower activity gradually increasing from 11 am to 7 pm.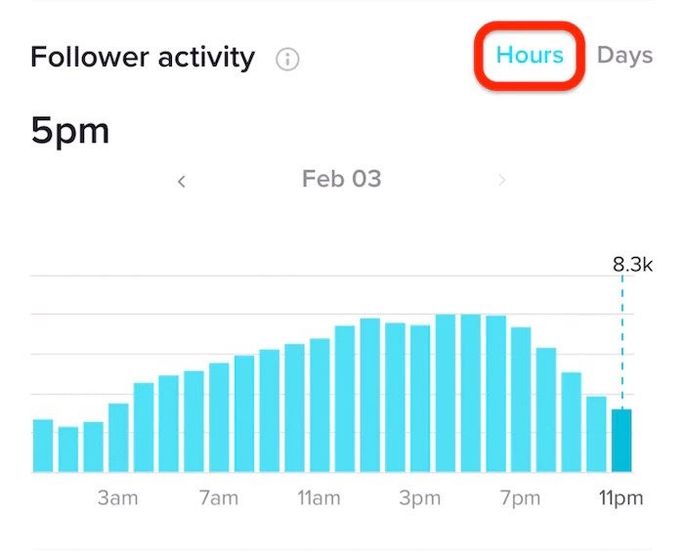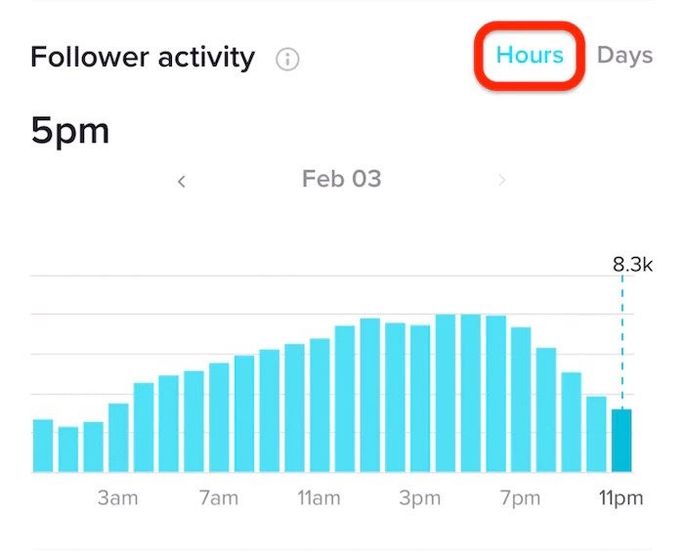 Similarly, by looking at your account's weekly and hourly data, you can zero down on the best time to post on TikTok for better engagement.
Note: Every data in TikTok's analytics section is presented in Coordinated Universal Time (UTC). So make sure you convert the data into the time zone of your audience's location. You can find multiple time converter tools on Google easily.
Step 4: Leverage Data of Your High-Performing Content
The final key to getting closer to your best time to post on TikTok lies in tracking your previous content's performance.
See if you can find a pattern between your high-performing content and its posting day and time.
TikTok analytics "Content" tab gives in-depth insights to gauge the performance of the content you have posted over the last 7 days.
For each post, you will see tons of performance metrics, such as the number of likes, comments, shares, reach, and average watch time it received.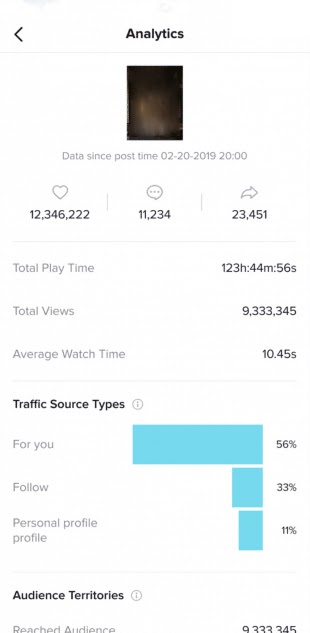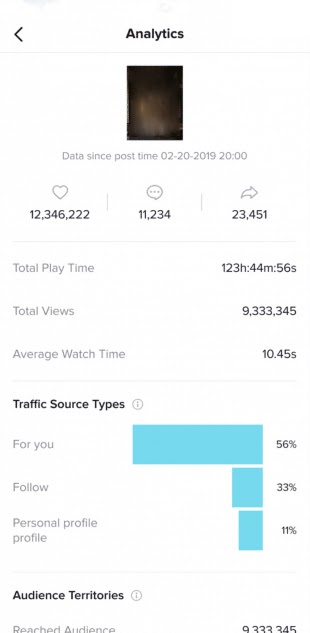 Also, you can figure out how much traffic your video is getting from the "For You" and "Following" pages, along with the number of views it is receiving from different countries around the world.
Once you sort out all the best-performing content, check out its posting time and date to trace out a pattern there.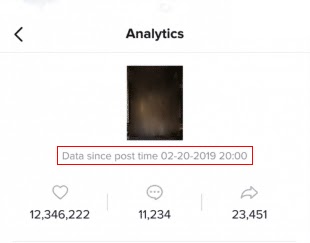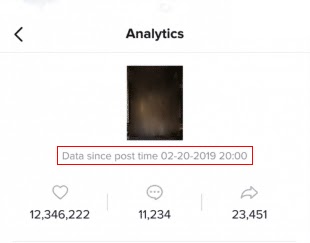 For example, if all of your high-performing data were posted on Tuesdays and Fridays between a specific time frame, then voila! You just found out one of your best times to post on the platform.
Note: Here also, the time present will be in UTC, so don't forget to convert it.
Step 5: Create a Spreadsheet for Tracking
Since TikTok only provides you the post-performance data of the last 7 days, you must create a spreadsheet to track all your content performance.
Having a month of best TikTok post-times data will help you make informed decisions. You can keep track of the following metrics in your spreadsheet:
Posting Day and Time
Video Title
Video Likes
Video Comments
Video Reach
Video Shares
Video Average watch time
Video Views
Traffic Source
Primary and Secondary Audience Territories
After a month or quarter of tracking, you can go back to find out which days and times brought you the best results. Make it your best time to post on TikTok.
Doing this exercise will also let you know which of your content generates the most playtime and gets traffic from the "For You" section and which one is not performing well.
Here's an example of a tracking spreadsheet for TikTok:


How to Effectively Use Multiple Best Times to Post on TikTok?
As you move forward to find the best time to post on TikTok, you will realize that there is no single best day or time. Every brand has multiple occasions to find maximum exposure for their followers on TikTok.
And thank goodness, such is the case!
You wouldn't want to live in a world where your brand gets a single day or time window to engage with the audience.
But, for a social media manager handling multiple client accounts, posting on multiple best times can get pretty frantic.
This is where you need a social media scheduling tool!
SocialPilot is a tool that enables you to create and schedule multiple TikTok posts – days, weeks, and even months ahead of time.


All you need to do is add multiple time slots for different hours in a day across months, based on your best time in its content scheduler.
Whenever you create and add a post in the queue, it gets scheduled and will publish automatically according to the chosen time slots.
You can do the same with every client account.
Here's a step-by-step process for using SocialPilot to schedule posts on TikTok.
Summing it Up
As TikTok is becoming a new hotbed of engagement, newer brands of all sizes are entering to drive real impact for their business.
It's time for you to leverage the engagement power of TikTok.
But remember, posting isn't the only magic bullet here. It's a stepping stone to help you get in the eye of your audience. From there, fate lies in the quality of your content.
Start with the tips we covered here to find out your best time to post on TikTok to reach out to audiences that matter.
But finding your best times is not a one-time process. As your profile grows, so will your audience and the places they belong to. So keep checking your best time to post every now and then to be on top of things.
That's why we recommend you to use SocialPilot for scheduling your TikTok videos at any godly time for your viewers residing in different locations.
Experience it yourself. Start your free trial or schedule a demo call today!