Your Ultimate Guide to Using Social Media in Healthcare
Do you think social media marketing is crucial for a healthcare business? Can social media be a fruitful marketing channel for your healthcare business?
Absolutely, yes!
Present-day social media is way more than a networking platform, with a total of 4.89 billion users worldwide. It is used by businesses across industries, and the healthcare industry is no exception. Social media is a powerful tool for healthcare institutions and professionals to engage with the general public and share healthcare information.
Studies show that about 90% of users in the age group of 18-24 trust the healthcare information shared on social media. Without the wide reach of social media platforms, it would be hard to keep the general public informed about the latest healthcare updates and services nearby.
So, whether you are marketing for a healthcare organization or running one yourself, social media is a critical element for your marketing strategies.
With that said, let's take a look at all the potential benefits of social media for healthcare businesses.
Benefits of Social Media for a Healthcare Business
Social media has become an increasingly valuable tool in healthcare, offering numerous benefits for healthcare professionals, patients, and the general public.
Let's look at some of the benefits that can arise from leveraging these new-age platforms for your healthcare brand's marketing efforts.
1. Increased Awareness
A primary mandate for healthcare businesses now is to constantly conduct awareness campaigns for existing and potential health concerns. They need to stay on top of any emerging health scare and keep the population informed at every turn to ensure public health safety and avert mass panic.Social media can help on that front with its large reach and enable healthcare businesses to be the guiding light for patients while staying available to the public.
A healthcare brand may need to strategize on campaigns and raise awareness about health trends, illnesses, and other health matters relevant to the general public or a target audience. You may also need to run seasonal health awareness campaigns year after year and emphasize critical issues that demand public attention. Think: the rising incidence of heat waves.
Also, keep in mind that you may have to pivot when there is a sudden development or a public health issue and improvise campaigns. Covid-19 is an example of such developments. You will have to keep refining the marketing campaigns and make sure to spread awareness effectively. Your posts will have to clearly talk about guidelines and available resources to combat the prevailing issue.
But how can you ensure awareness and engagement on your social media pages when you have to put out serious and detail-intensive posts?
To keep followers interested, you can create posts that are visually appealing and easy to understand for your audience.
Detriot Medical Center, for instance, does a great job with its social media posts. Here is an example of an engaging and informative tweet from them.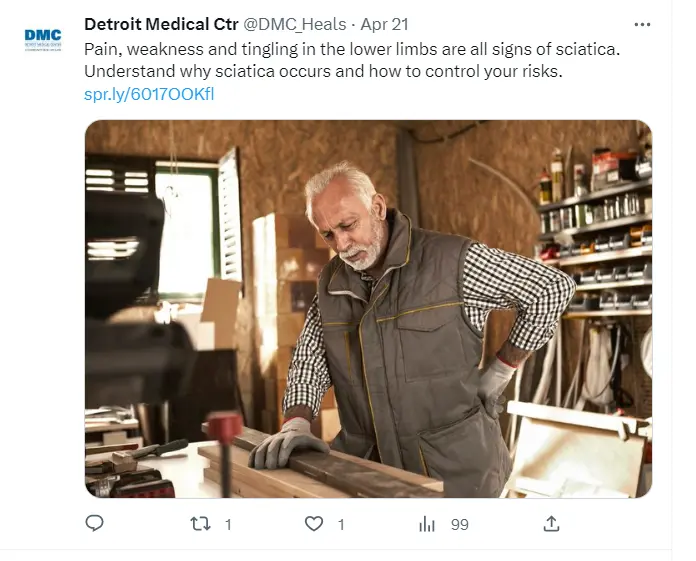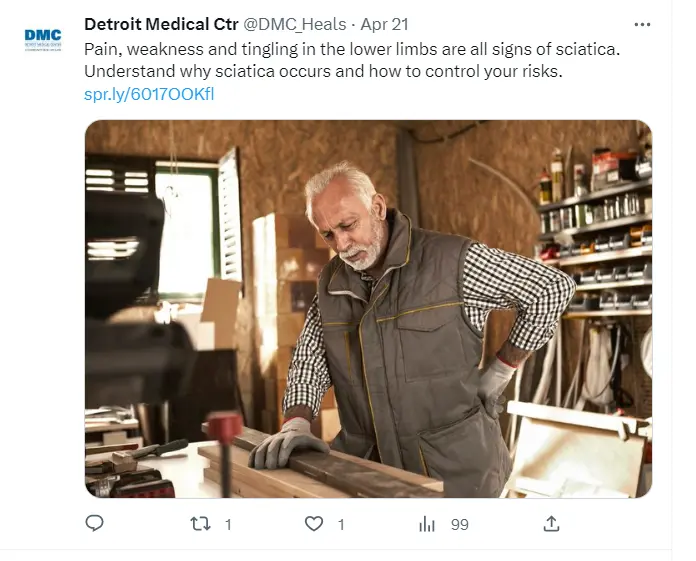 In the above tweet, Detroit Medical Center has carefully used a visual along with the text to communicate the message effectively to the audience.
To ensure audience engagement, you can present all the important information in a precise manner in the post and share a link for them to read, learn more, and stay informed.
2. Addressing Misinformation With Fact-Checking
Social media is a valuable resource for healthcare businesses to share authentic information that is scientifically grounded and verified. However, with a lot of information shared on social media, it is a struggle to halt the spread of misinformation resulting from misconceptions and false theories.
How often do we come across creators using the name of a reputable institution to appear legitimate? Sharing of such misinformation can lead people to make decisions that can negatively impact their health or the health of others.
Everyone is all too familiar with the instances of mass panic resulting from the sharing of misinformation during emergencies or disasters. In such cases, authorities can better manage the situation by staying ahead of the curve and ensuring only verified information is put out.
The World Health Organization, for instance, has taken a step in this direction and worked with the social media policy departments to create guidelines for spotting and bringing down misinformation.
During the Covid-19 pandemic, WHO worked closely with social media platforms to update their misinformation policies. With these updates, a total of 8,50,000 videos were removed from YouTube alone from February 2020 to January 2021.
WHO has also suggested a seven-step guide for users to personally identify misinformation and decide whether it is trustable or not. A thumb rule for all social media users can be to run a fact-check to identify fake news, especially when it's about crucial matters like healthcare.
As a healthcare business, you can encourage your followers to run a fact-check with credible sources. WHO and the Center for Disease Control and Prevention (CDC) are two ideal sources to run a fact check for any healthcare-related social media content.
3. Promote Healthcare Facilities
Healthcare marketers can use social media to promote healthcare services by sharing success stories of patients who received treatment through their healthcare facility. Brands can offer educational content and partner with influencers to promote the significance of healthcare facilities.
Healthcare businesses can also use social media to showcase their latest medical equipment and technology upgrades in healthcare. This can help promote medical facilities and demonstrate an institution's commitment to providing the latest and most advanced healthcare services.
Here is how MetroHealth does this with its Facebook posts. With relatable visuals and crisp text, it is positioning its services clearly among its target audience.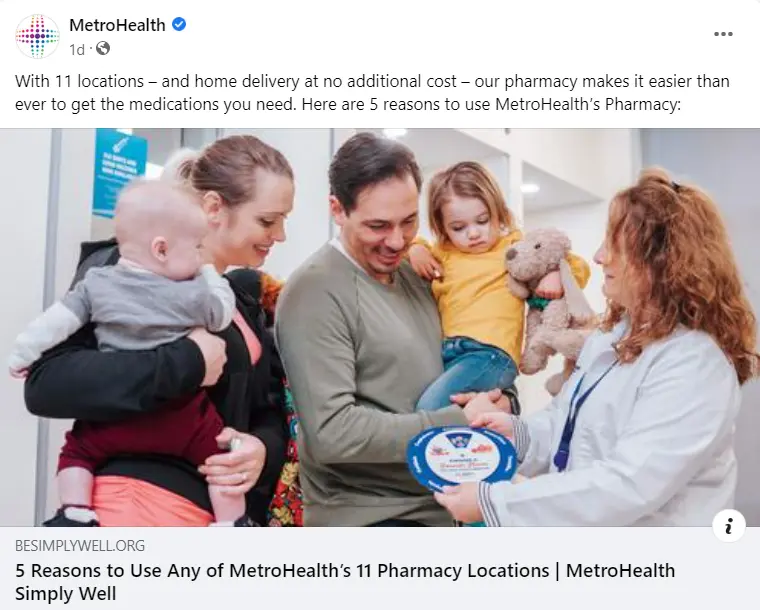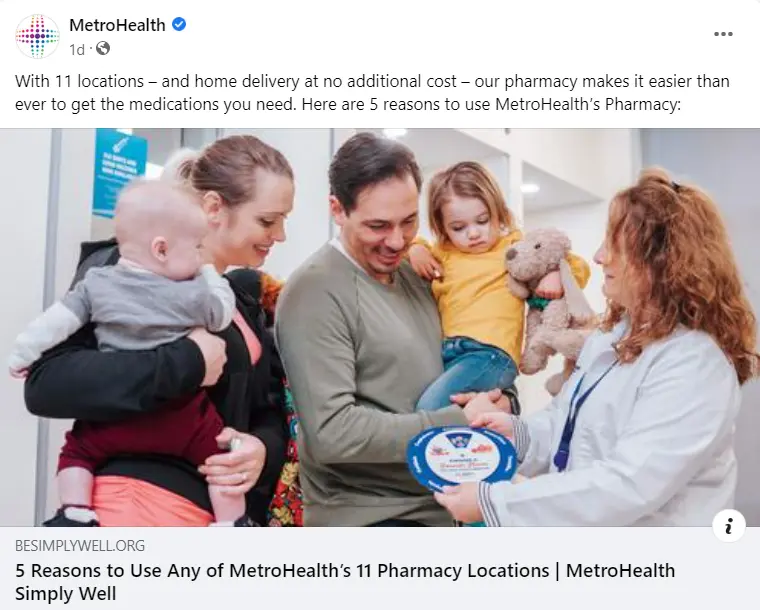 As per a survey, Facebook is the most preferred social media platform for healthcare marketers in 2022, followed by YouTube and Instagram. This data signals the most popular social channels that your healthcare business must consider for promoting its facilities.
4. Increases Healthcare Accessibility
In 2022, over 27.6 million people used telemedicine in the United States. Furthermore, the profit margins of telehealth services are projected to cross $559.52 billion by 2027. These numbers speak of telemedicine's popularity resulting from the convenience of accessing telehealth through social media platforms.
Social media applications like Facebook, Instagram, and Twitter have come up as excellent platforms for telemedicine. These sites have emerged as platforms for communication and are also helping patients access medical care remotely.
Healthcare providers can share information about health conditions, preventive measures, and healthy lifestyles to benefit patients. These focus areas can be considered for developing engaging and informative campaigns.
Brands can also leverage the accessibility features on these platforms to ensure that patients can connect with healthcare providers through video conferencing, phone calls, and messaging apps. This can be especially beneficial for people in remote areas or those with mobility challenges.
Social media also supports appointment scheduling and helps patients and healthcare providers receive reminders for upcoming appointments.
Among the many organizations focused on advancing telehealth, American Telemed stands out as a prime example of an effective social media strategy in healthcare. It focuses on posting content that educates and encourages people to talk about telehealth advancements to improve healthcare access across states.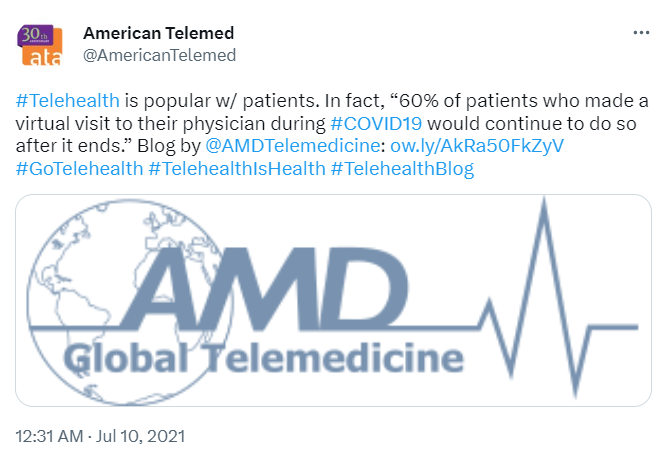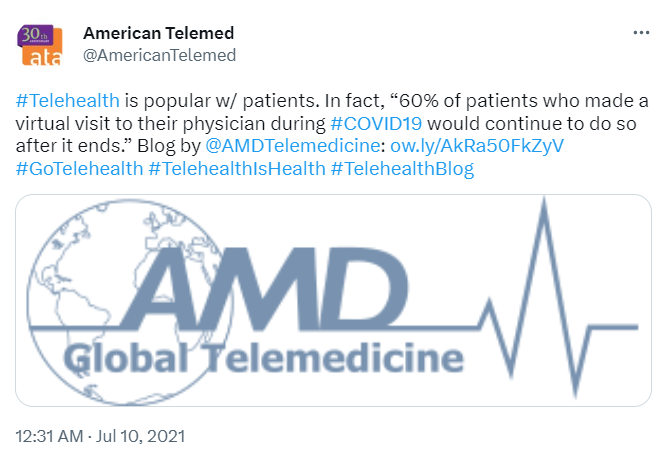 Such initiatives make room for patients to ask questions, get health updates, and gain advice through these platforms.
5. Offers Access to E-health Data for Healthcare Research
Social media is a great source of e-health data valuable for healthcare businesses. Patients increasingly use platforms like Facebook, Instagram, and Twitter to share their experiences, concerns, and feedback for healthcare services. All this information offers real-time insights into public health trends and patient needs.
By monitoring and analyzing this data, healthcare providers can identify patterns, improve their services, and even contribute to medical research. The analytics data of these platforms can be used by healthcare businesses to gain insights into patient perspectives, attitudes, and behaviors regarding healthcare.
For example, tracking posts related to flu symptoms in a specific area can help predict an outbreak before it happens. Thus, leveraging social media data not only benefits healthcare providers but also contributes to better patient care and community health.
This social media analytics data can also be used to analyze health trends in real time. For instance, social media posts can be analyzed to track the spread of diseases or outbreaks, identify public health concerns, and monitor the effectiveness of public health campaigns.
5 Tips to Grow a Healthcare Business With Social Media
Running a healthcare business in the digital age isn't easy. Especially when social media management is in the mix.
To promote the brand, widen the reach to patients, and grow consistently, every heathcare business must consider social media platforms as a prominent marketing channel.
Here are some important tips that every healthcare marketer can follow to use social media and grow the brand and its reach of patients:
1. Create and Share Resourceful Content
The key to promoting a healthcare business with social media is to share valuable content with your followers and keep them engaged. You need to make sure that the information you share is credible and engaging for your audience.
CDC GOV is a perfect example to take inspiration from. All their social media posts are catchy to keep the audience engaged while covering hot topics in health and healthcare. Below is a carousel post they shared on Earth Day emphasizing climate change and how it impacts human health.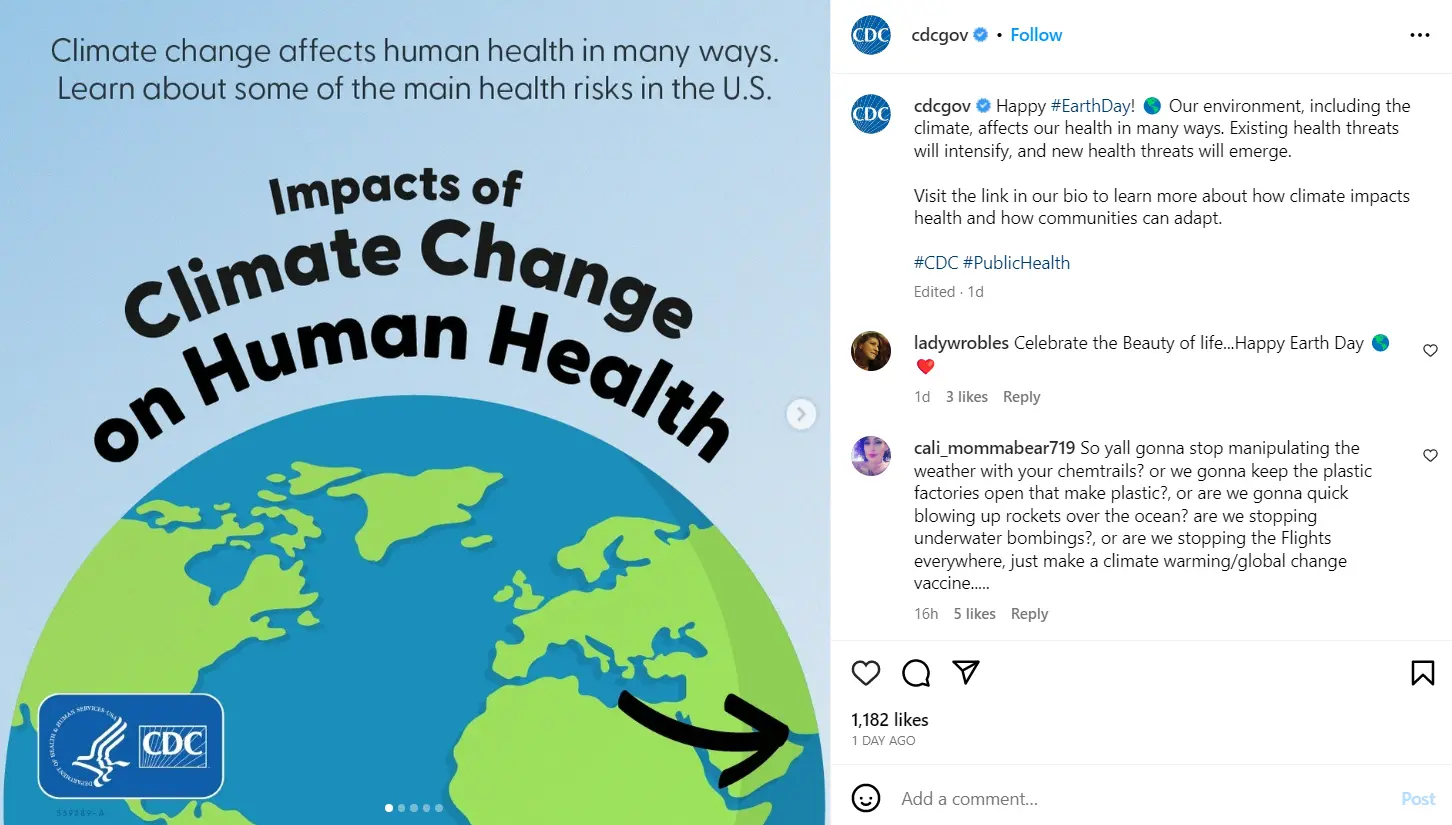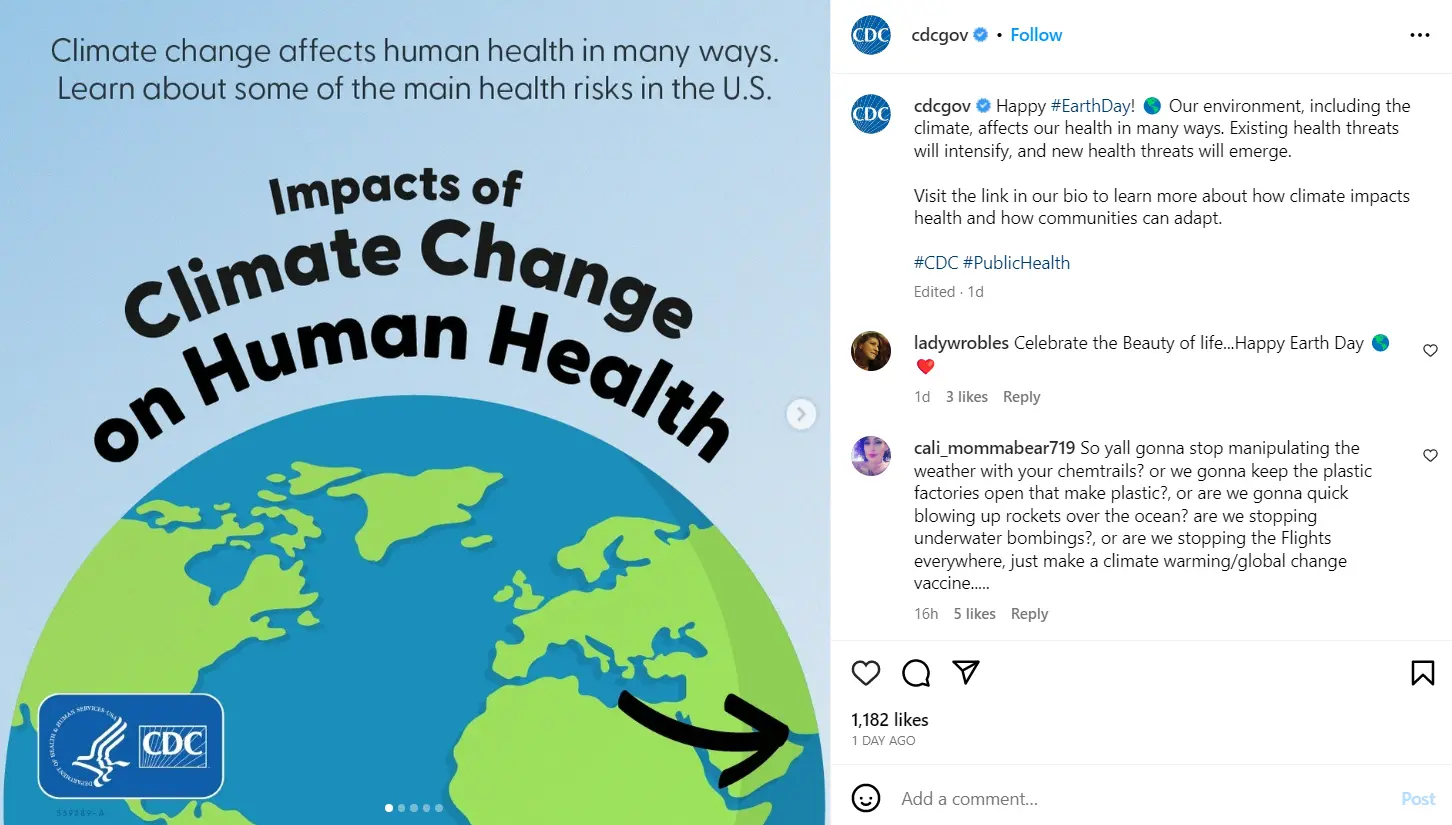 Facebook, TikTok, and Instagram have turned out to be ideal platforms for healthcare businesses and professionals to share information and keep the audience interested. While doing so, ensure you maintain a sophisticated and positive tone to reflect trustworthiness and reliability to your audience.
Healthcare businesses and institutions can also share healthcare information and tips about medical conditions and diseases, just like Mayo Clinic does.With over 2 million followers on Twitter, this medical institution shares a variety of healthcare content, including healthcare tips, medical information, patient experiences, and educational content, in the most snappy manner possible.
Here is an example of an educational Twitter post that talks about the common health condition of menopause.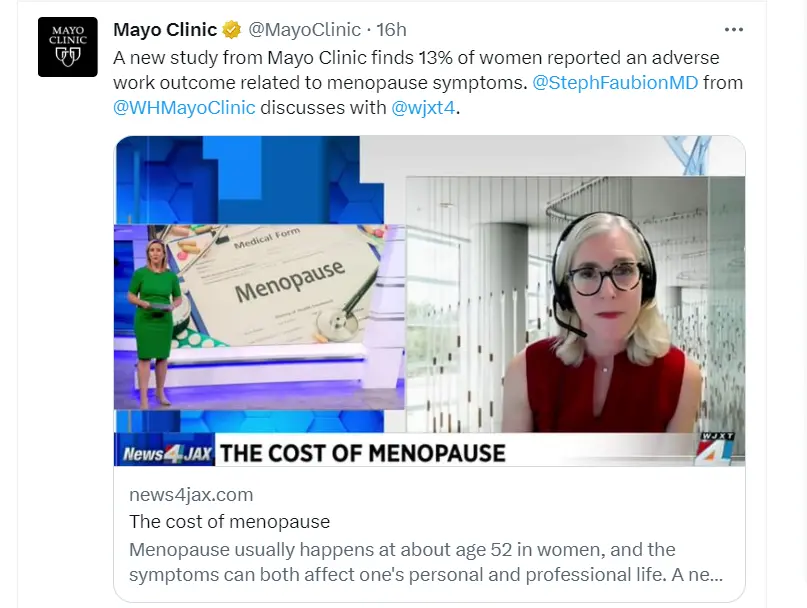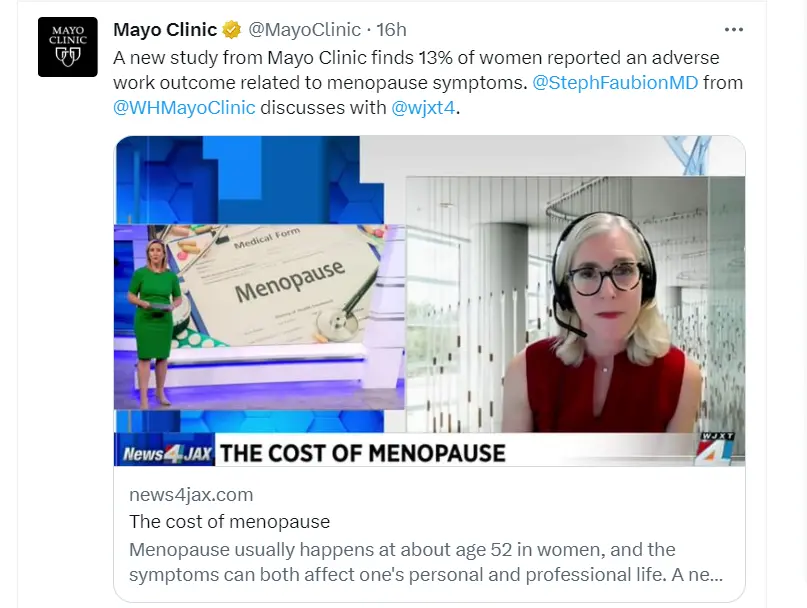 2. Ensure Compliance With Legal Regulations (HIPAA & FDA)
For a healthcare business, it is crucial to comply with all rules and regulations that apply to the medical stream. Whether you are a healthcare professional or run a healthcare unit, make sure to abide by HIPAA and FDA regulations whenever sharing sensitive information.
To ensure legal compliance, you can develop a social media policy that outlines how your team should use social media while ensuring HIPAA and FDA compliance. You can start by training employees on these legal regulations, explain to them how these compliances apply to social media, and educate them about the consequences of any violations.
The next thing you need to do is gain patient consent in written form before sharing any information and ensure that this consent complies with HIPAA and FDA regulations. You also need to monitor all social media activity and ensure that all your social media interactions, including posts, comments, etc., are in compliance with HIPAA and FDA regulations.
It is equally important to respond appropriately to comments and inquiries in a timely fashion and avoid offering medical advice or information that could be considered a violation of HIPAA or FDA regulations. You also need to be careful when promoting medical products or services and ensure that all claims you make are supported by evidence to ensure regulatory compliance.
Ensuring legal compliance for everything you post on social media can need a lot of leg work, but you can avoid it with SocialPilot.
With SocialPilot, you can create a social media strategy, plan your content calendar and create a workflow to have the content approved only by experienced healthcare professionals who understand all the laws and regulations.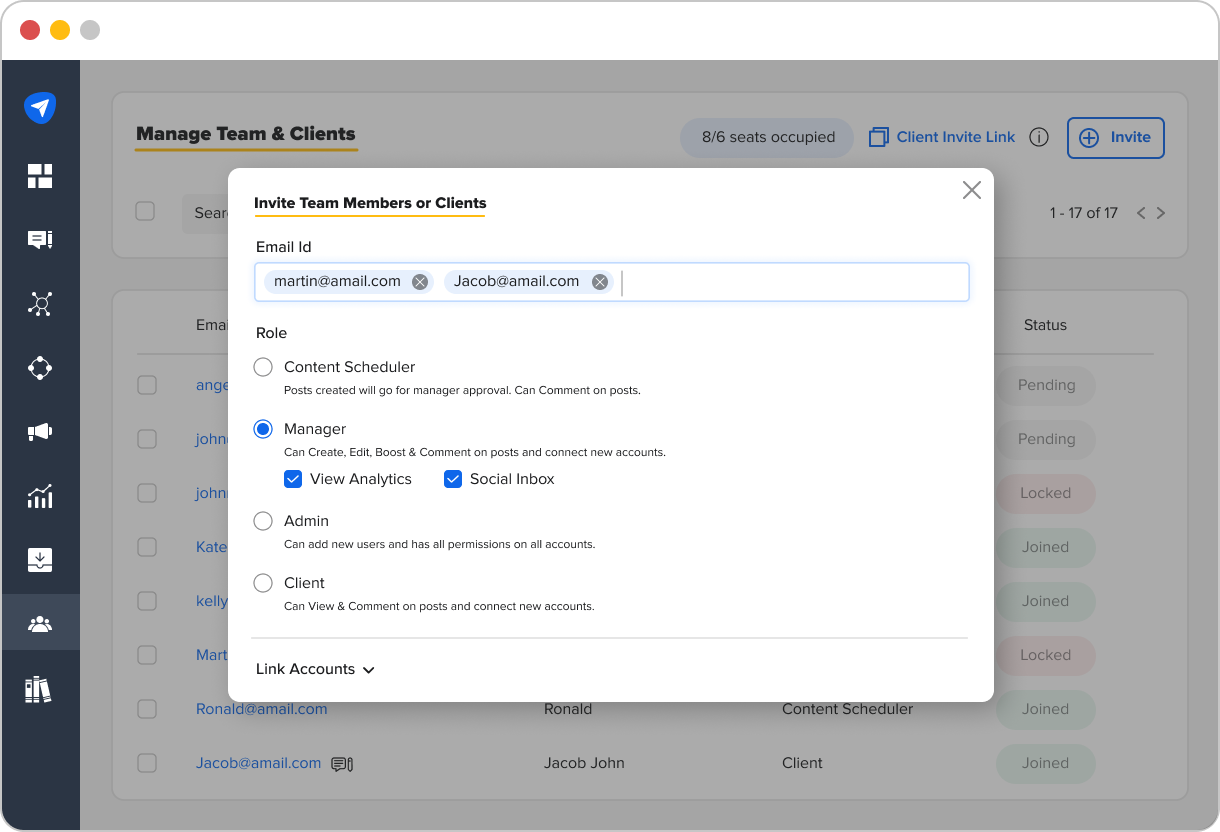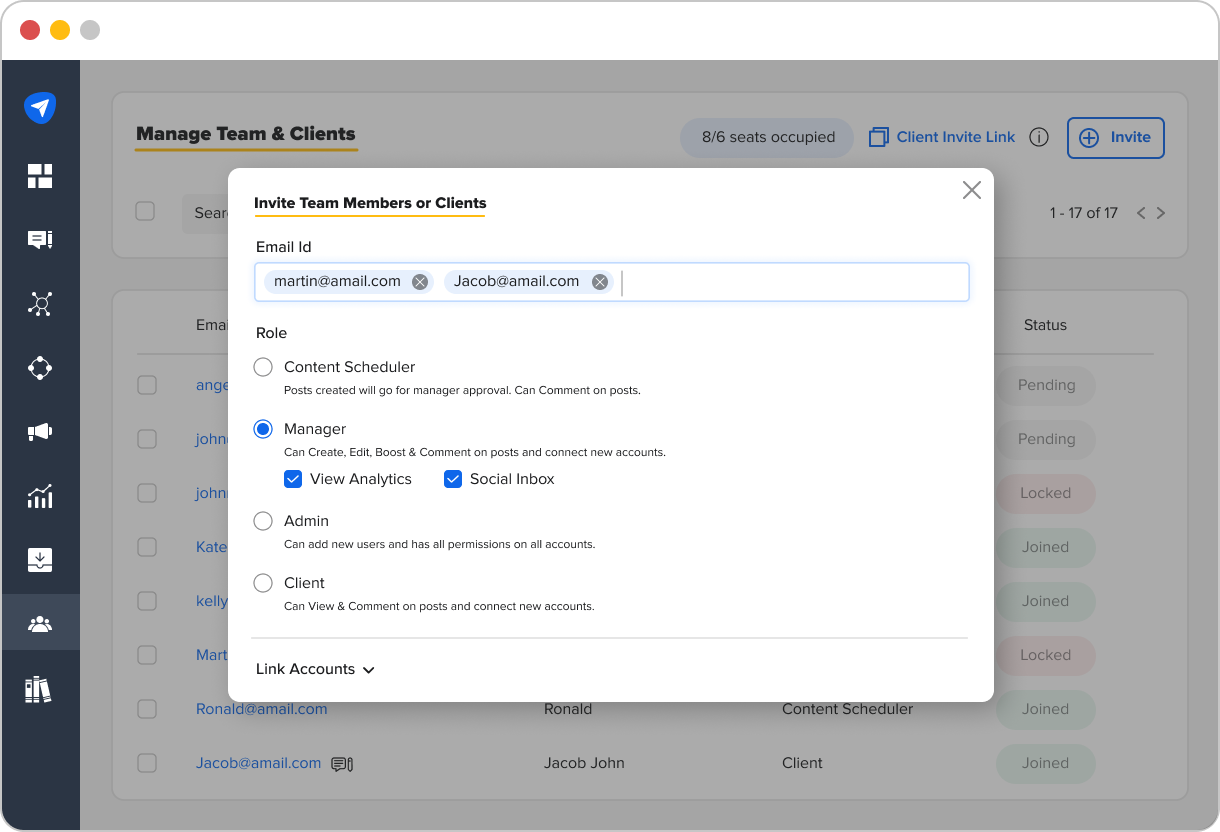 3. Implement Social Proofing With Testimonials and Reviews
About 82% of individuals seek recommendations from friends and family when choosing any product or service. In the social marketing world, the step of taking recommendations is replaced by inspecting social proof through reviews and testimonials shared by genuine users.
Reviews and testimonials that showcase genuine patients' experiences can be highly valuable for developing your brand image. About 97% of customers have agreed that positive testimonials and reviews impact their final decision for choosing any product or service.
Reviews and testimonials work the same way for the healthcare industry as well and help patients choose the right medical care or service for themselves. You can also share patients' experiences and how your healthcare service helps them with a medical condition.
Here is an example of an ophthalmologist who is leaving no stone unturned to convert patients' reviews into social proof of his services and is promoting them on social media platforms.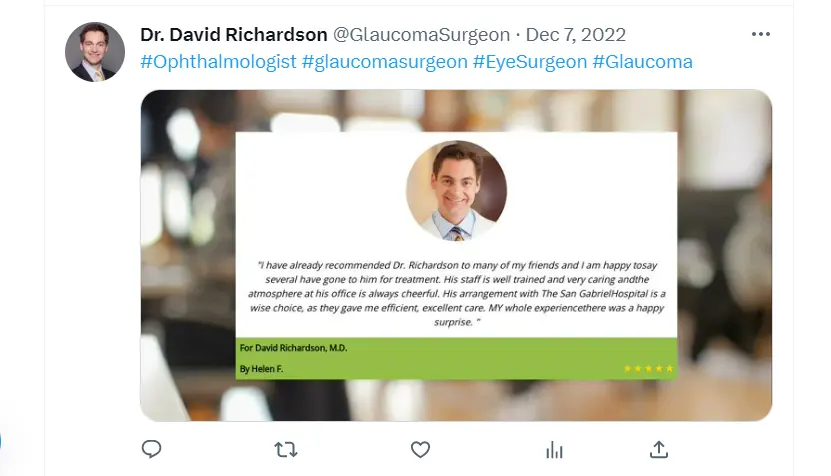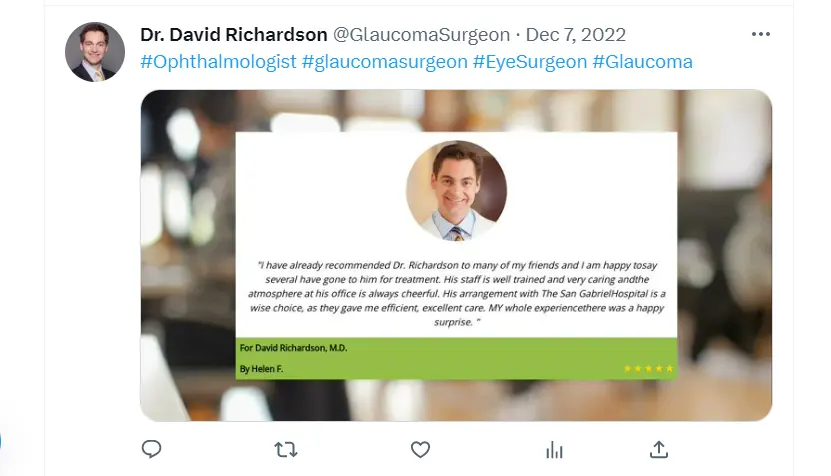 4. Track Relevant Conversations With Social Listening Tools
Paying attention to conversations about healthcare and your healthcare business on social media can help you participate in thought leadership and understand what users feel about your healthcare business. However, going through all conversations on social media can be difficult at times.
The best way to stay on top of it all is to use a social listening tool that can help you understand how social media users perceive your healthcare business and manage all conversations. You can also use a dedicated social media inbox by SocialPilot to keep track of all conversations.
With a social media inbox, you can stay on top of all important conversations around your brand and respond to comments, reviews, and messages from a centralized inbox.
5. Ensure the Security of Your Social Channels
With the need to ensure sharing of authentic and verified content that complies with all legal requirements, it is crucial to keep a check on who has access to your social channels. To ensure complete security, you can manage access permissions for all your team members and make sure that only authorized individuals have access and publishing permission.
SocialPilot's team collaboration feature can help you to control access and manage permissions for all team members from a centralized dashboard. This way, you can ensure the security of your social channels and prevent access from getting into the wrong hands.
7 Marketing Tools for Healthcare Businesses
1. SocialPilot
SocialPilot can help healthcare businesses and marketing agencies to schedule social media content, collaborate with relevant team members, and analyze the performance of multiple social media channels. Plus, you can effectively engage in all relevant conversations and manage various social media accounts for healthcare businesses from a single dashboard.
2. Canva
You can leverage Canva for all your graphic design creation needs and develop interesting social media graphics for free. The best part is you don't need any prior design experience to use Canva and effortlessly create social media posts and videos.
3. ChatGPT
ChatGPT is another free tool for healthcare businesses to develop social media campaigns. It can be used to generate engaging social media post content, create captions, and find content ideas for healthcare marketing.
4. Instasize
Instasize is a popular tool that allows you to edit and enhance your photos and videos for use on social media platforms. You can use it to resize images, edit photos, and remove backgrounds to create perfect social media pictures.
5. GIMP
GIMP is another helpful tool for healthcare businesses that can help with image editing. It is a free and open-source image editing software that can be used to create and edit images for social media platforms.
6. Pexels
Pexels is more of a platform to source free stock photos and videos that healthcare businesses can use for social media without any copyright infringement.
7. Feedly
Feedly is a content aggregator tool that can help with social media marketing by allowing you to curate and share relevant content with your social media audience. Healthcare businesses can use Feedly to compile health information from various sources and share it through their social channels.
5 Ways SocialPilot Can Help Grow Your Healthcare Business
Healthcare social media marketing can be challenging when you have so many activities to take care of, but luckily, most of the complexities can be dealt with SocialPilot.
Here is how SocialPilot can help you grow as a marketing tool:
1. Increase Your Reach
Maintaining posting consistency and increasing reach on social media can be difficult when you are a healthcare brand with much to take care of other than social media marketing.
As a social media management tool, SocialPilot can help you expand the social media reach of your healthcare business.
You can maintain posting consistency for your healthcare brand with the post-scheduling feature. This will help you automate the process and publish content at the scheduled times to reach a larger audience.
Consistent content publishing can help you remain on top of your followers' minds and stand a chance to be a relevant option whenever they need a healthcare service.
2. Boost Engagement Seamlessly
Remaining on top of conversations and boosting social media engagement is another challenge healthcare brands face.
To solve this problem, SocialPilot helps you post first comments to initiate conversations and increase followers' engagement. You can also leverage the Social Inbox feature to engage with your followers through comments, reviews, and direct messages from a unified inbox.
Another way to boost social media engagement for healthcare brands is to share user-generated content to develop a sense of community and increase followers' engagement.
3. Analyze Performance to Optimize Strategies
Once you have streamlined the social media posting and engagement efforts for all social marketing channels, the step should be to analyze the social media performance metrics from all your social channels.
With SocialPilot, you can access deeper insights for evaluating content performance metrics. The platform helps you evaluate the performance of individual posts, hashtag performance, and audience demographics for all your social channels.
You can study your audience insights to know your ideal customer base. You can also generate social media reports and use them as performance indicators to create new content strategies and boost the social media presence of your healthcare brand.
4. Manage Social Channels From a Unified Dashboard
Overwhelmed with managing all your healthcare brands across all social media channels? SocialPilot can help with that as well.
Manage all your social media accounts across Facebook, Google Business Profile, Instagram, LinkedIn, Twitter, YouTube, Tumbler, and TikTok from a single dashboard.
This saves you a lot of time in micromanaging each social media profile, and using it instead to refine your content and strategy.
5. Collaborate With Authorized Team Members
Maintaining an approval workflow for healthcare brands ensures that only legally compliant content gets shared on social media. With SocialPilot's team collaboration feature, only authorized team members from your healthcare brand can collaborate and establish an approval workflow.
This ensures complete privacy by allowing you to assign roles like admin, manager, and content scheduler. Once you assign these roles, you can restrict accessibility or grant permissions to different team members accordingly to maintain approval workflow for ensuring compliance with all HIPAA and FDA regulations.
Conclusion
The power of social media to generate significant marketing opportunities for healthcare businesses and reach patients just cannot be ignored today. According to a study, nearly 90% of all adults in the USA look for health information on Facebook, Twitter, YouTube, and other social media sites.
By using social media, healthcare businesses can promote their services, educate the public, and address misinformation. At the end of the day, it helps to reach new audiences, improve patient engagement, and grow your business.
However, executing your social media strategy seamlessly can prove challenging without a social media marketing tool like SocialPilot.
With SocialPilot, you can up your social media game by streamlining repetitive tasks like scheduling and publishing so you can focus on your overall marketing goals every day.