How to Monetize Your Profiles With Facebook's Professional Mode
August 18, 2022
0 Comments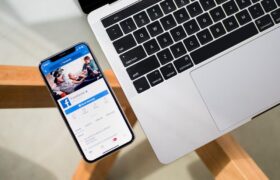 As a savvy business owner, you're always on the lookout for new ways to monetize your products or services. And while Facebook has long been a great platform for building up a professional profile and establishing a personal brand, did you know that you can also use it for monetization? Facebook's Professional mode offers a great way to do just that.
By creating a professional profile, you can attract new customers and clients from its monthly- increasing 2.9 billion active users while also staying connected with your current community. With Facebook's new Professional mode, reels serve as a great way to earn while you share content that resonates with your audience. This makes it easy for people who want to hire you or buy your products to get in touch and learn more about what you have to offer.
Plus, you'll get access to exclusive features that only creators and business owners can use. So how do you get started with using Facebook's Professional mode to monetize your profile?
Facebook's New Professional Mode and What It Means for Profile Monetization
Admit it, we've all been there before. You're crushing it with killer content and racking up the likes, but you're just not quite sure what your audience is really digging. Sure, you could take a wild guess based on which types of posts get the most engagement, but why leave things to chance?
With Facebook's new professional mode for profiles, eligible creators in the US will be able to unlock revenue opportunities and gain access to powerful insights, and tools that'll help them better understand their community and produce even more engaging content with reels.
This is a huge deal for those looking to monetize their profile, as it'll allow you to get paid for the content you create while also building a stronger connection with your audience.
And if you'd like to dive deeper with charts and graphs of crucial metrics, you can get a quick overview or a detailed look into the numbers with SocialPilot's Facebook analytics and reporting tool. Just generate reports, and you'll have a picture of your marketing efforts. It's like magic!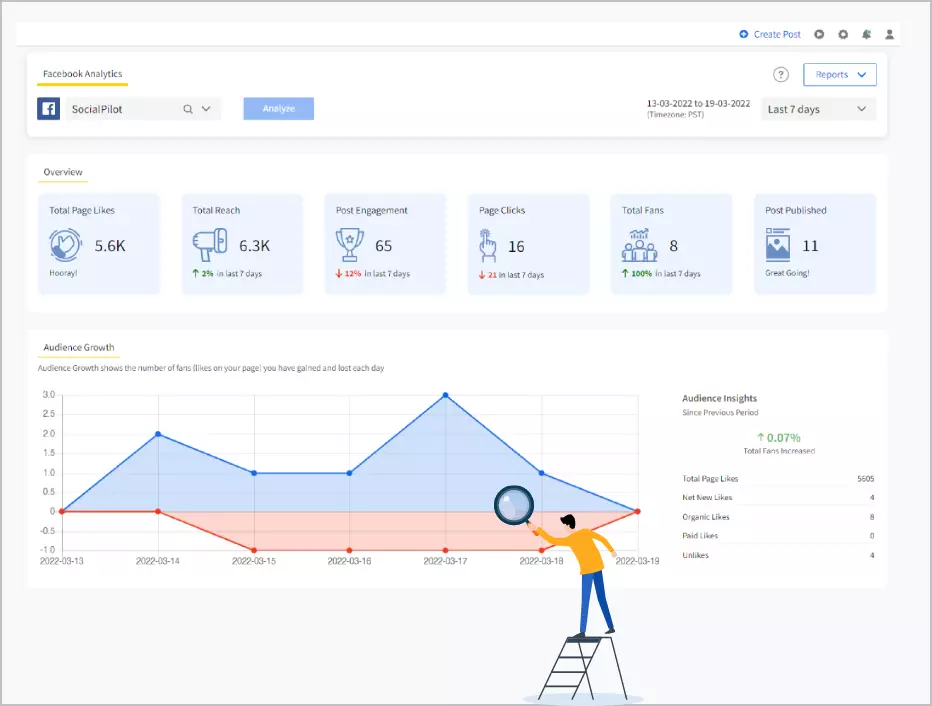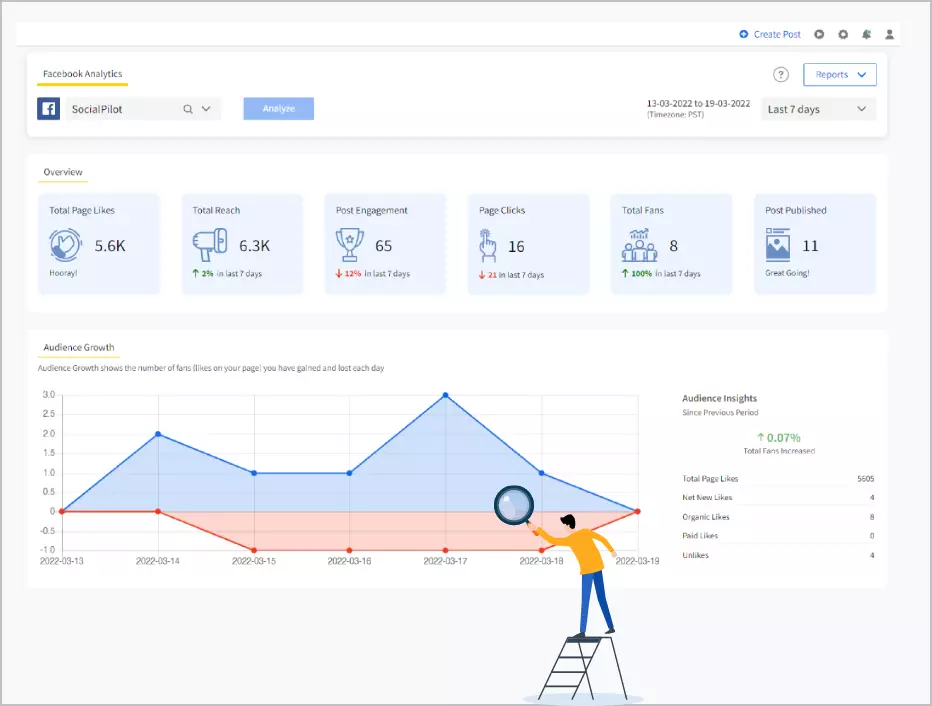 How to Take Advantage of Professional Mode to Make Money From Your Profiles
Now that we've talked about what Facebook's new Professional mode is, let's dive into the nitty-gritty of how you can take advantage of this feature to make money with the best social media management software tools in 2022.
The Reels Play bonus program is one of the first monetization options available with a professional mode for profiles. It allows eligible creators to earn up to USD 35,000 a month based on the views of their qualifying reels. To start with, the program is invite-only. If you're an eligible creator, you could be making some serious cash just by posting videos on Reels.
If you're not familiar with Reels, it's Facebook's answer to TikTok. Reels are quick, fun videos that can be up to 60 seconds long and are set to music or other audio. They can be shot in one take or edited together from multiple clips and can include creative effects like AR filters and text overlays.
Once you're in, you'll gain access to a whole host of features that'll help you better understand your audience, produce more engaging content, and, most importantly, monetize your profile. Here's a quick rundown of what you can expect:
1. Facebook Live Monetization
Monetize your Facebook Live videos with in-stream ads without overwhelming viewers. You'll be able to control where and how ads are displayed in your content, so you can maximize your existing fan base and revenue potential. Plus, ads won't get in the way of your viewers' experience. Now, that's a win-win! In fact, a comic boosted her earnings by 65% using Facebook Live's in-stream ads.
2. Facebook Stars
There's a new way for fans to support their favorite creators. Fans can purchase Facebook Stars and send them to creators during live broadcasts or in Reels when enabled. You can then cash out your Facebook Stars once they've accumulated.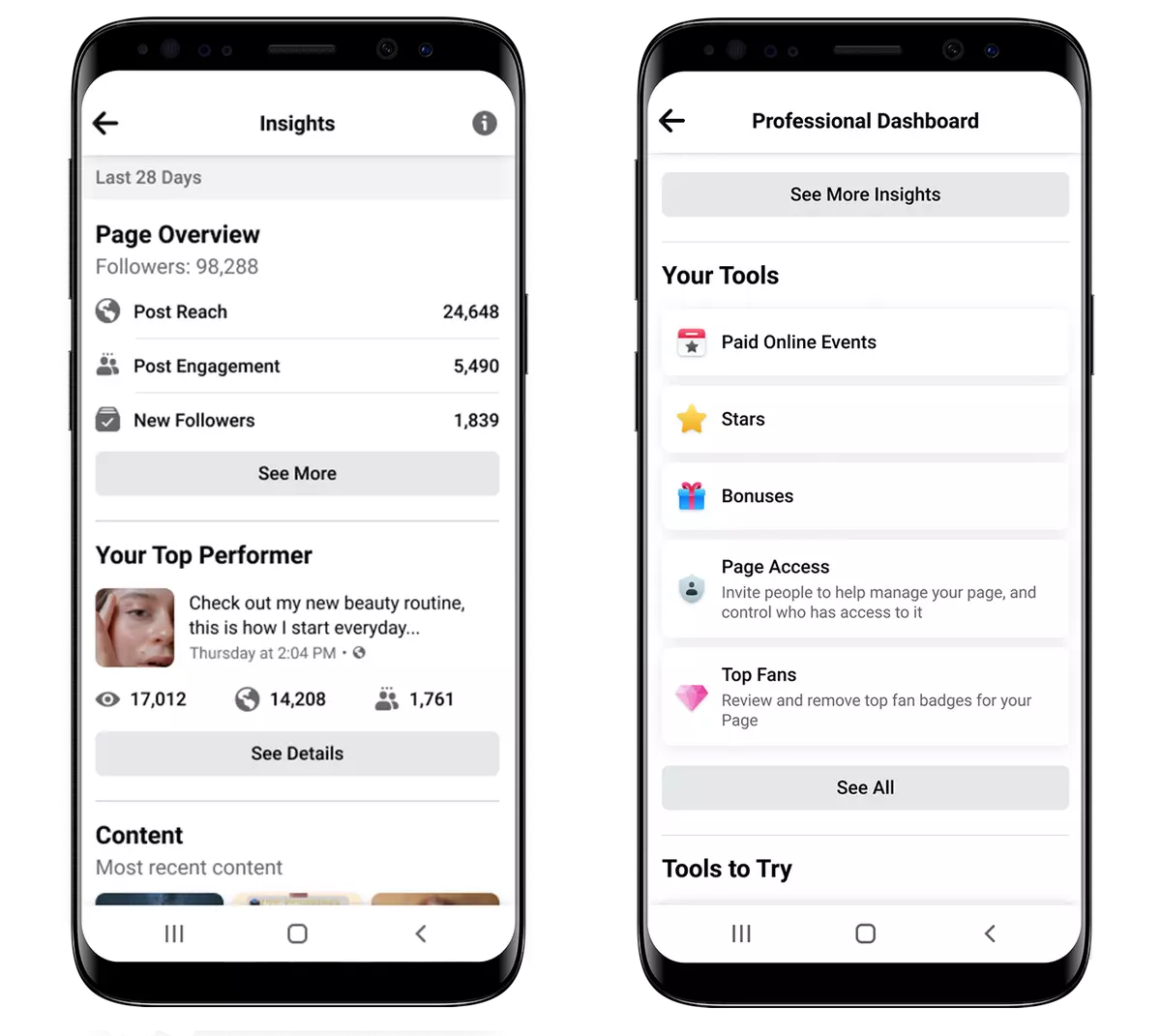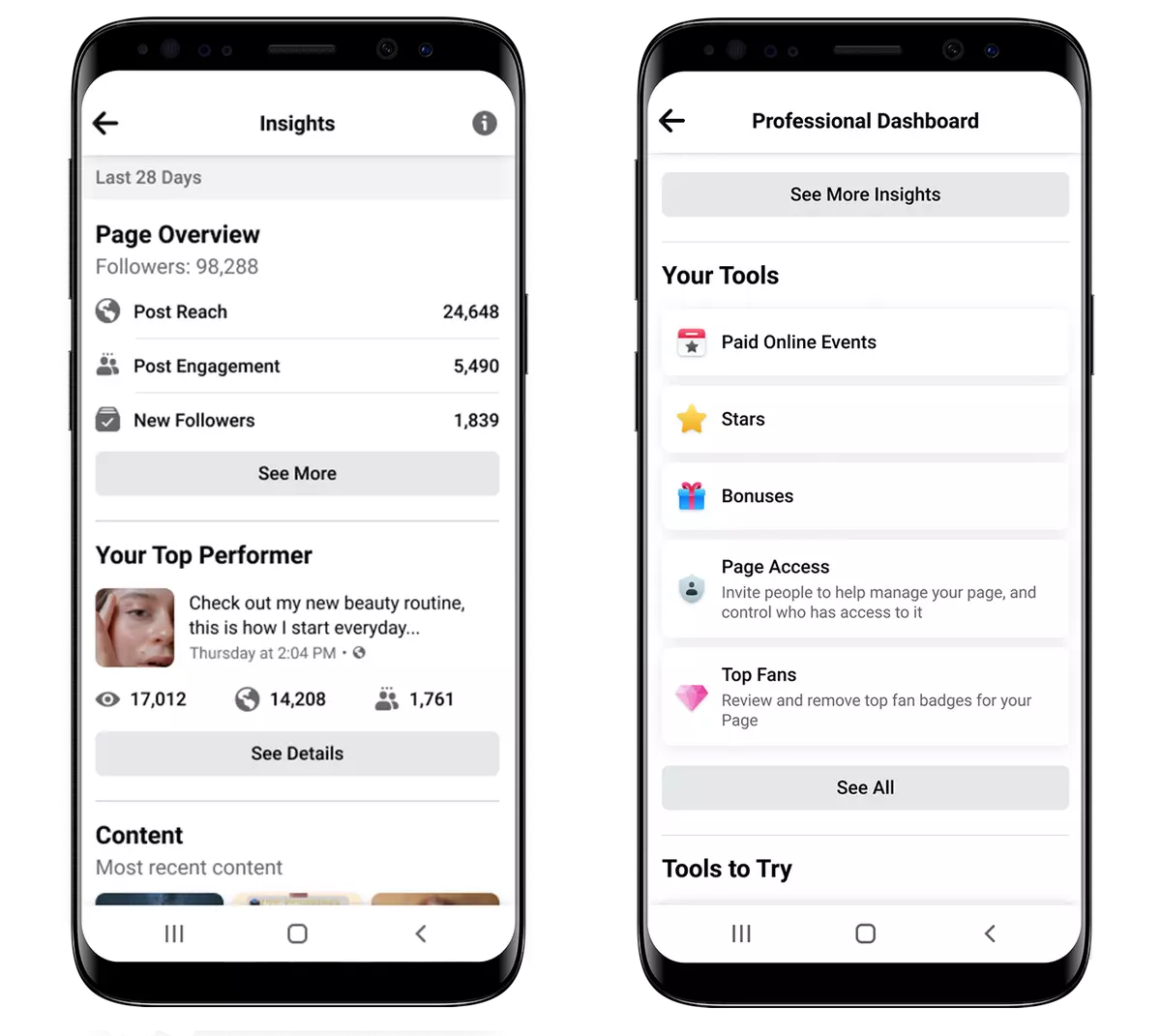 When you're filming your next video, be sure to give a shout-out to any Stars senders in your comments section. They're highlighted so they're easy to spot. Answering their questions or responding to their comments is a great way to show your appreciation for their support. Plus, it'll make your video even more engaging for other viewers. So, go ahead and give those Stars senders some love!
3. Facebook Creator Studio
Enjoy your one-stop shop for creating, publishing, and analyzing your content. With Facebook Creator Studio for business, you can easily post or schedule videos and photos, view performance metrics, and get insights into how your content is performing. You can also use Creator Studio to collaborate with other Facebook creators, connect with your fans, and manage your profile all in one place.
So there you have it! These are just a few of the ways you can take advantage of Facebook's new Professional mode to monetize your profile. We're excited to see how this new feature will benefit creators and business owners alike.
The Benefits of Using Professional Mode to Monetize Your Profiles
There are many benefits of using Professional mode to monetize your profiles. Here are some:
1. Easily Build an Email List
One option for monetizing a Facebook profile is to use it as a way to build an email list. By adding a call-to-action button to your profile, you can encourage people to sign up for your email list. This is a great way to build an audience of people who are interested in what you have to offer.
But you don't expect people to magically sign up for your email list without any incentive. Always ask, what's in it for them? You can offer something of value in exchange for their details. This could be a free e-book, a discount on your products or services, or access to exclusive content that they can't get anywhere else.
Whatever you decide to offer, make sure it's something that your target audience will find valuable. In doing so, you can turn every interaction in your social inbox into a revenue opportunity.
2. Gain Insights Into Your Audience
Another benefit of using Professional mode to monetize your profile is that you can gain insights into your audience and see what content is working or not. This information is essential for fine-tuning your social strategy and ensuring that your posts are as engaging as possible. By communicating in a way that is most effective in reaching your target audience, you are more likely to get conversions.
3. Reach a Wider Audience and Increase Revenue Potential
One of the best things about Facebook is that it has a huge user base. By using Professional mode to monetize your Facebook profile, you can reach a wider audience with your content.
Facebook ads are a powerful tool that can help you reach a large number of people with your marketing message. You can target people specifically based on their demographics, behavior, and interests with SocialPilot. This ensures that you have complete control over your ads so they are being seen by the right people.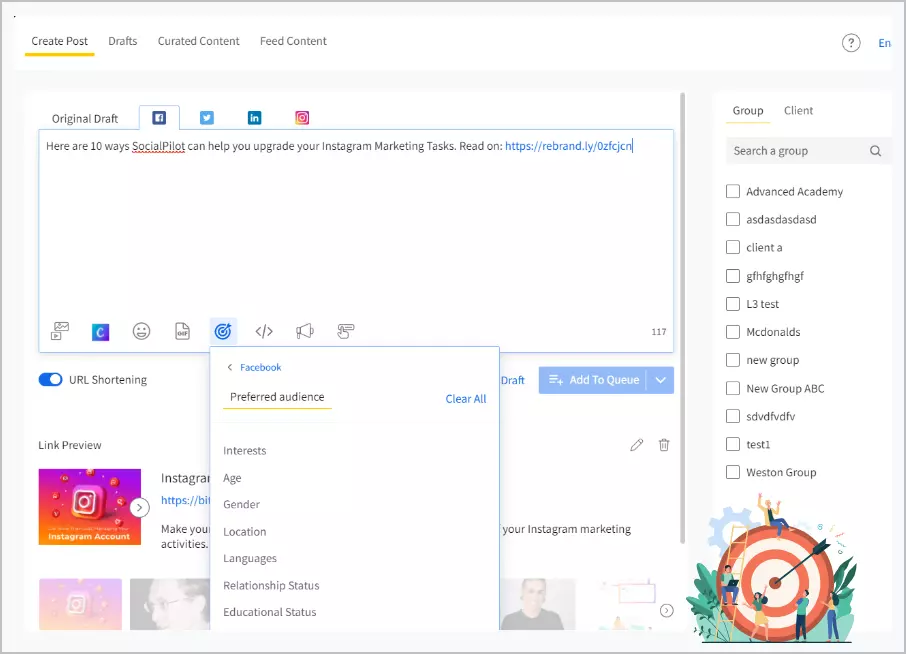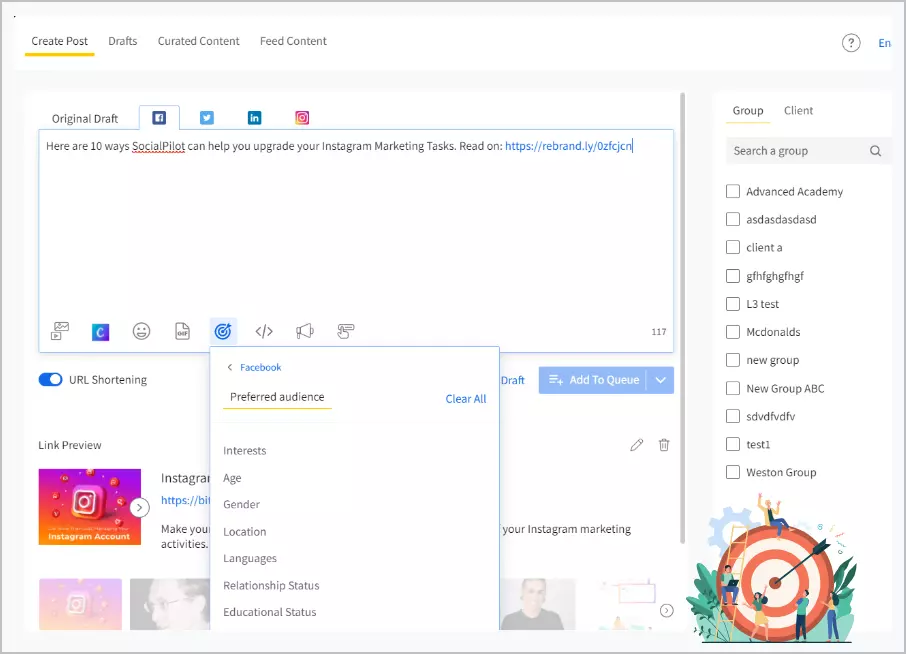 Overall, if you're looking for a way to monetize your Facebook profile, Professional mode is a great option. Many benefits come with using this mode, and by taking advantage of them, you can more easily make money from your profile.
Tips for Getting the Most Out of Professional Mode and Maximizing Your Earnings Potential
There are a few things you can do to make sure you're maximizing your earnings potential with Facebook's Professional mode. Here are some tips:
1. Use a Clear and Concise Profile Header
The first thing people will see when they visit your professional profile is your header, and you want people to know exactly what you do and what you're offering. A great way to do this is to include a call-to-action in your header, such as "Buy my products," "Hire me for your next project," or "Visit my website." This will let visitors know right away what they can expect from your profile.
2. Ensure Call-to-Action Links Are Accessible
Add links to the caption whenever possible while following the best practices for Facebook professional mode reels. These include your website, online store, or the About section of your professional profile. Doing so will make it easy for interested parties to learn more about what you have to offer and take the next steps that your potential clients will have to take.
3. Include Your Contact Information and Rates
Another critical piece of information to include in your professional profile is your contact information and rates. This way, people who are interested in working with you will know how to get in touch, and they'll also have an idea of what you charge for your services. Including this information, upfront can save a lot of time down the road.
4. Use High-quality Images
Your professional profile is your chance to make a great first impression. And since we all know that people are visual creatures, you'll want to choose clear and professional-looking photos. But it's not just about making yourself look good. Your photos should also accurately represent what you do and what you're offering. Remember, first impressions matter!
5. Keep Your Profile Up-to-Date
Finally, it's essential to keep your professional profile up-to-date. Add new products or services as you offer them, and keep your contact information and rates current. By regularly updating your profile, you'll ensure that interested parties always have the most accurate information about what you have to offer.


Reap Monetization Benefits With Facebook's Professional Mode
If you're not already using Facebook's Professional mode to monetize your profile, you're missing out on a world of opportunity. With Professional mode, you can encourage audience growth by attracting new customers and clients, selling products or services directly from your profile, or promoting your business or brand.
You can also ensure that your professional profile is up-to-date and accurately represents what you do and what you're offering. Including a portfolio of your work and information about the events, you're hosting will also give interested parties a better idea of what you have to offer. So what are you waiting for? See the results for yourself and get started!