How To Create An Effective Facebook Post That Gets The Job Done
August 30, 2022
0 Comments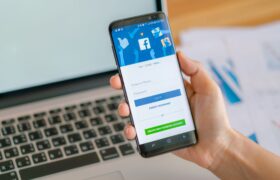 There was a time when Facebook was the be-all-end-all among social media platforms. That was a different day and age. The scene has changed with the emergence of so many new platforms.
Facebook has a total of 2.9 billion monthly active users globally, making it the most used social channel. But, BuzzSumo recently analyzed 880 million posts and found out that engagements on Facebook pages have taken a dive by 20% since 2017.
Now that's alarming to any marketer, but don't take a step back just yet.
Facebook still holds the crown for being the leading social media platform, with 60.6% of all social media users using Facebook. And the rat race among all the marketers there is intense.
To win the race, you better know how to write a Facebook post that draws the right attention.
Otherwise, you will get in trouble.
Think you need some help with this? Don't worry, we've got you covered.
How to write Facebook Posts that engage the crowd?
There is a vast variety of audiences who are active on Facebook. The platform's content versatility does an amazing job at engaging all the people present there with their content, but how does a social media manager keep up with it efficiently?
Here are a few tips which you must make your gospel to write engaging posts for your Facebook audience.
Keep It Brief
We know how the audience's attention span has evolved to be very short, especially because of social media. So now, social media managers must churn out short and concise content. Long-form content out there doesn't really hold the younger audience on Facebook.
Keep your creative copy simple and snappy, which conveys your message. If you are using links, the link preview which Facebook generates leaves an even lesser need to elaborate. So it is an easy task to keep your caption close to 40 characters.
Now, look at this poetic caption on the post of National Geographic. It leaves you wanting for more, and hints at it with the beautiful link preview.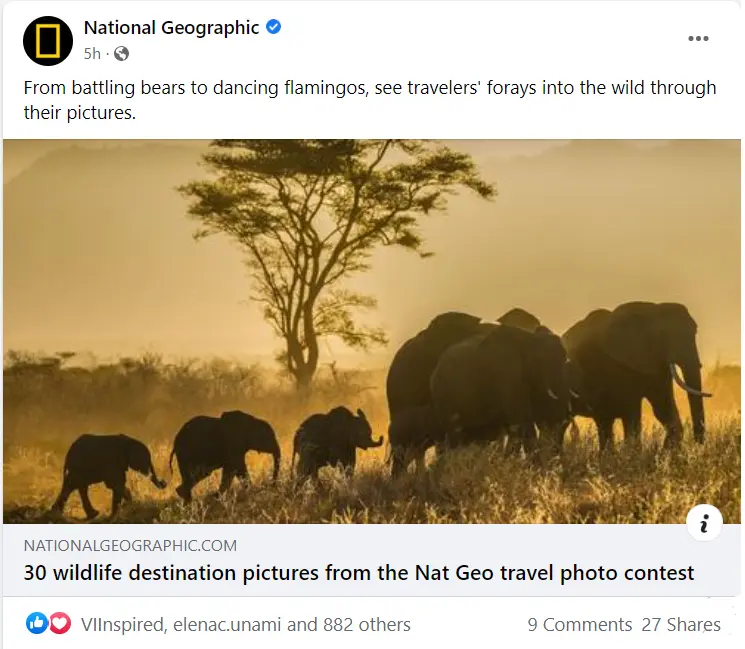 Make it eye-catching
A post consists of the caption and the visuals. In fact, some may say that the visuals make better anchors for holding the viewer's attention. Did you know that it takes the brain only 13 milliseconds to process an image. So why not use this to your advantage?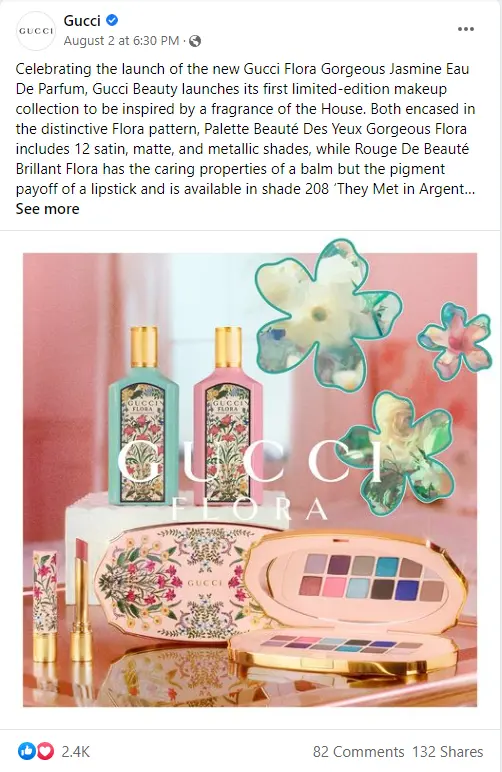 Use attractive and dynamic visuals in your posts. You see how the above post by Gucci is text-heavy, but the visual appeal is strong enough to hold the reader in place.
Visual components have the added advantage of giving your branding a very definitive identity. Your brand's post will be recognized if you are consistent with your branded posts with similar colors, fonts, and especially logos. We'll know a Gucci product in our sleep if we glimpse that "G" anywhere on a product. That's strong visual branding for you!
It can be videos or GIFs as well. Infographics are a great way to integrate visual and informative styles into a single post. But be sure to follow Facebook specs for using images in your posts.
Call'em out with compelling CTAs
Whenever you are making a post for social media, your objective must be crystal clear at every step of the way. If it's ambiguous to you, then don't expect your audience to get your point either.
If your viewer has gone through your whole post, you have them hooked. Now is not the time to let them off it. Give them their next step with a compelling call-to-action like Subscribe, Book Now, Download, Sign Up, etc. This will give the viewer a direction to follow.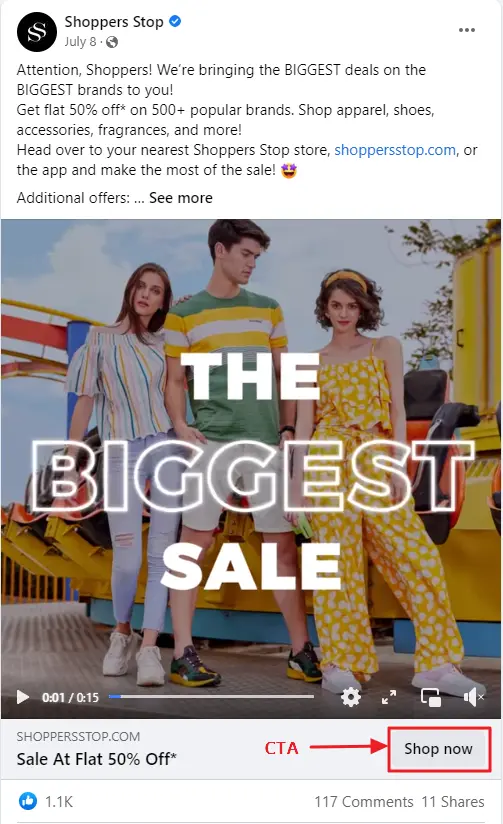 Strike a balance between casual and promotional
How do you feel when loads of ads come up while scrolling through your home feed? Annoyed right? So you definitely don't want to become that page that is all about self-promotion.
Keep your posts a healthy mix of promotional and casual. But is there a theorem we can refer to for creating the perfect formula? There's an answer to everything!
In fact, there are two common rules for deciding on a content mix. One is the "80/20 rule," and the other is the "rule of thirds."
According to the first rule:
And when we consider the rule of thirds, it says: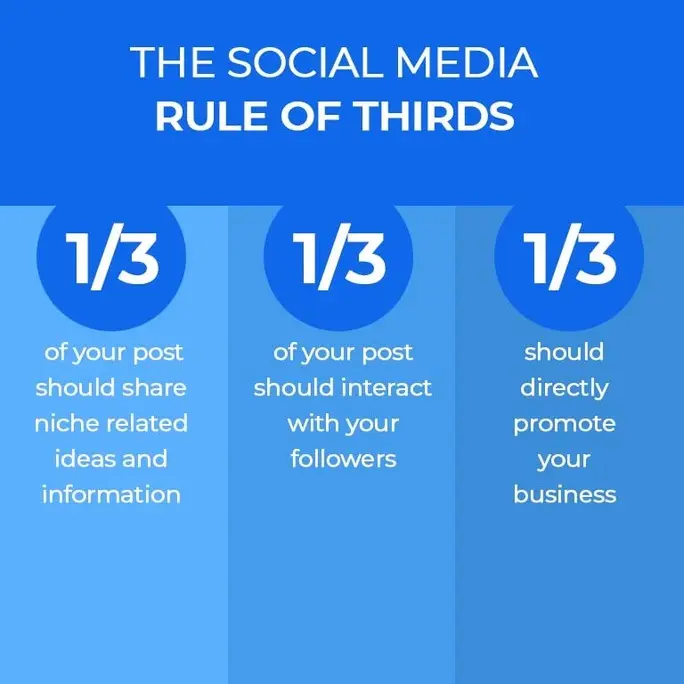 However, neither rule might be just right for your brand. Don't worry; nobody will stop you from following your own rules. What works for YOU is your rule. Getting the hang of this balance will help you figure out how to write Facebook posts perfectly.
Decide on a posting frequency
Neither too little nor too much of anything does anyone any good. The same goes for your social media posting. Too little posting will make your audience forget you; post too much, and they will get frustrated.
Other than that, there are thousands of posts being uploaded daily on Facebook. How do you stand out in the users' feeds amidst such tough competition?
Well, you have to play it smart.
First, see what the number of your followers is. Hubspot has found data stating accounts with less than 10,000 followers saw a loss of 50% engagement on each post if they posted more than once a day. So for a business page, posting 3-5 times weekly is a healthy limit for Facebook.
You may need to post just once a day on Facebook. But churning out quality content daily can get hectic. Hence best would be to plan ahead. Schedule your posts in advance. You can take the help of social media scheduling tools (more on that later), so you don't miss out on your daily routine posts.
So these are a few tips for you to remember while posting on Facebook. Now let us take you through the types of posts that work best so you get clarity on how to write Facebook posts.
6 Super-engaging Types of Content for Facebook
Understand this, however many rules you follow, unless you have good quality content, nothing is going to save you from getting lost in the crowd. Figure out the style and tone of your brand and create most of your content around that theme.
Here are some content ideas which businesses often use and bear favorable results.
Asking questions
Before you ask how to write engaging Facebook posts, think about how engagement is simply a conversation. The easiest way to begin a conversation is to ask a question. This is applicable on social media as well. So ask them a question.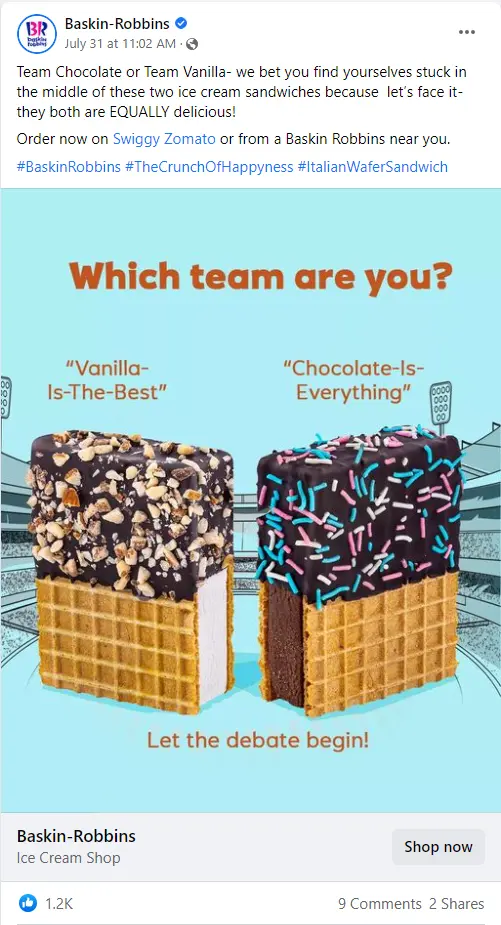 Above is a Facebook post from Baskin Robbins asking people their preference of flavors.
Ask any sort of question it depends on the tone and online personality of your brand. You might ask something as trivial as "what book are you reading?" Or you can ask their opinion on relevant industry-related topics.
Starbucks is a brand from which you can learn engagement through perfectly conversational questions which they ask on their Facebook page: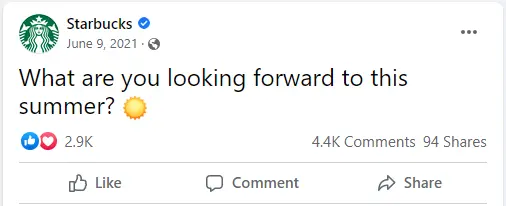 There are other ways you can engage your tribe through questions. You can conduct polls to take opinions on simple queries. Facebook conveniently offers the feature to create poll posts.
Tutorials
Nowadays, if you need to learn something real quick, just look for a "How-to" video online. And there's a tutorial video for everything! From folding laundry properly to setting up a business, you can learn everything from the internet.
And people find these videos extremely helpful. The proof of this fact is that social media is flooded with them.
So why not leverage this sizeable demand and share some of your expertise in your niche through tutorial videos. You will be surprised just how much of a crowd you can draw from a relevant video, giving out information that people are interested in.
See how social media marketing guru Neil Patel is giving an expert lesson on his Facebook page.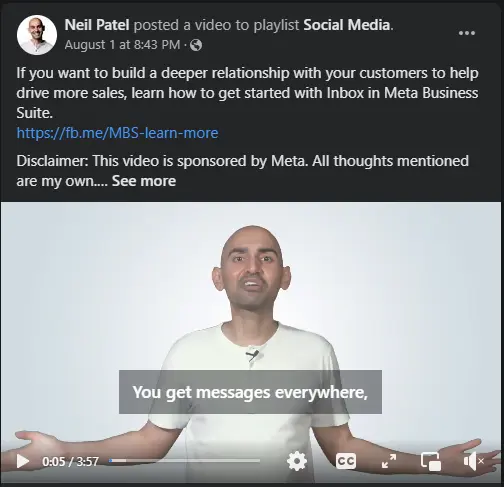 Behind-the-scenes
All of us love to have an insider's scoop of the information, whether we admit it or not.
We're sure you never ignore a video where your favorite TV show reveals the fun that happens behind the camera. Or the process of preparing your favorite coffee drink. Even glimpses of how the CEO of a company spends their off-day with their pets. It's all fascinating to watch as this unknown side of things evokes our curiosity.
Why do you think this sort of content holds such appeal to a viewer?
It's because this is a form of storytelling that seems authentic and helps the viewer connect to a business on a more personal level.
So share the daily ongoings or some inside stories regarding your business. Give them your origin story, or let them meet your employees, the stars behind your show. Anything which is not common knowledge, your audience is gonna love to hear all about it. And this will bring in a hefty engagement to you in return.
Starbucks has shared on their Facebook page just where their magical coffee beans are roasted: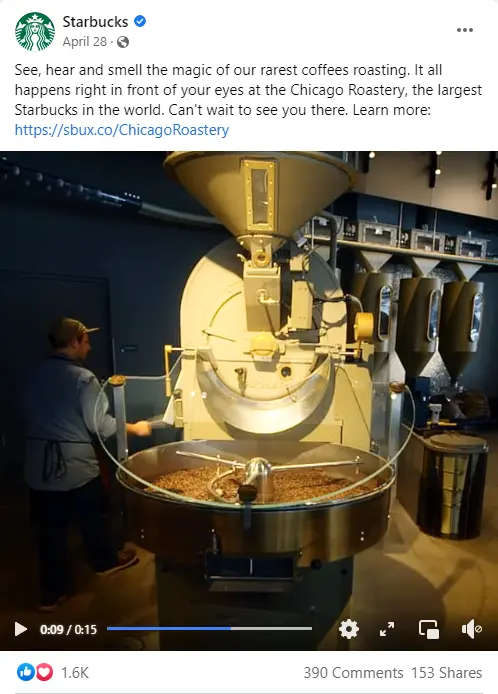 Give a little to gain a little; it's as simple as that!
Better use UGC
If people are creating content around your business or products, consider that you have succeeded in reaching your audience. So why not use this user-generated content to bring your audience closer to your brand?
When people have actually used your products and uploaded content around them, you can feature that content on your official Facebook page. These types of posts are undeniable proofs of authenticity which will earn you not only engagement but also newer customers!
GoPro is the biggest and one of the best endorsers for user-generated content as most of their Facebook page is filled with videos and images taken with their cameras by their users.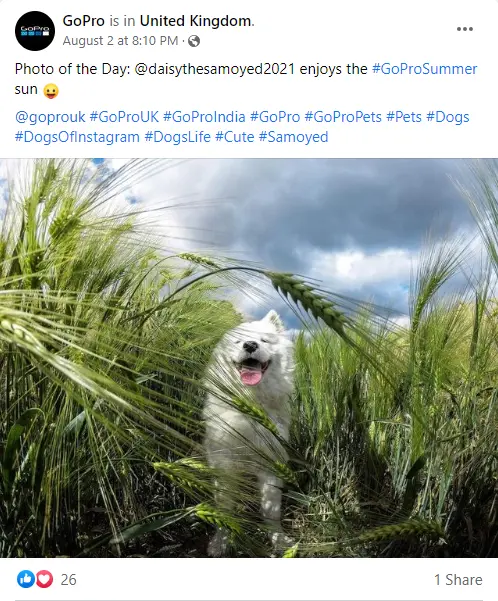 Infographics for the win
If you are wondering "how to write Facebook posts," maybe it's time you thought a little ahead of that. People nowadays are quick to scroll through their feeds. They need something entertaining or interesting to hold them to a post.
Now, instead of always going for entertaining concepts, you can give them niche-related informative content. And the best way to do that is using infographics. They are a good way to educate your audience by incorporating information and creativity to give people easily digestible info.
Use graphs, charts, abstract patterns, and anything which represents your content perfectly.
For example: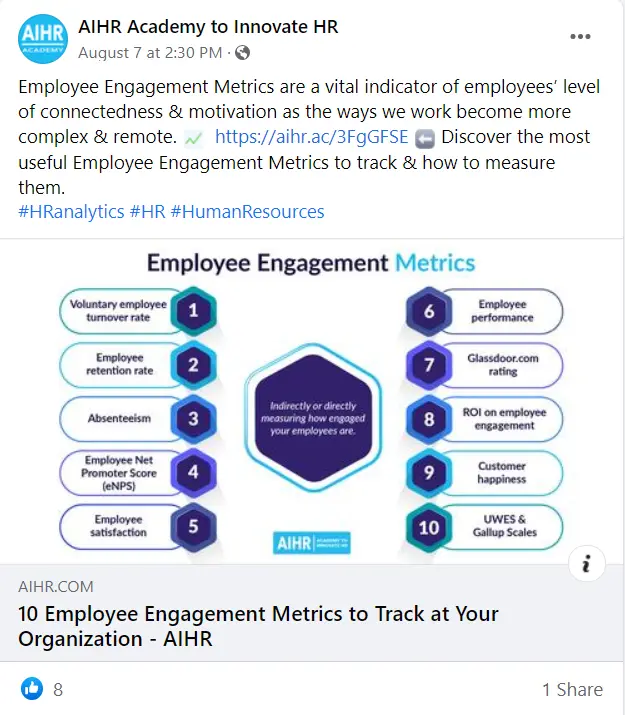 News, trending, and sensational
Internet is nowadays considered to be the holy grail of all the news. Majority of the public get their scoop of the latest happenings from their social media only.
Don't misunderstand; we are not saying that you should make your Facebook page into a news-hub. But you sure can post about stuff that is relevant to your industry and niche audience. This way, you will be able to specifically target the audience who are relevant to your business.
At the end of the day, that's the kind of engagement you want from your Facebook posts.
We hope these content ideas get your wheel of thought spinning. Now something that will definitely make your Facebook posting ultra-effortless.
How To write Facebook posts Effectively with SocialPilot
Managing your social media content when there are so many options and so much to do can become a burden. This is where social media management tools come in handy.
SocialPilot is one of the best in business for handling all your social media marketing-related problems. Be it content strategy or analytics.= It's a 360-degree solution for all of them.
Let us go through all that it can do.
Schedule your content in advance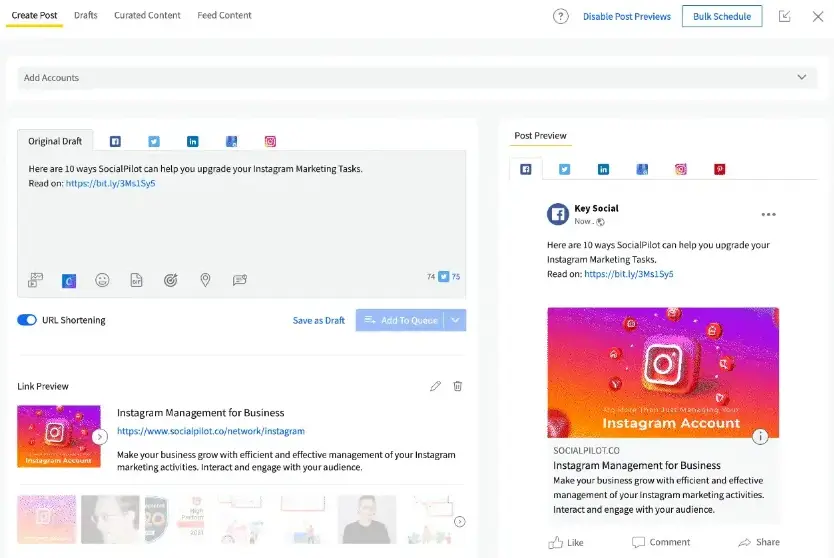 When you manage multiple Facebook accounts and have tons of content to deal with, you need SocialPilot's efficient scheduling to make things easier. Plan and schedule your posts in advance to manage your content smoothly without a fuss.
The tool also offers a bunch of features to help you customize your posts for Facebook. These include adding images, gifs, custom fields, CTA buttons, tagging other profiles, adding custom UTM parameters, and specific audience targeting for efficiently reaching your audience.
Visualize your Facebook marketing strategy
Having a bigger picture always helps when planning out your content on a weekly or monthly basis. You might be missing an important occasion or posting a bit too often at a time.

To avoid making these rookie mistakes, try SocialPilot's social media calendar tool feature. This gives a bird's-eye view of what you have planned to post for a day, week, or month. You can easily move around the scheduled posts on the calendar and edit them from the same space.
Strengthen your Facebook marketing with Boost posting
After figuring out how to write engaging Facebook posts, why just leave them for the platform's algorithm? Give them the extra push with SociialPilot's boost posting and improve their visibility by leaps and bounds. Selecting the boost post option while creating the post will do the trick!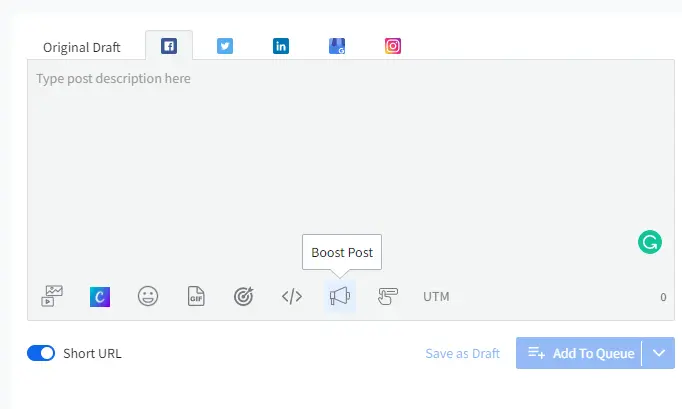 This will garner maximum engagements and help you keep ahead of the competition.
Direct Conversation with Social Inbox
The best way to get those engagement rates high is to directly enter the fray and take a hands-on approach. Start by following up on the reaction of the people around your post. See what are they talking about.
To help you with audience interactions on Facebook pages, use the social inbox feature on SocialPilot. This is a nifty way to keep an eye on what sort of comments you generate and messages you get from your audience. And reply to them at the same time to have productive conversations
Make these conversations visually interesting with images and GIFs. Instantly reply to their queries in real time, so you never keep them waiting.
Analytics
Get a comprehensive overview of the results your marketing efforts are bringing in with a capable social media analytics tool, such as SocialPilot.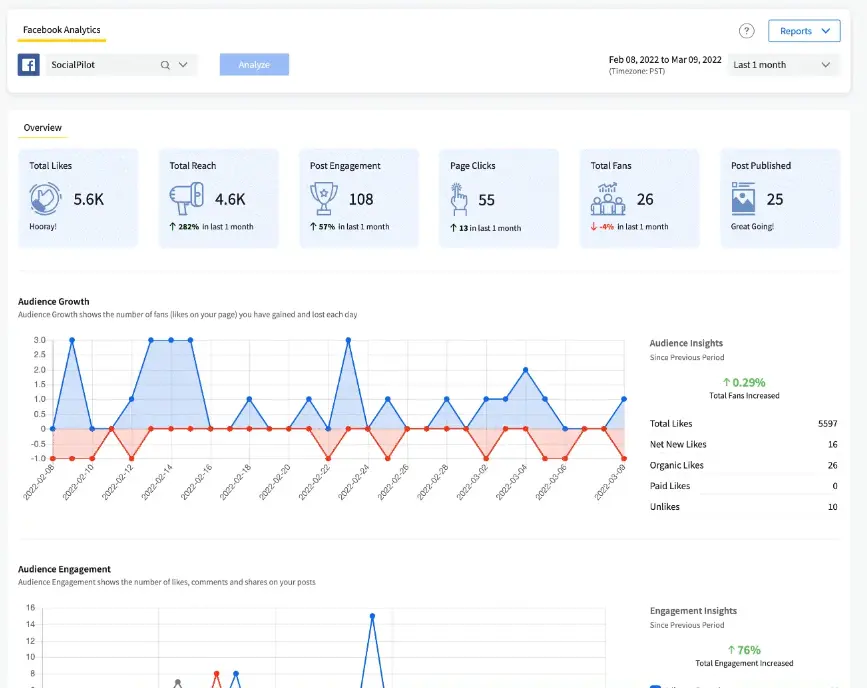 Keep track of your own activities on Facebook, such as how often you posted and how each of them performed. Key metrics such as likes, shares, and comments, along with the overall rise and fall in engagement rates, are also included in these reports.
Monitoring the performance of a campaign will help you understand the current trends and adjust your strategy beforehand to get the best results. SocialPilot will go as far as letting you schedule analytics reposts as pdfs, so they are automatically generated and shared with your clients via email.
Conclusion – The Big Question
But the question we had started with still remains – How to write Facebook posts? Well, the answer is not a definite one. There is no certain formula or template for it. It depends on your brand and the image and personality you have created around it.
There is a lot to explore regarding content varieties, and it is very easy to get lost in the chaos. So remember to keep consistent messaging in your posts.
You can certainly experiment with things that your audience likes. This doesn't damage your brand image. While it doesn't "sell" anything, "fun" posts that just tap into popular trends and issues important to your audience actually cements a connection with them.
So keep in mind that the main aim is to connect your brand to the desired audience. Help is always available when you seek it with social media marketing tools like SocialPilot. Take the 14-day free trial to boost your Facebook marketing results.