12 ChatGPT Tips to Boost Your Content Marketing Strategy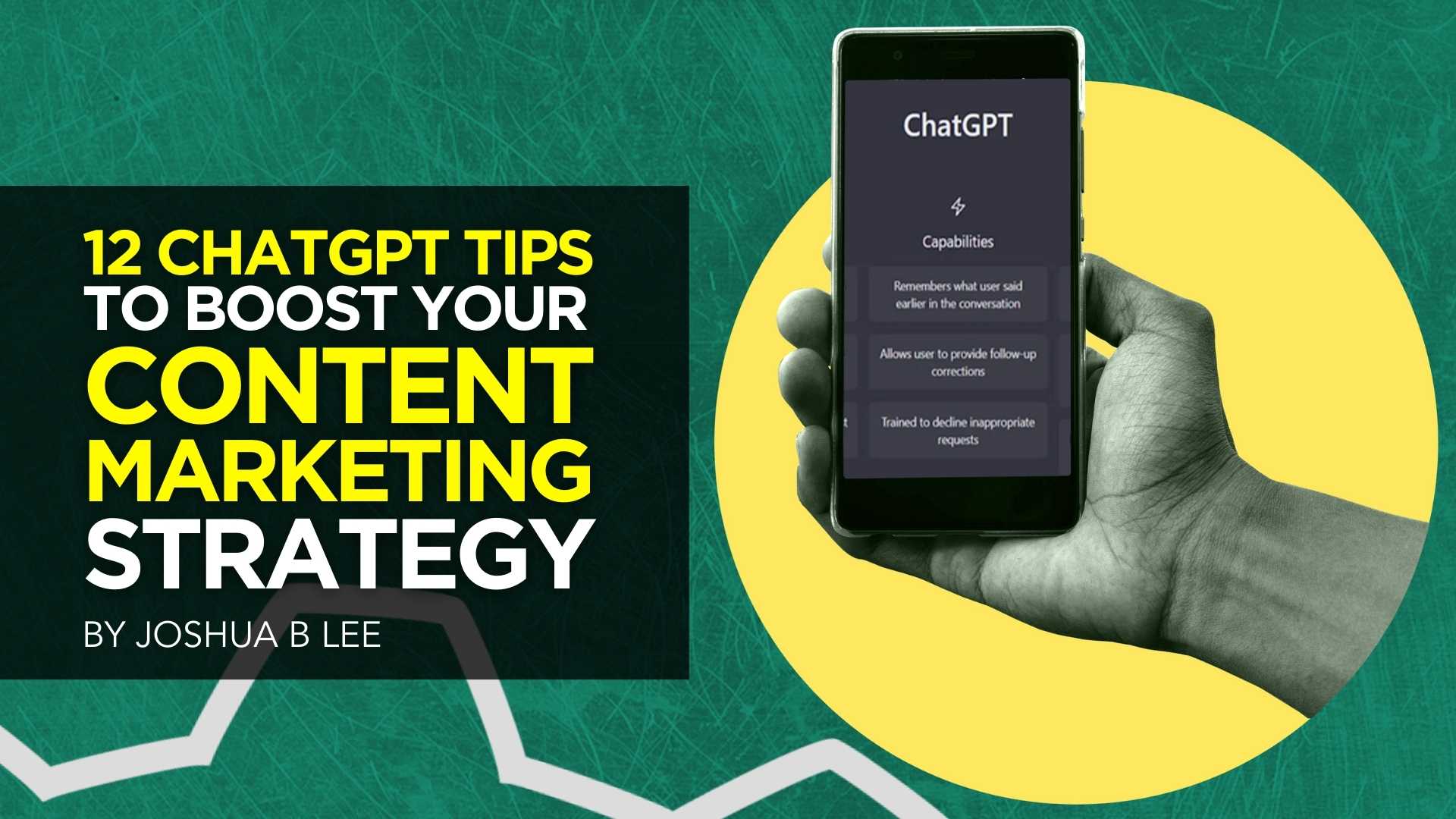 As a marketing mogul, you're probably no stranger to the importance of creating content that stands out and keeps your reader hooked. However, brainstorming ideas, crafting and editing content, and promoting it can be time consuming, overwhelming, and let's face it: you'd rather outsource it or, at the very least, get some help. 
You may have heard of it (in reality, who hasn't?), but let me reacquaint you with ChatGPT, everyone's new favorite AI-powered content marketing assistant. 
How ChatGPT Works 
If you know me well enough (and if you've started to follow me on LinkedIn), you've seen me talk about ChatGPT like it's Jarvis to Tony Stark—because, hey, it really is! 
ChatGPT, developed by OpenAI, uses machine learning algorithms to produce human-like text based on your prompts. It's a game-changer for anyone creating some form of content. Just input a prompt and let ChatGPT work its magic! 
How to Maximize ChatGPT for Content Marketing 
But, like every other tool, not everyone fully understands or grasps exactly how to use it—which is why most of the time, a lot of business owners tend to give up and question why people rave about this tool so much. 
Well, take this as your Crash Course to ChatGPT 👏 
6 Strategic Ways to Effectively Integrate AI Into Your Marketing Strategy: 
1. Identify Your Objectives  
Be clear about what you hope to achieve with ChatGPT – maybe you're aiming for increased website traffic or social media engagement. 
Whatever it is, you need to be crystal clear about WHY you want to use ChatGPT in the first place. This'll help you figure out what prompts to use and what type of content you'd like it to help you write. 
(Key term here is: help) 
2. Decide the Type of Content You Want to Create 
Whether it's blog posts, social media captions, email newsletters, or video scripts, ChatGPT has got your back. Looking to captivate readers? ChatGPT generates brilliant ideas for engaging articles. (goodbye writer's block) 
Need attention-grabbing captions? ChatGPT whips up creative wording that stops the scroll. (as long as you know what prompts to give it 😉) Eager to connect with subscribers? ChatGPT crafts persuasive subject lines and captivating content. 
Dreaming of visually stunning videos? ChatGPT can help you write scripts with compelling narratives and outlines captivating scenes. 
3. Set Up a Schedule for Using ChatGPT 
Plan how often you want to employ the tool in your workflow. Take control of your content creation process by setting up a schedule that works for you.  Determine the frequency of how often (or seldom) you plan to use it and integrate it seamlessly into your workflow. 
4. Experiment with Various Prompts & Settings  
ChatGPT is flexible and customizable, so don't hesitate to test different prompts and see what brings the best results. I always tell my readers and clients: review, revise, and refine. This doesn't just go for the content you actually write, but it also applies to the prompts you give ChatGPT.  
5. Monitor & Track Your Results  
Don't just create content and hope for the best, take charge and monitor your results like a boss.  AKA – stop "winging it". Your insights will serve as your content marketing compass to show you if the content you're putting out there is working or not. 
Want to get certified in Content Marketing?
Leverage the tools and channels to predictably and profitably drive awareness, leads, sales, and referrals—EVERYTHING you need to know to become a true master of digital marketing.​ Click Here
Utilize powerful tools like Google Analytics to track and measure the impact of your ChatGPT-assisted content. Stay informed, make data-driven decisions, and watch your success skyrocket. 🚀 
6. Integrate ChatGPT Into Your Overall Marketing Strategy
Aim to make ChatGPT a core part of your comprehensive marketing plan—aka, turn it into your very own Virtual Writing Assistant. You can still have copywriters and editors and integrate ChatGPT as one of the steps in crafting your content. 
Always remember: ChatGPT + Human Element = GOLD. 
Prompting ChatGPT the Right Way  
It gets more exciting, because here are 6 types of prompts you can use to leverage ChatGPT in your content marketing, complete with detailed prompts and breakdowns  
1. Brainstorm Blog Post Ideas 
Engage ChatGPT in a brainstorming session to come up with blog post ideas. This can save you hours of guessing what to write about next (writer's block is a normal thing, and I totally get it. When you write for a living, your creative juices run out eventually. This is where ChatGPT can definitely help!) 
ChatGPT prompt: "Generate 10 blog post ideas about digital marketing trends in 2023." 
2. Craft Compelling Social Media Posts 
Of course, ChatGPT can help you draft your posts. (if it can help with blog posts, why not social media captions too, right?) Some additional tips: make sure you specify what platform you're writing it for. You can even throw in the tone of voice, as well as the word count you're aiming for.  
ChatGPT isn't perfect, and sometimes it won't nail these things on the first try. This is why I highly recommend being patient and going through the iterative process to eventually nail your post. 
ChatGPT prompt: "Write a LinkedIn post introducing our new online course for small business owners. Here is landing page for the course: [Add your link here]" 
3. Develop Email Marketing Campaigns 
ChatGPT can help you develop email marketing campaigns, from creating engaging subject lines to drafting the body of the email. While the prompt below isn't as specific as you'd like it to be, you can definitely experiment and add more details.  
And if you really want to amplify your email marketing, you can use other tools in your arsenal like CoSchedule's Headline Analyzer, which could help you craft catchy email subject headers to boot. 
Want to get certified in Content Marketing?
Leverage the tools and channels to predictably and profitably drive awareness, leads, sales, and referrals—EVERYTHING you need to know to become a true master of digital marketing.​ Click Here
ChatGPT prompt: "Draft an email announcing a flash sale on our new product. Get details about the product here: [Add your link here]" 
4. Script Video Content 
If video content is part of your marketing strategy, ChatGPT can help write scripts or create outlines for your video content. You can also include how long your video is going to be and add an outline of what you'd like to talk about.  Again, specificity is KEY 🔑The clearer you are with your prompts, the better ChatGPT's outputs are going to be. 
ChatGPT prompt: "Create an outline for a YouTube video on how to use our product. Here as some steps to consider: [Add your steps here]" 
5. Write Out Content for Landing Pages & Sales Pages 
You can also employ ChatGPT's assistance to generate compelling copy for your landing pages and sales pages, improving conversion rates. 
If the product or service you're selling deals with a lot of information (say, you're writing a sales page for a health supplement), bear in mind that the free version of ChatGPT's knowledge base only goes as far as September 2021. Make sure you double check the details you're including on your landing page so that you feed readers and potential buyers accurate info! 
ChatGPT prompt: "Write a persuasive landing page copy for our new e-book. Here are the topics discussed in the ebook: [Add in details here]"
6. Churn Out Ideas for Video Scripts & Outlines 
Like I said, as creatives and marketers, we can only churn out enough ideas for content—and that includes video. If you're leveraging video content in your marketing, ChatGPT can generate ideas for video scripts and outlines, saving you precious brainstorming time. 
ChatGPT prompt: "Generate 10 different ideas for a video script about the benefits of our service. Here is my website: [Add your website here]" 
These 12 ChatGPT tips are literally just the tip of the iceberg. The more you use ChatGPT, the more you'll discover how you can leverage its power and use it to boost your content marketing strategy. 
The number 1 tip I could leave you is this: The key to unlocking ChatGPT's full potential is by being clear and specific in your prompts. The more precise you are, the better the output! 
Ready to level up your content strategy with AI?  
Stay in the know and never miss out on the latest AI-driven tips, trends, and strategies in the world of content marketing. Join my newsletter, Dopamine Dose, and get ahead of the game with artificial intelligence. Subscribe here.